Imagine a holiday that combines all the patriotic fervor of your country's Veterans' Day, Memorial Day and Independence Day combined, and then consider that it's the 50th anniversary of the first shots fired in your country's Revolutionary War. That's what Namibia experienced last week on Heroes' Day! This national holiday was celebrated all around the country, but the big festivities were in nearby Walvis Bay and I had the good fortune to attend with a few elected officials and ordinary citizens of Arandis.
It was like hearing directly from George Washington and our own founding fathers. We heard the president, vice president, prime minister and other dignitaries share their memories of the struggle, and commemorate the freedom fighters both lost and present.
Comments by His Excellency Dr. Hage G. Geingob, President of the Republic of Namibia:
Let us take time to reflect on what they fought for. Due to their sacrifices, today we are living in a country founded on the principles of effective governance, respect for the rule of law, respect for human life, dignity and unity.
More comments by President Geingob, announcing the day's list of special guests, and a change of protocol:
When we call them Opposition, they just oppose… So, from now, they are the Minority Party not just Opposition…

Omake!  <Let's give them a round of applause…>
The martial drum corps lead a parade of modern defense forces and various traditional choirs and dance troupes in colorful costumes represented the diverse cultures of Namibia.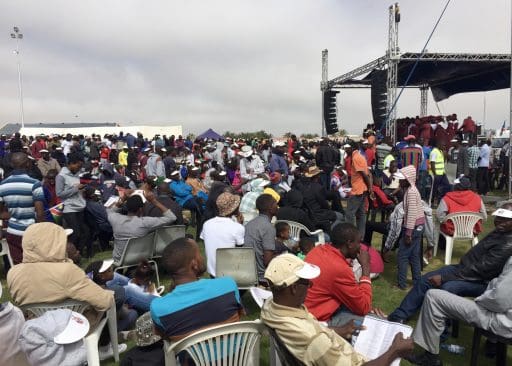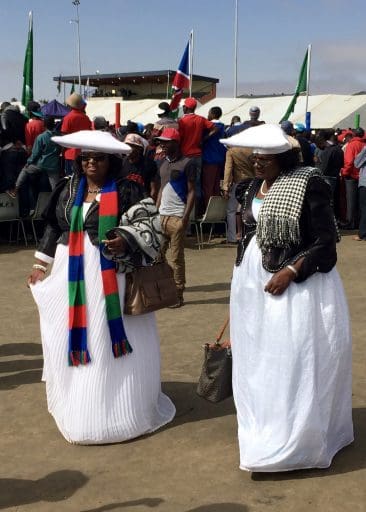 When your revolutionary war is held in the late 18th Century, the motivational music will sound like the music of the time: cue American pipes and drums. When your revolutionary war starts in 1966, however, the motivational music will sound like… the music of the time: cue Sixties' global folk, pop, rock & reggae! The ceremony ended with performances by artists who developed their musical chops while in exile, returning home to Namibia after independence as pop music stars!
Here's a recording of the performance by Ras Sheehama, a national cultural treasure! (You can find more of his music on YouTube.)
I hope you enjoy these snippets of this momentous day. Just the tip of the iceberg, as you can imagine.