I recently finished six days in the Pyrenees Mountains, hiking from France to Spain along one of the escape routes used during the Spanish Civil War and World War II.
Bracketed by two transport days, I was with a group of seven Englishmen, one French woman, and two professional trail guides to try and imagine what it must have been like for over 30,000 men, women and children in the 1930s and early 1940s fleeing for their lives: anti-Franco Spaniards heading north, European Jews trying to find safety out of the occupied countries, young French tradesmen avoiding conscription into the Nazi war machine or to join the Allied forces in North Africa, and downed British and American airmen who had been smuggled from all over Europe by the underground resistance so that they could return to the fight again.
It was not only the evades (escapees) who risked the harsh elements or lethal capture by their enemies. Thousands of local farmers and herdsmen served as passeurs (guides), often to be caught by the pursuing gestapo or Nazi alpine forces or, more sadly, betrayed by their corrupt or cowardly neighbors. Punishment for a successful escape from France was harsh: often months of imprisonment in "neutral" Spain. The consequences of capture, or aiding and abetting evasion, were more severe: concentration camps or instant death.
Our commemorative hike, with modern equipment and preparation, was a true challenge – it was hard. But we all agreed that we've never truly been tested as those before us. This story of the Freedom Trail is not well-known, but I believe it's worthy of remembrance as we watch others around the world risk their lives today in defense of liberty, equality and brotherhood.
Following are a selection of photos, taken by me or my great hiking partners, to show you the incredible scenery of this beautiful part of the world and to share this little bit of history.
The tiled and cobblestoned streets of Toulouse, 4th largest city in France, masks its history as an important collection point for evades from throughout occupied Europe during WW2. Did these buildings once contain vital safe houses?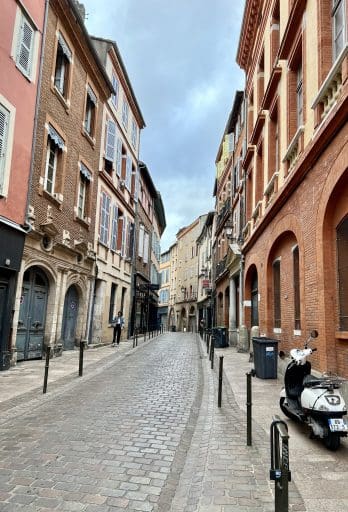 Not far away sits the small foothill town of Saint Girons, where many evades met their passeurs to start their long journey over the high passes. Unfortunately, the Chemin museum was closed during our stay, but memorials abound to keep the stories alive of what happened here not so long ago.
Our small team spent the night of our arrival at the charming Chateau de Bouregard in Saint Girons, which we learned had been taken over by the Gestapo for its local headquarters during the occupation. That is perhaps the truest definition of a haunted house…
Iain, my good friend from Stirling University in Scotland 45 years ago, and Rich, his high school buddy, were the two who first told me about this trek – I will be forever grateful to them for allowing me to tag along.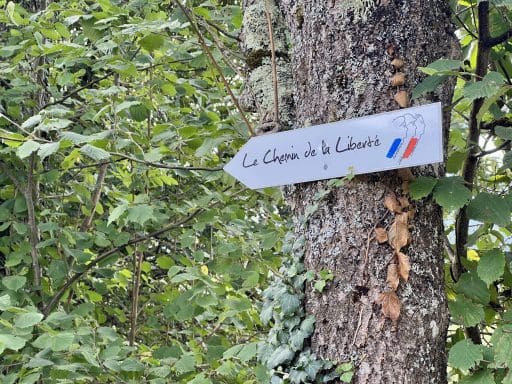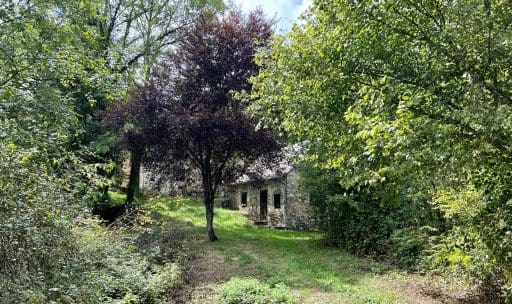 It wasn't long before we stopped and learned of the sacrifices made by the local Barrau family of cattle, sheep and goat farmers. Father and uncle were early passeurs, before being caught and sent to concentration camps, never to return. Two sons, brothers, picked up the baton and were responsible for assisting dozens of evades to freedom in Spain. One of them was Louis Barrau.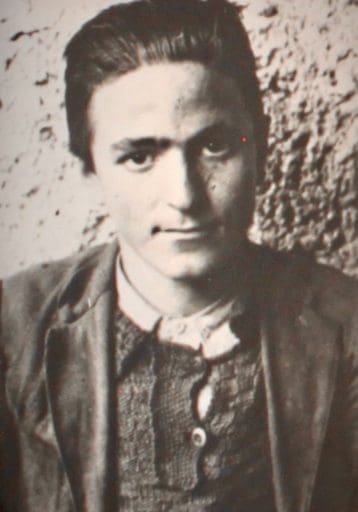 One night, in September 1943, Louis was waiting in one of these small mountain huts for his next group of evades to guide over the mountains. Instead, a small team of Gestapo agents arrived – he had been betrayed. They ordered him out and set the hut ablaze when he refused. He managed to escape from the smoke and flames out a back window but was immediately shot in the back. Louis Barrau was 19 years old.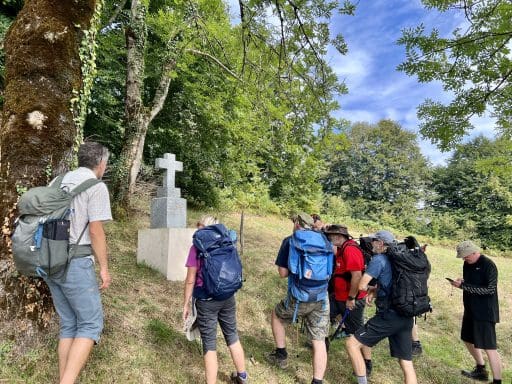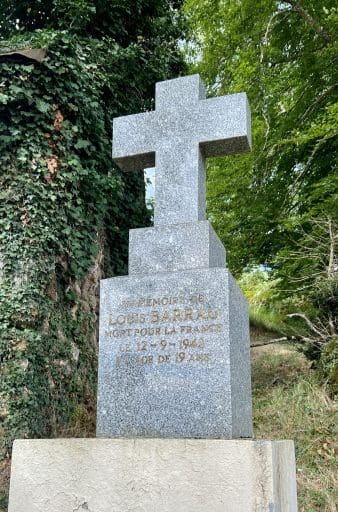 This was going to be a hike unlike any I've taken before.
Lunch break at a small mill house.
Day 1 ended at a small mountain lodge at Aunac, at the base of the conical peak you can see in the distance. Per our guide: 11.35km (7 miles) and 459m (1,506') of climb: a gentle warmup for what awaits us.
Soon after the start of the second day, our first waypoint comes into view: the Col de La Core. Col in French means mountain pass, and we would come to cross over many of them.
Along the route, we would occasionally come across mountain huts like this, available for shelter in bad weather. And maybe a good read? This hut had a fairly sizable library of books left behind.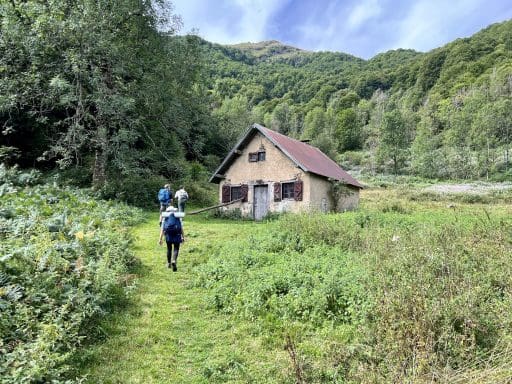 At the Col de La Core, we see our first public signboard showing the whole intended route. Vous êtes ici! marks our location on the map and you can find our Col on the elevation plan.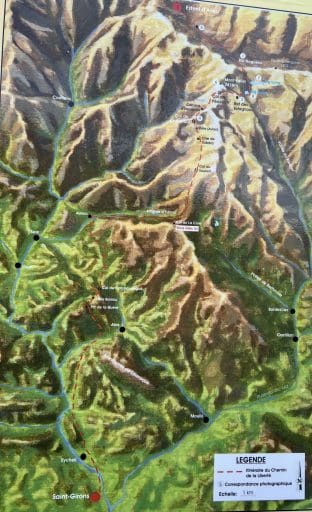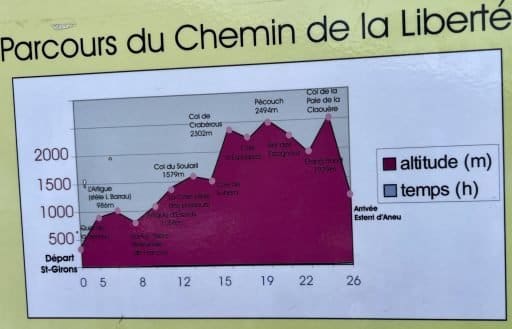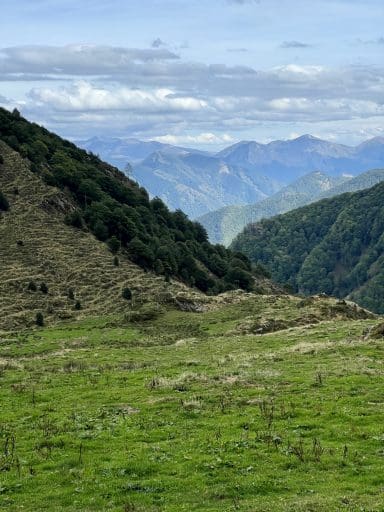 Nightfall of Day 2 found us in backpacking tents on the grounds of the Cabane de Subéra for a good night's sleep after a tough day on the trail. Per our guide: 15.27km (9.5 miles) and 963m (3,159') of climb.
By the next morning the misty fog had descended down the mountains. We knew we were going to climb a lot again today, but now we knew we would rarely, if ever, see our target destinations in the peaks and passes above.
Thank goodness we had our guides to lead us – there were a few places where even they were unsure of our route and with numerous crags and gullies, it wouldn't have been hard to lose our way and get ourselves in a jam.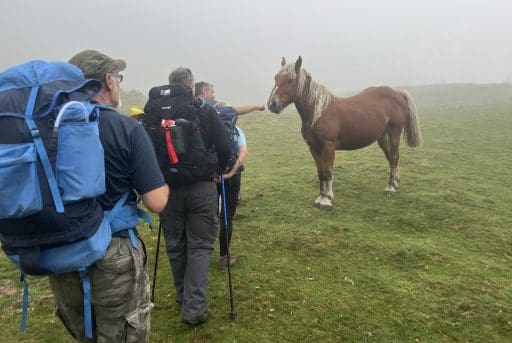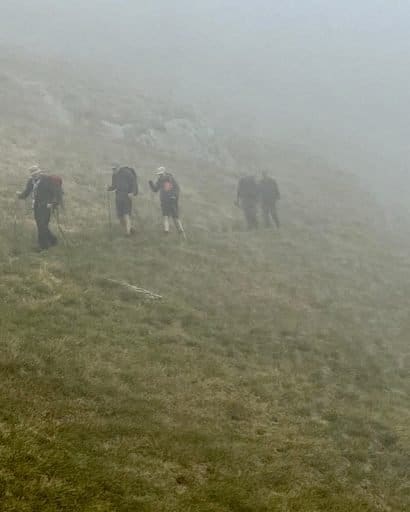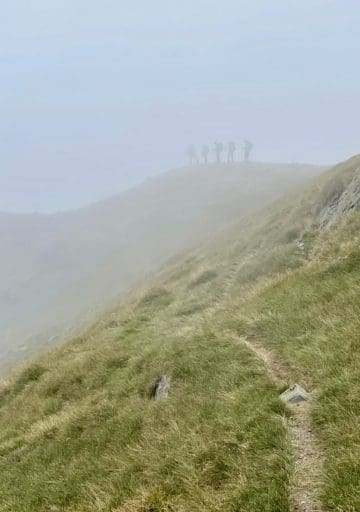 There was already a tragic history here due to "losing one's way…" We started to find pieces of metal in the creek beds, at the place the local herdsmen call simply, "l'avion…" ("the airplane").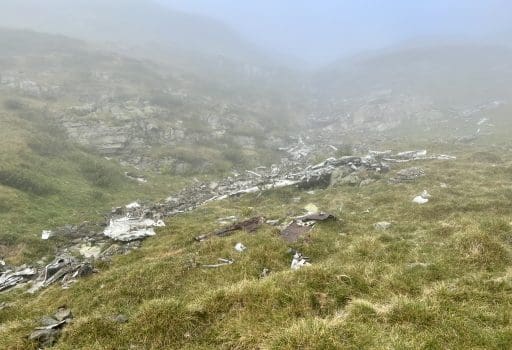 On a training mission from England, 19 July 1945, an RAF Halifax airplane found itself off course and crashed into this mountainside, losing all 7 crew members. We learned from our local guide, Bertrand, that the bodies were recovered but the debris has remained untouched since then, moved only by the shifting winds, rain, snow and ice.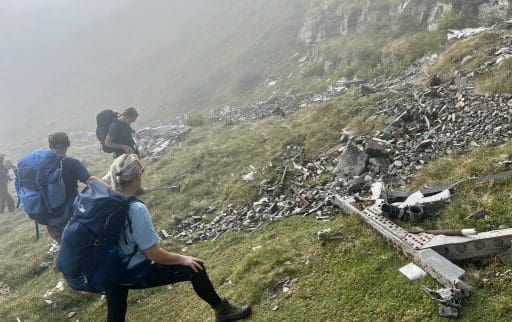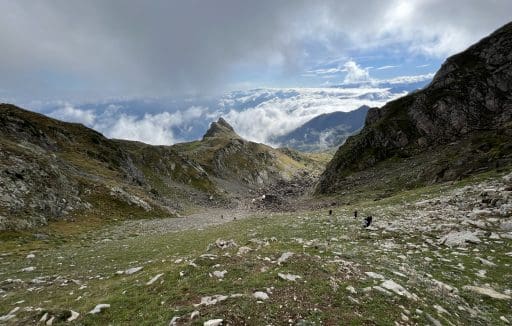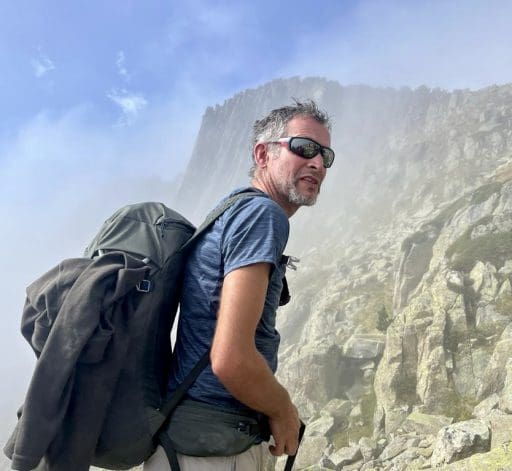 Finally, at the top of the Col de Crabérous and the Col Pécouch, we were entertained by the constantly changing scenes of beauty while the fog danced amongst the peaks and valleys.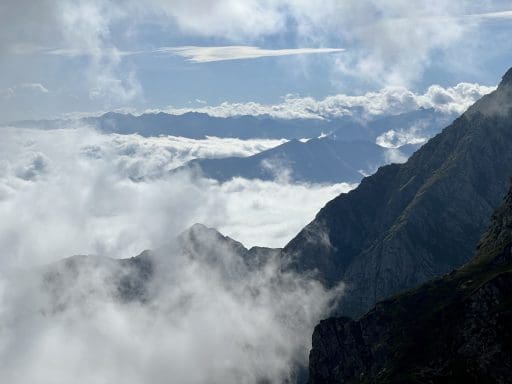 Our third night out was at the famous Estagnous Refuge, a magnet for all mountaineers active in the area and with a welcoming cold beer, hot dinner, choice of several dozens of beds and breathtaking sunset.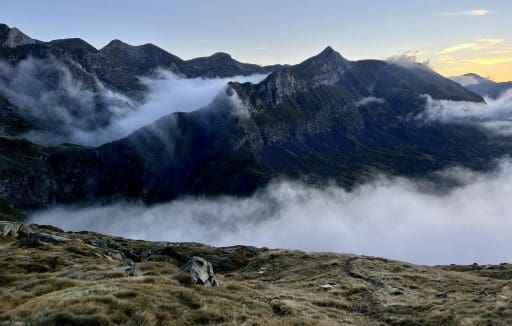 While we still had one more day of tough climbing and a long descent ahead of us, the relief that we felt having made it this far was very apparent at dinner. Day 3, per our guide: 12.6km (7.8 miles) and 1,496m (4,908') of climb.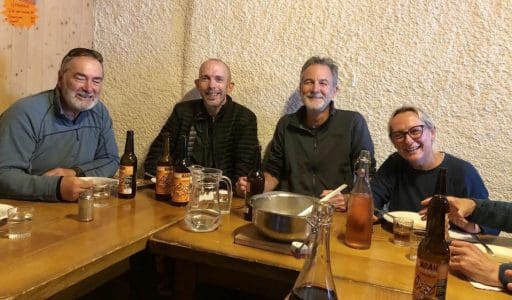 In the morning we were not surprised to learn (again), that we were climbing up, but only after going down. This seemed a common theme in our Pyrenean trek.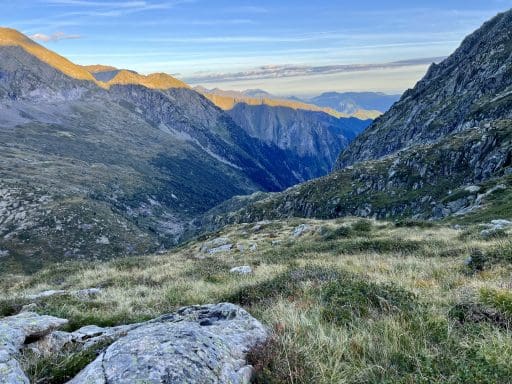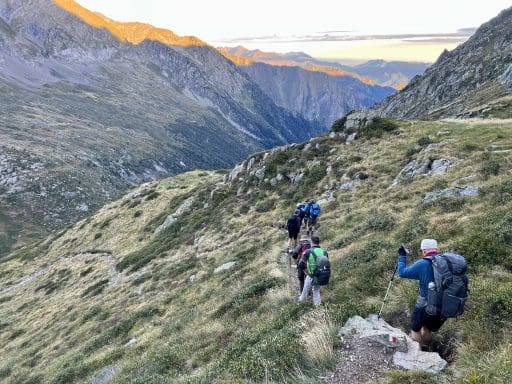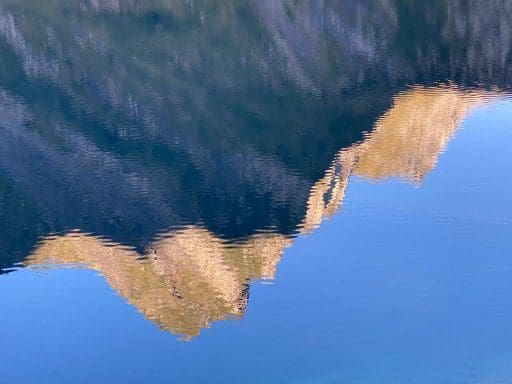 Having walked down to the "Round Lake," it was time to climb up to the "Long Lake," which required climbing through a cable-assist stretch. A slow process, moving one-by-one, it required our two guides scouting the best route and what the Brits call "a good head for heights!"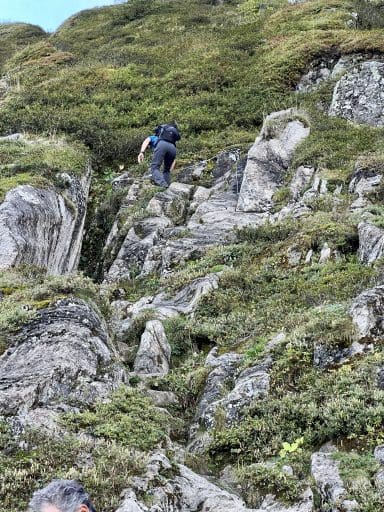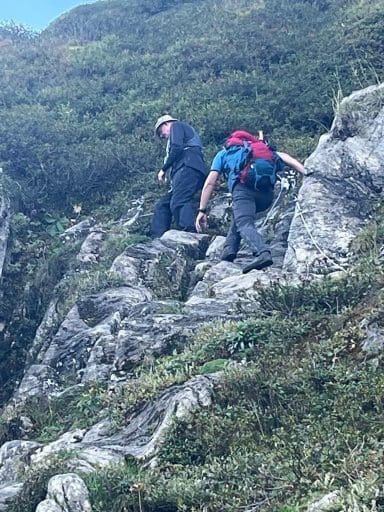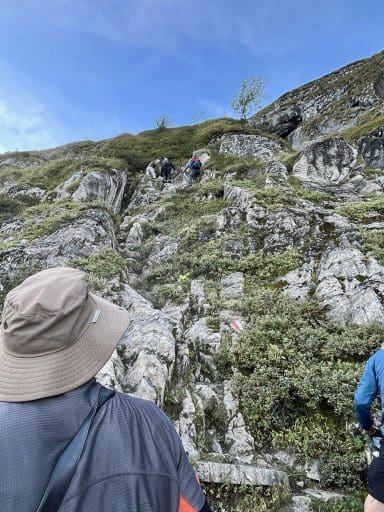 The result of all that work was great views of both lakes.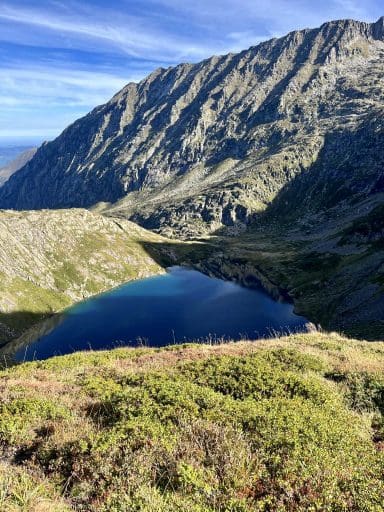 Our next task was to climb up to the Col de la Pale de la Claouère, on the high ridge that marked the border with Spain. Sitting at the shoulder of Mont Villiers, the highest mountain in this part of the Pyrenees, the Col represented the highest point of our trek.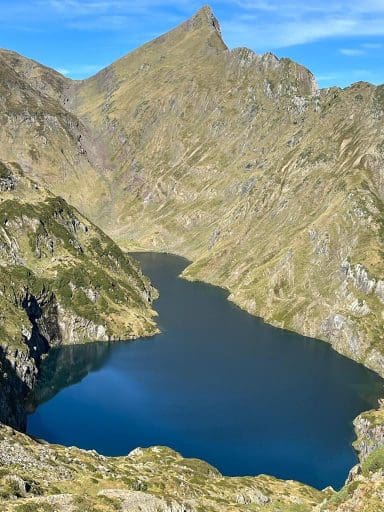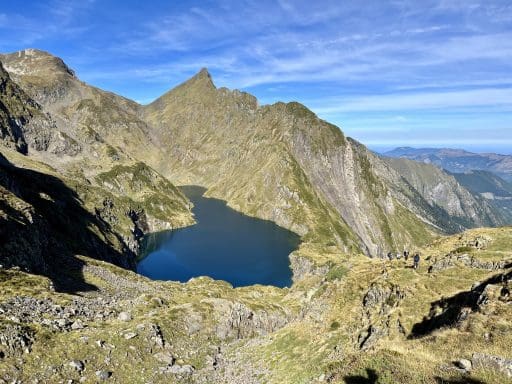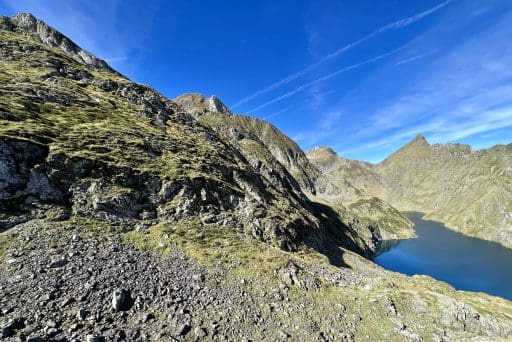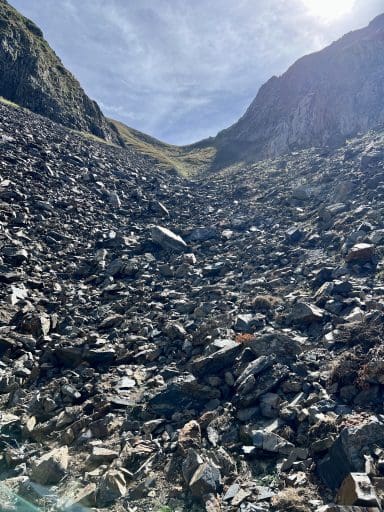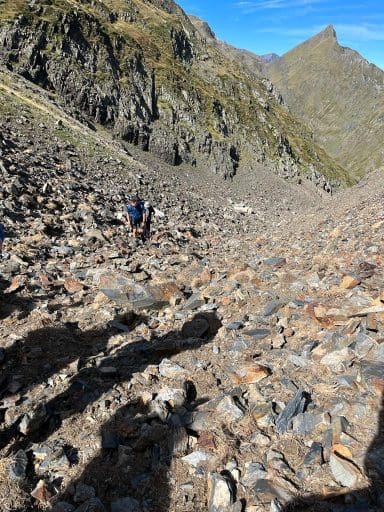 Once on the Col de la Pale de la Claouère, we had a view – wide and far – into Spain, and could just imagine how all those evades must have felt, knowing they were so close to security and freedom.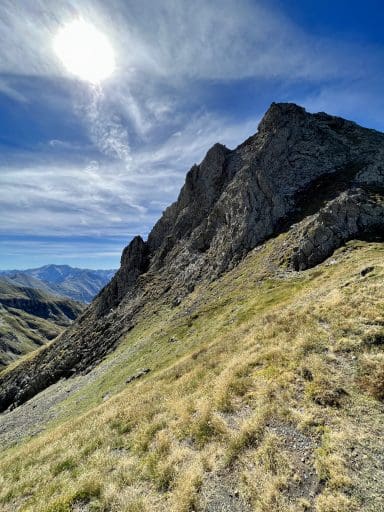 The descent was long and slippery, with a beautiful lakeside rest stop along the way. We enjoyed views back up to the Col de la Pale de la Claouère and down into the valley, with a lot of time to reflect on the week and its history.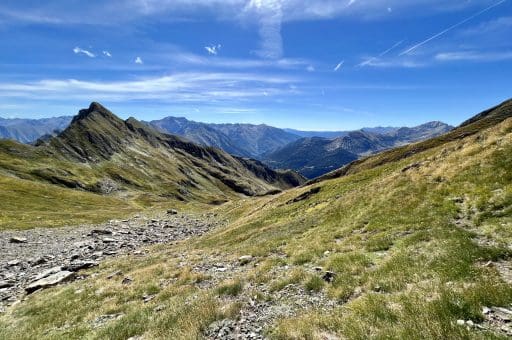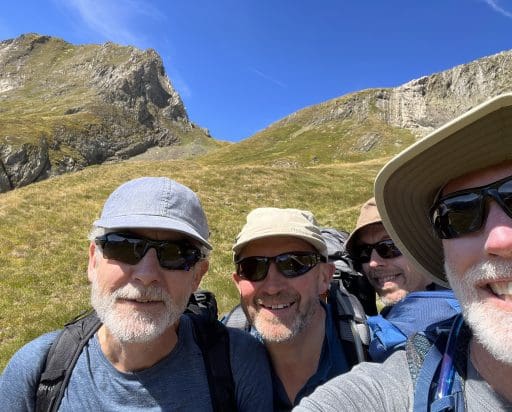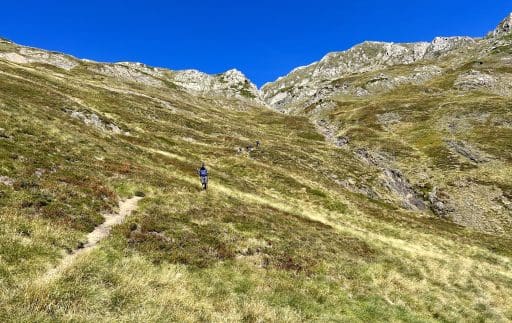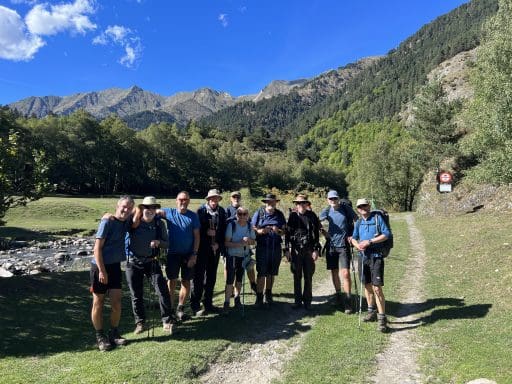 Finally at the bottom, along the river while awaiting our transport, we took one last group shot. Some friendships were reinforced. Others renewed. And many others forged.
It was a wonderful week with very genuine people whom I will remember forever with fondness. Particular thanks go to Bertrand and Steve – our guides – without whose skills, knowledge, confidence, support, and capacity-building, the trip would not have been the same.
Thank you all who walked with me along Le Chemin de La Liberté, and also to all of you who have joined us in this blog post. It's a pleasure to share my adventures with you in the hope you are emboldened to stretch further in pursuit of your own aspirations.