Our long day climbing Helvellyn was also the last of our days on Ullswater, and it was time to drive to our next base at Buttermere. Good timing! The weather had turned overnight, so we took a leisurely route to visit a couple of places that have withstood the cold and rain for millennia: the Castlerigg stone circle near Keswick, and the Honister Slate Mine on Honister Pass.
Stone circles in the British Isles are "a megalithic tradition of monuments consisting of standing stones arranged in rings, constructed from 3,300 to 900 BCE, during the Late Neolithic and Early Bronze Ages." (Source: Wikipedia) The pieces are stately, eternal sentries, and draw silence out of you as you stand in their presence.
I've always been attracted to these places, and managed to find a couple of photos taken in the early 1990s when I lived in England.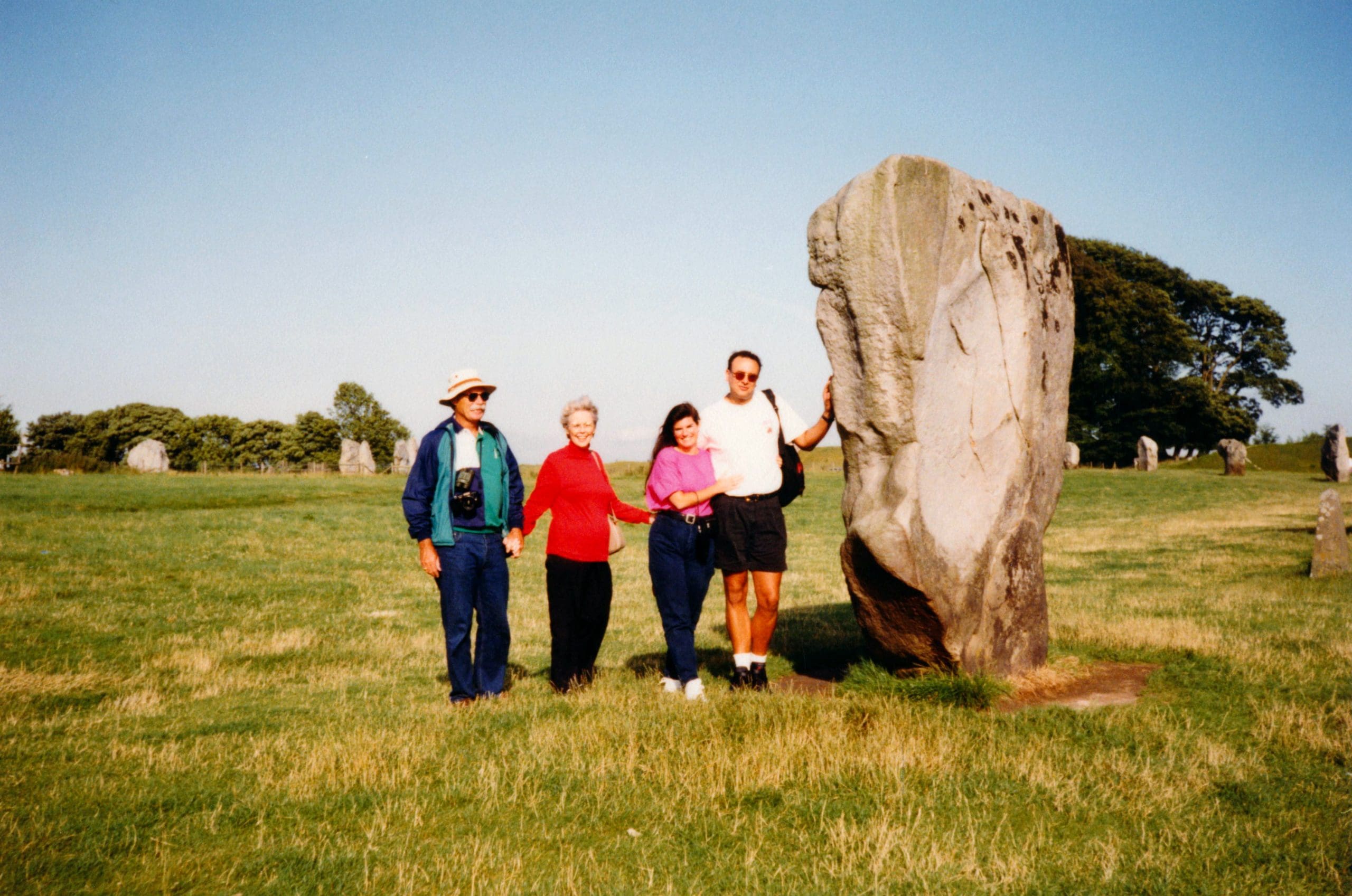 There are many such stone circles throughout the Lake District, and Castlerigg hosts one of the best known. It was nice to have it to ourselves.
The sign boards helped to educate us, but there's much more information about Castlerigg online.
In Namibia, a year ago, I helped celebrate a Sweet 16 tie-dye birthday with some Arandis friends…
In England, I found a ewe who had enjoyed a tie-dye party of her own!
We drove along Derwent Water, through the Borrowdale Valley, and up a steep, narrow and winding mountain road to the Honister Pass, home of England's last working slate mine.
Still being early in the season, there were no other guests when we arrived at Honister Slate Mine. So the hours with Roland, a long-time miner and our host, felt like a private guided tour into the mountain.
We started at an entrance to a part of the mountain that is no longer mined, but which retains the ambiance of having been just recently abandoned. Old tools and equipment left behind were illuminated by flood lamps that also exposed a wide range of mineral colors and rendered ghostly silhouettes on the walls. We climbed long steps, inched down steep slabs, and made more turns than I could count before we lost any sense of which routes went further into the mountain and which led out. "Down the mine," is an expression from Northern England that I've heard for decades – I heard the phrase echo hauntingly in these cold and silent chambers.
The juxtaposition of the Castlerigg stone circle and the Honister Slate Mine on our travel day was unintentional and fascinating. We reflected on the roles they each play in the history of these lands.
Both dependent on the geological essence of rock ...

... both altered by the hands of man ...

... both enhancing the lives of humanity in return.