After five weeks on the trail, I feel like I've been walking forever. Each week brings new terrain, new views, new weather, new friends, new experiences, and new emotions. The golden meseta is behind me now and I am faced with a lot of green – in every imaginable shade. The green, of course, comes from rain, which also means wind, and muddy trails, and swollen rivers, and rainbows. Realizing that I was entering my final week before arriving to Santiago (the ultimate destination for most of my fellow pilgrims), my mind began to dance to new tunes.
Day 31: Villafranca del Bierzo to Ambasmestas
The Camino guide books and apps often provide detailed descriptions of routes, but they can prove difficult to use when you aren't sure how your abilities match with those of their target audience. Was this climbing day going to be as challenging as they warned? I didn't decide to walk the alternative mountain route until I reached the trailhead this morning, on the outskirts of town. But my sore foot, fully booted, felt pretty good and the rain wasn't forecasted to arrive until the afternoon, so I felt comfortable taking a chance on this alternativo. And I'm so glad I did! Not only did I find the route relatively easy to walk (despite the "warnings"), but I met wonderful new "camigos," which always helps!
It reminded me of the old meme (before they were called memes):
If you walk alone, you'll go faster.
If you walk with others, you'll go further.

Alleged African proverb, but who knows?
I really do enjoy going up more than going down!
Looking back, I gazed down across the rooftops of Villafranca del Bierzo as I started the climb and avoided the main path alongside the road.
I realized only afterwards that this next photo shows: 1) the elevated highway where most cars & trucks travel (through the pine trees); 2) the main Camino route alongside the winding road where most pilgrims travel; and 3) the alternative mountain route (upper right of the photo), where a few of us were lucky to be on the alternativo.
Mileage Check
Daily Stats: 17.9km (11.1 miles) and 632m (2,073′) of elevation gain.
Check out Villafranca del Bierzo to Ambasmestas on Relive!
36 days on the path, 31 days walking.
649 kms completed (403 miles)
It's a long walk!
My accommodation:
Antigua Nacional VI
S/N 24524, Ambasmestas
+34 987 543 247
---
Day 32: Ambasmestas to O Cebreiro
I'm now firmly decided: I really do prefer to climb when compared to walking over flat terrain or, woe to my knees, descending. My body just settles into the strides better, and that helped make today particularly enjoyable.
It was a day of constant up, first very gradually, then later with a higher grade. Just when I was ready for a break, I'd see an amazing view to photograph, or another mountain hamlet or village would appear. I would have been very happy with more hours like this!
There were certainly a lot of views, so I took a lot of pics: looking up ahead of me, across the valley, and back down to where I had started the day. And my timing was good again: the rain storm didn't start until I was under shelter at the top of the high pass.
Mileage Check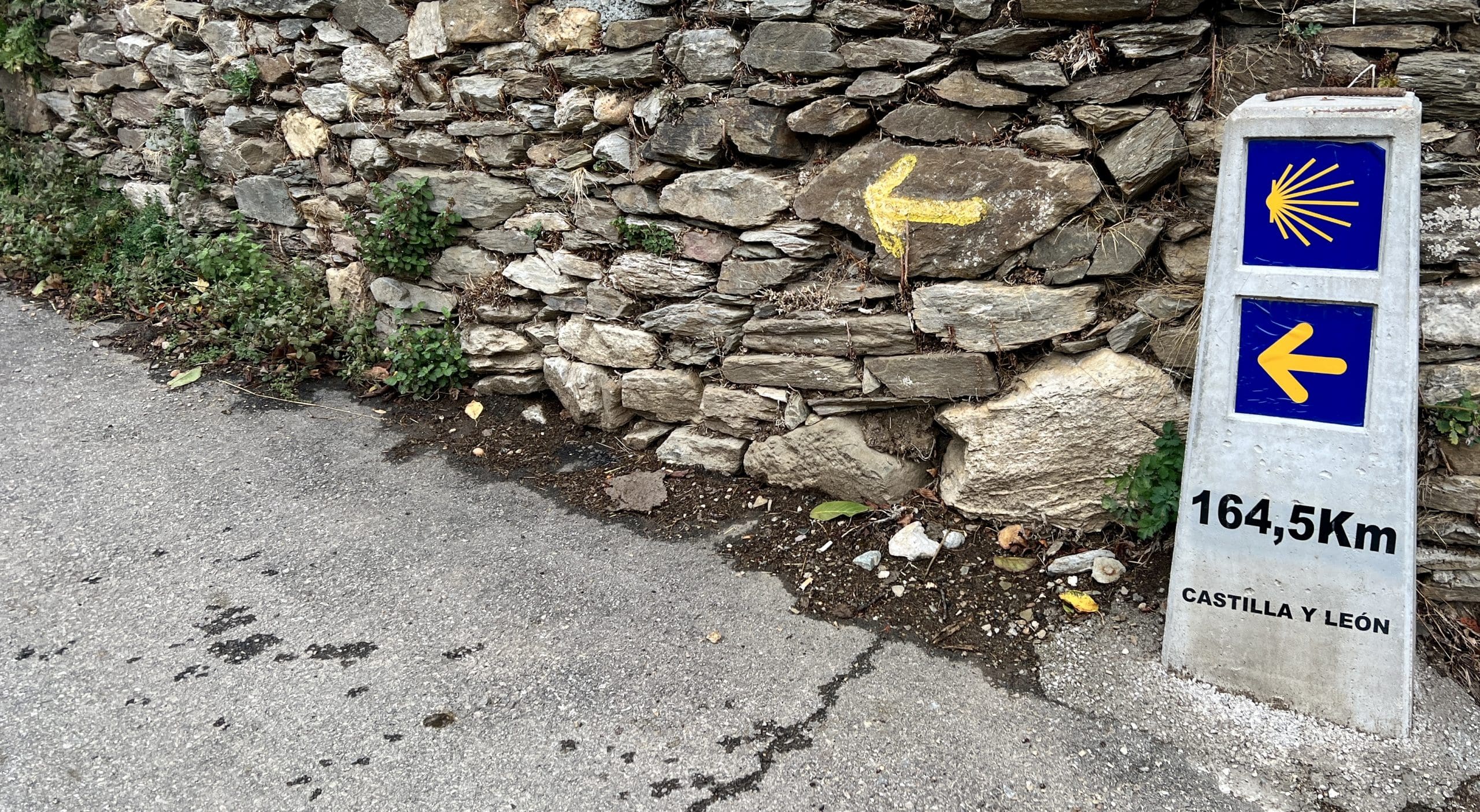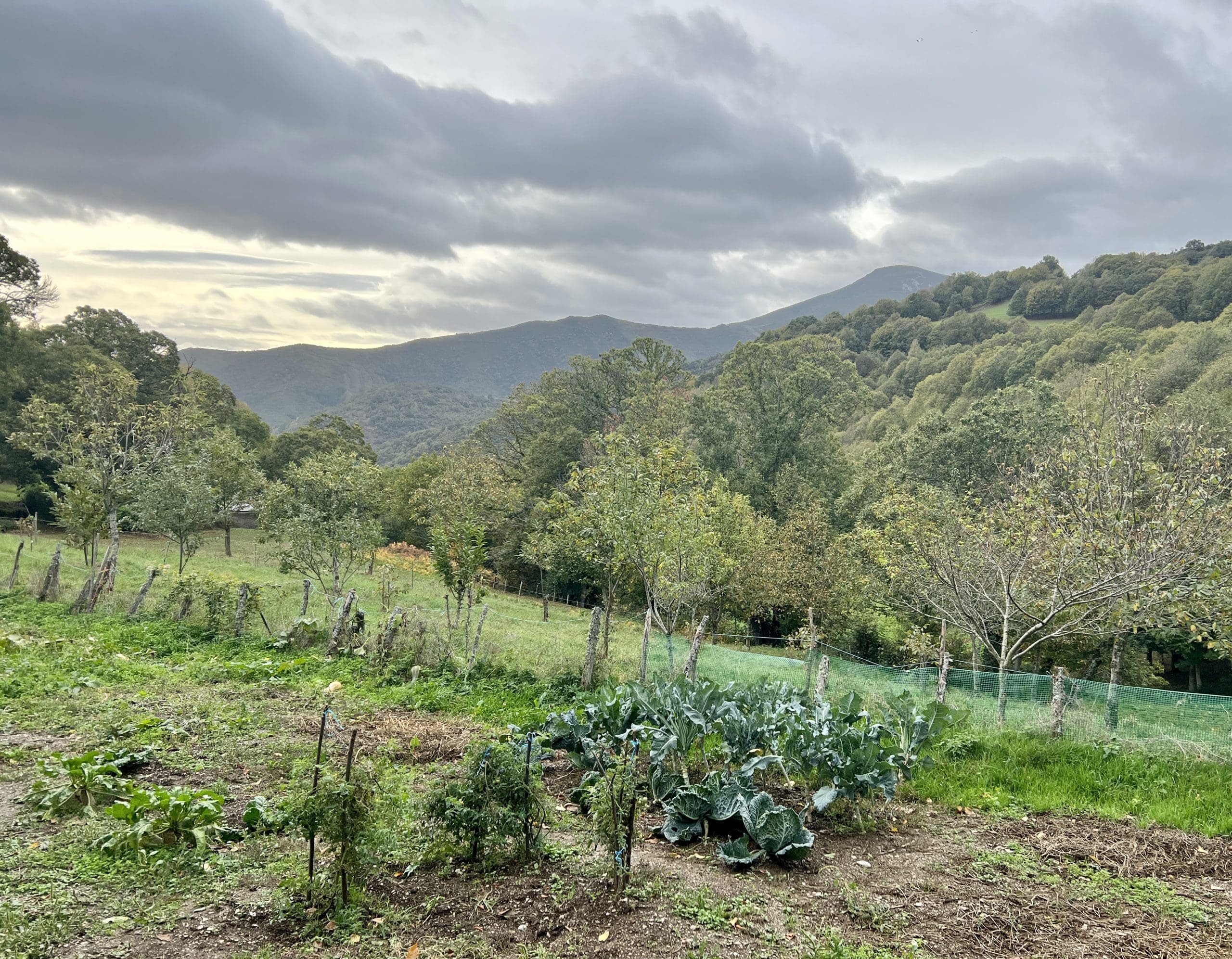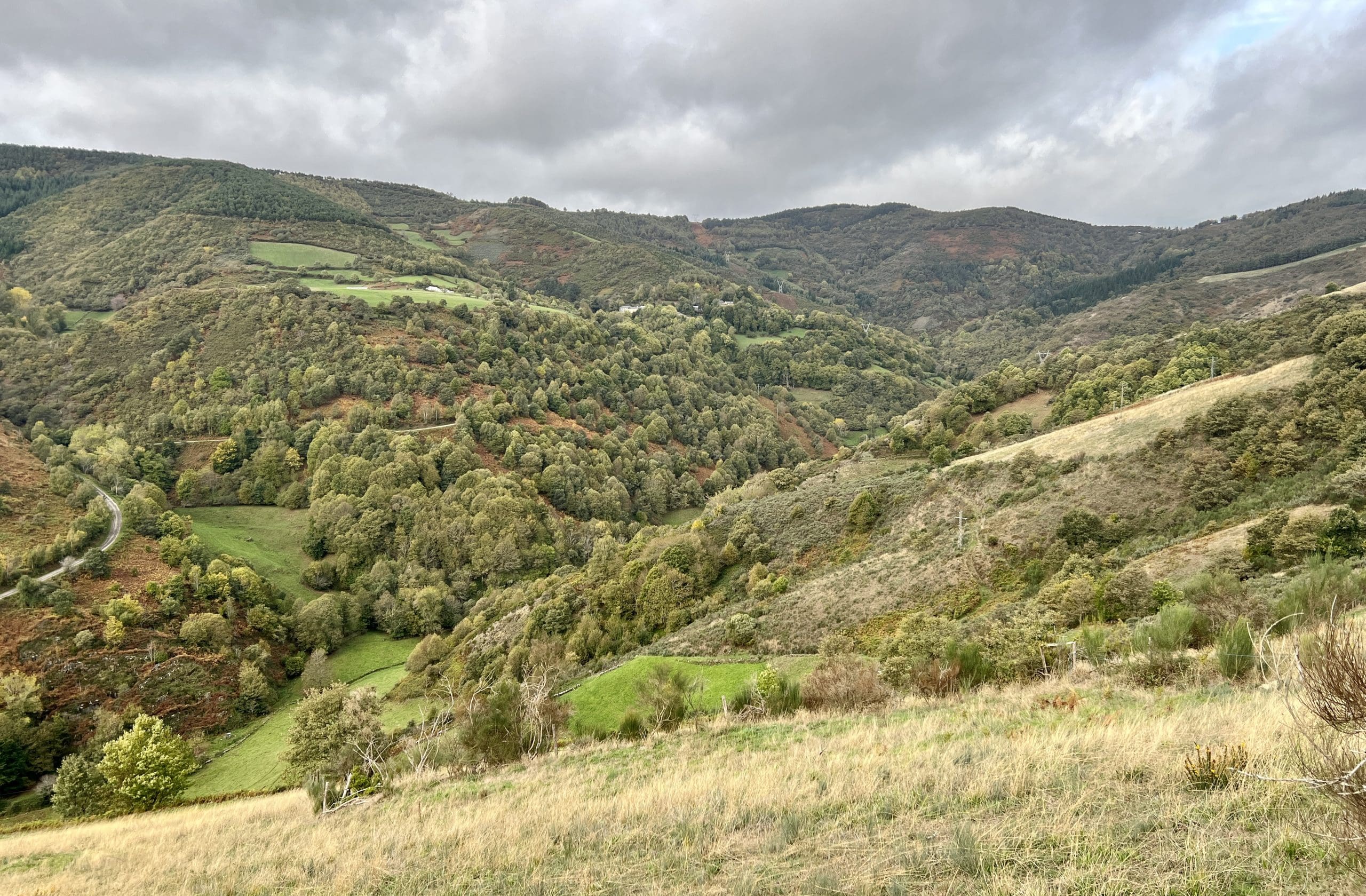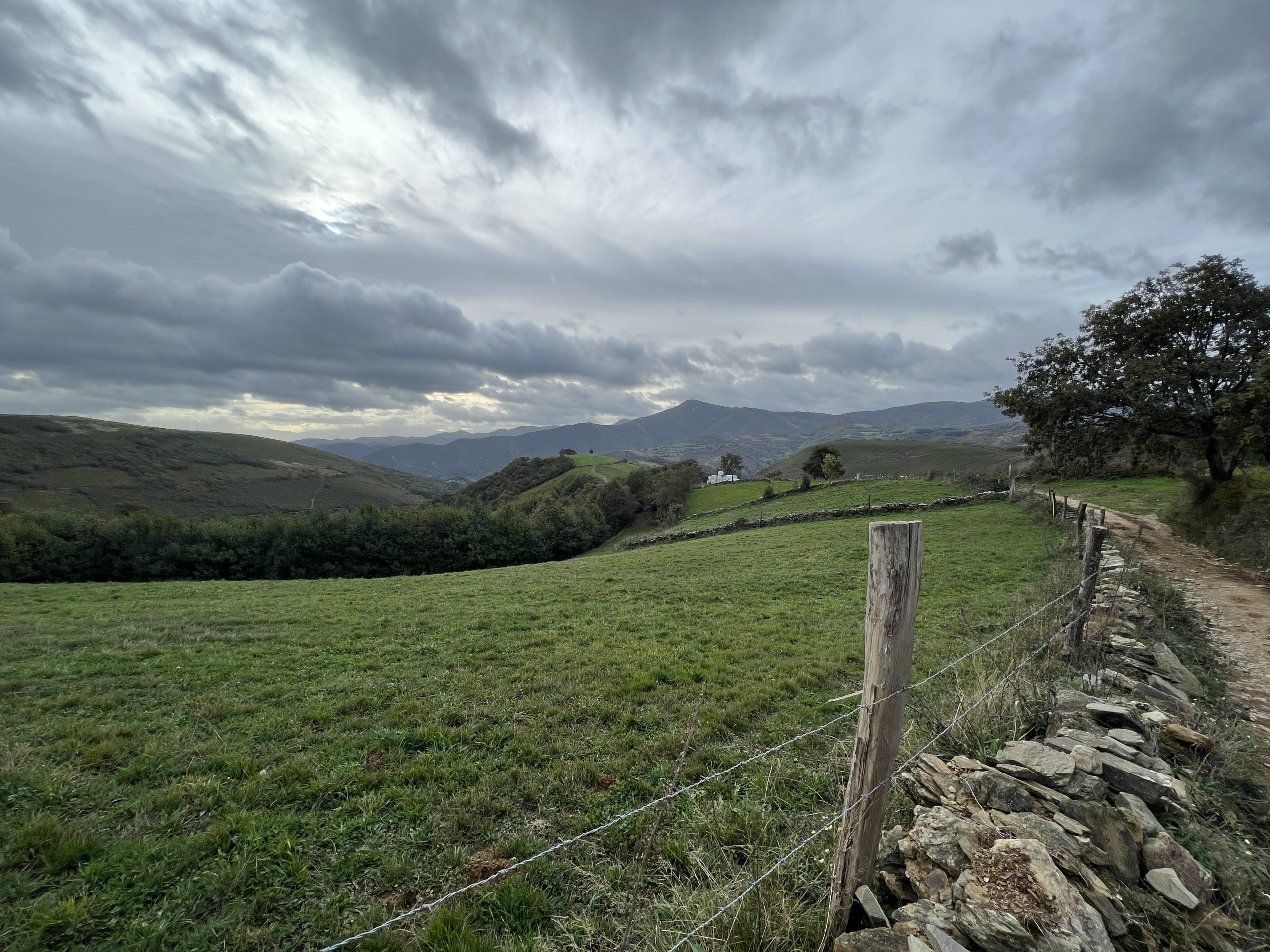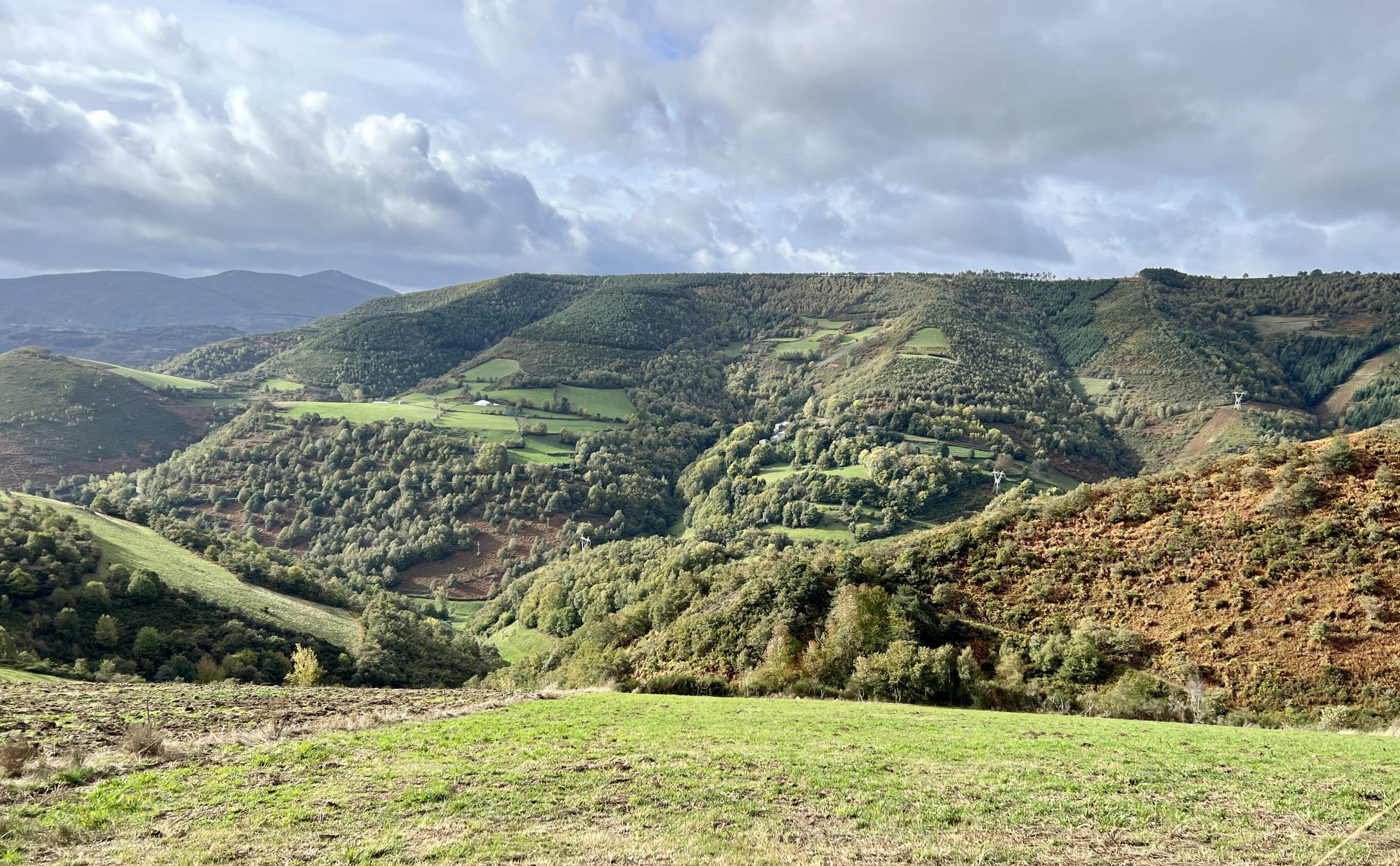 A key milestone: after walking for several weeks across the Spanish region of Castilla y Leon, I entered the autonomous region of Galicia, where Español is no longer the native tongue.
I walked most of today with Brian, a veterinarian from New Zealand. We had walked together for many kilometers two weeks ago on the path out of Burgos, then lost contact. I was happy to meet up with him again today. Unfortunately, this was the last I saw of him. That's something I never get used to.
Public Art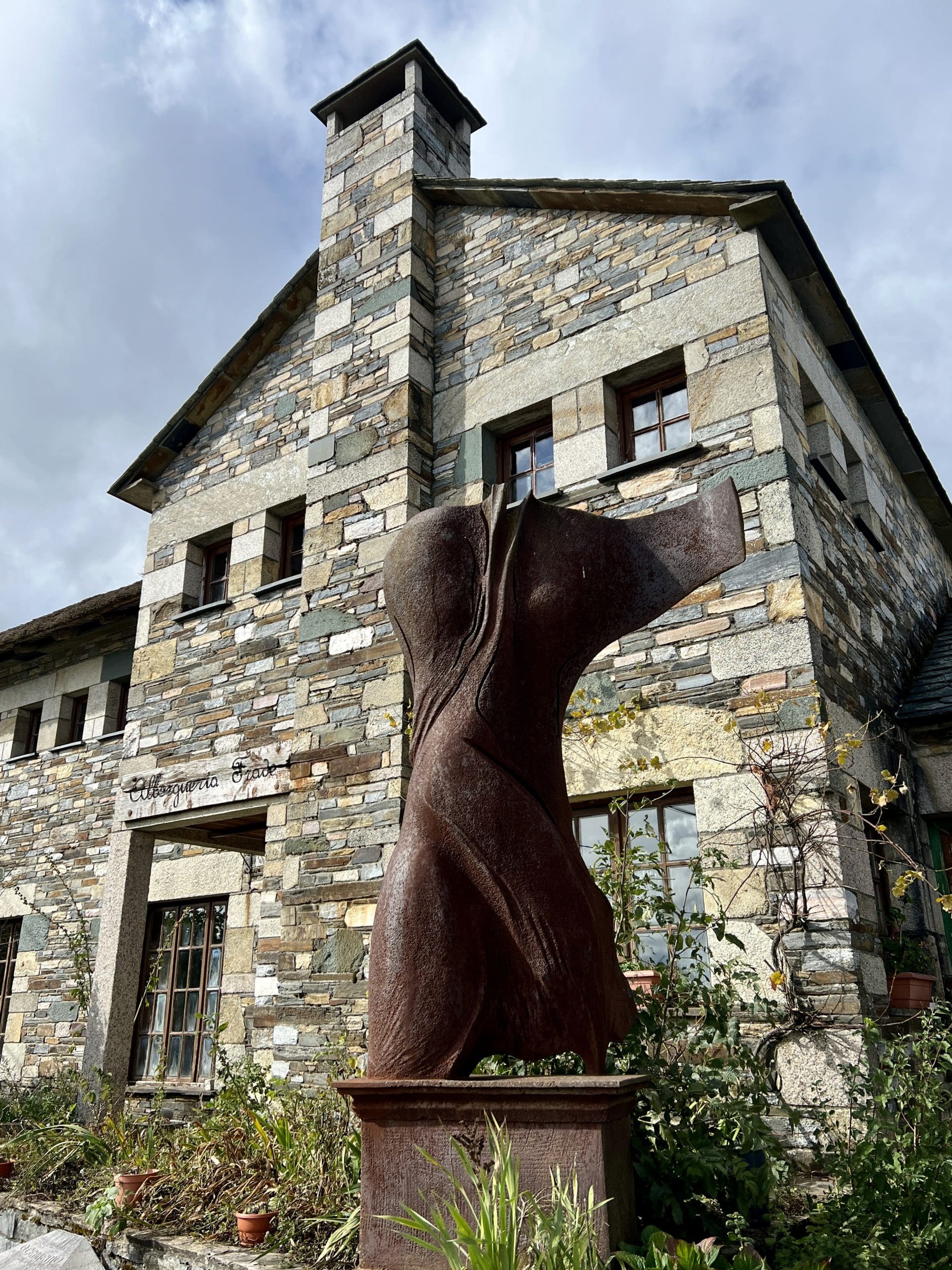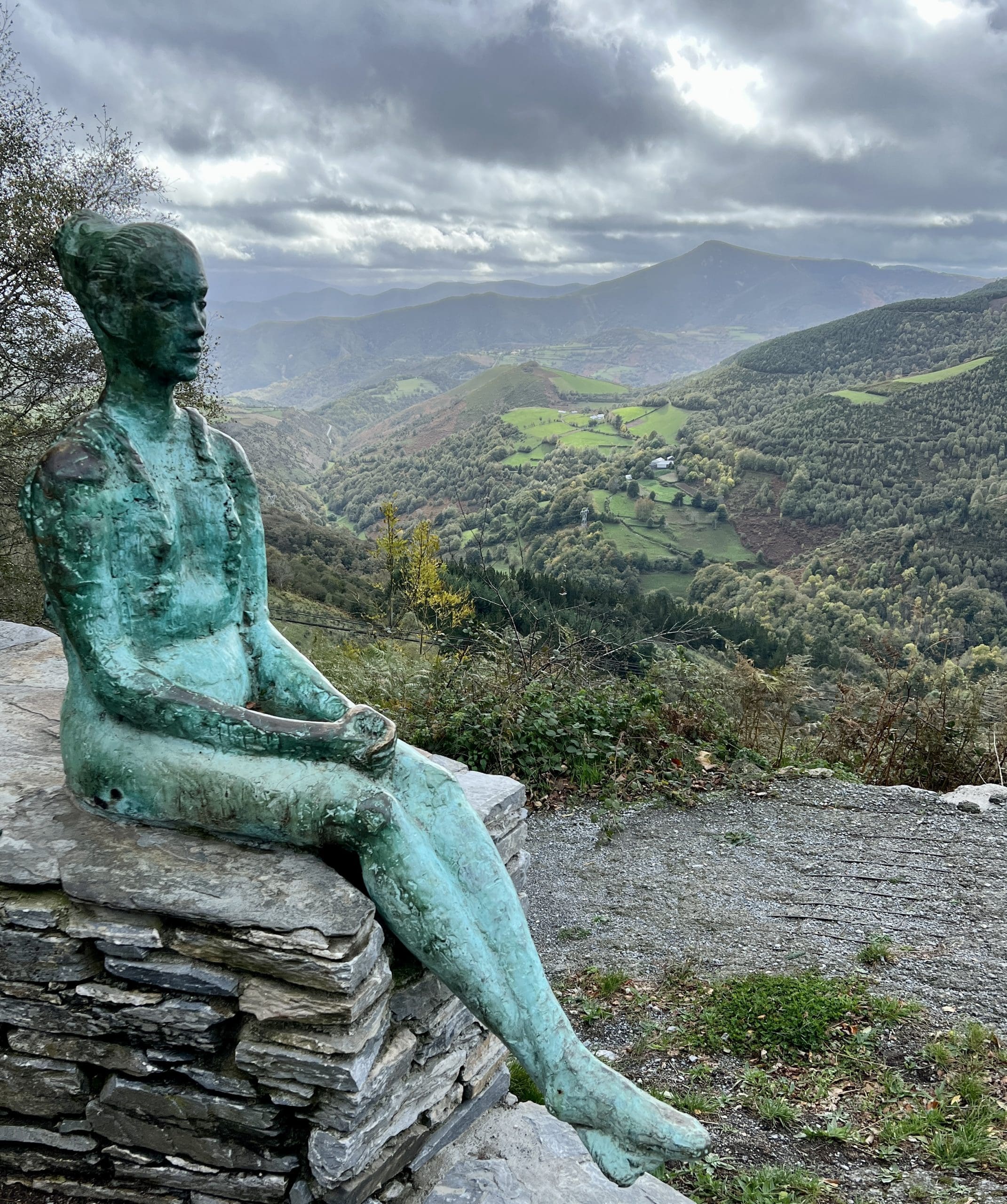 Galician culture is closely aligned with the Celts, including architecture like this and even bagpipes in their music!
O Cebreiro is the birthplace and home of Dr. D. Elias Valiña Sampedro (1929-1989), considered the father of the modern day Camino de Santiago. We are often prompted to give thanks out here to those that came before us – I stayed an extra moment in gratitude to Dr. Sampedro.
At the top of the pass, we had a good view of the terrain ahead of us. Somewhere out there is Finisterre, the western most point of Europe.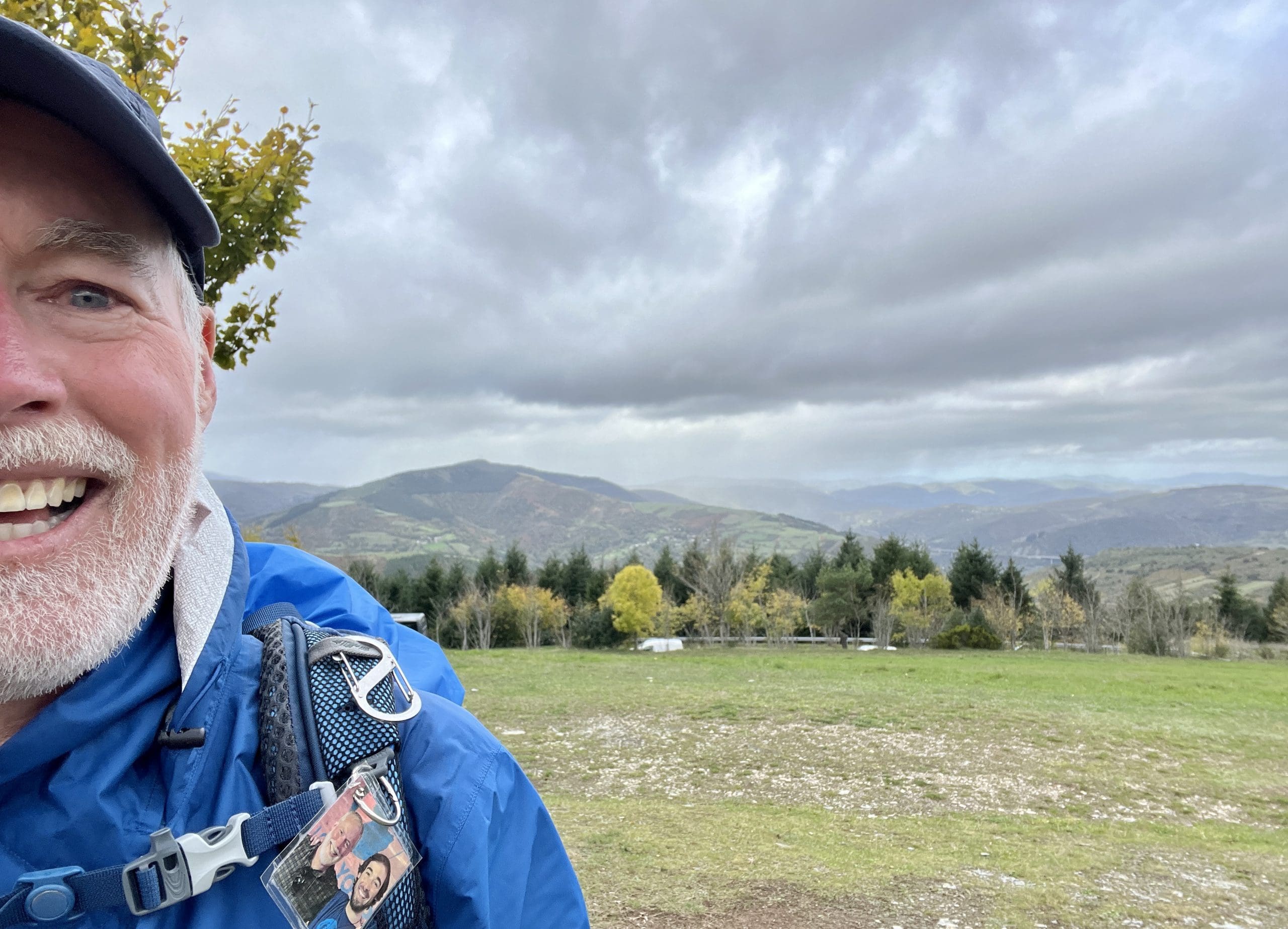 Daily Stats: 14.9km (9.3 miles) and 843m (2,766′) of elevation gain.
Check out Ambasmestas to O Cebreiro on Relive!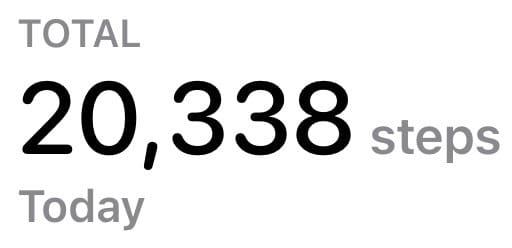 My accommodation:
Hotel Cebreiro
"Next to the Church"
+34 982 367 182
---
Day 33: O Cebreiro to Triacastela
Today was long, and tougher than most other sections, because of the wet ground, the slippery terrain and the gale-force winds. Coming down the mountain, the views were excellent, and the weatherman was right again with his predicted timing of the rainfall. I arrived to my destination town just in time to miss the rain and to catch most of Liverpool's match streamed on my phone. #YNWA
I'm liking these pre-sunrise morning starts.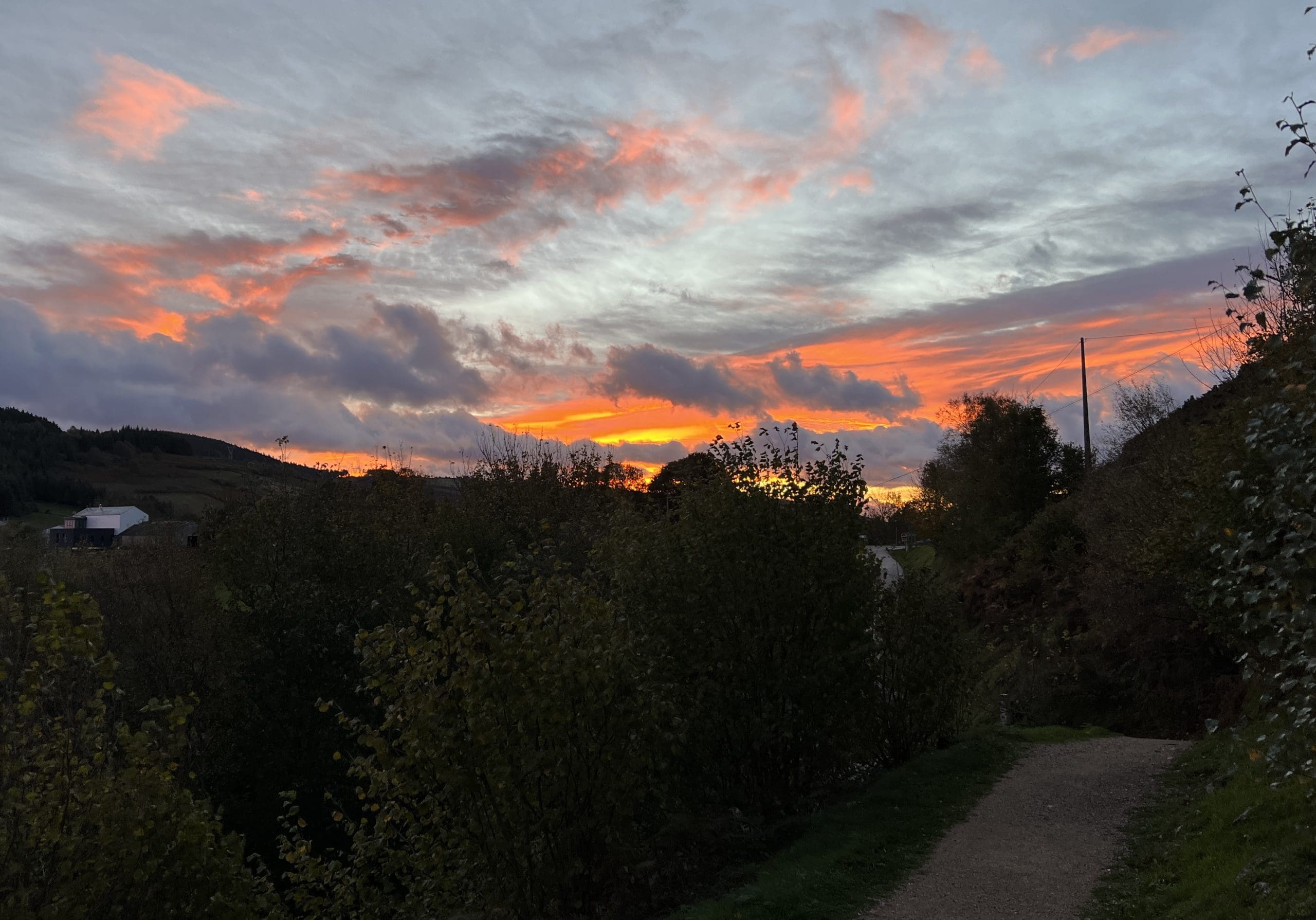 "The Windswept Pilgrim" is an aptly-named statue.
We all had to hold onto our hats!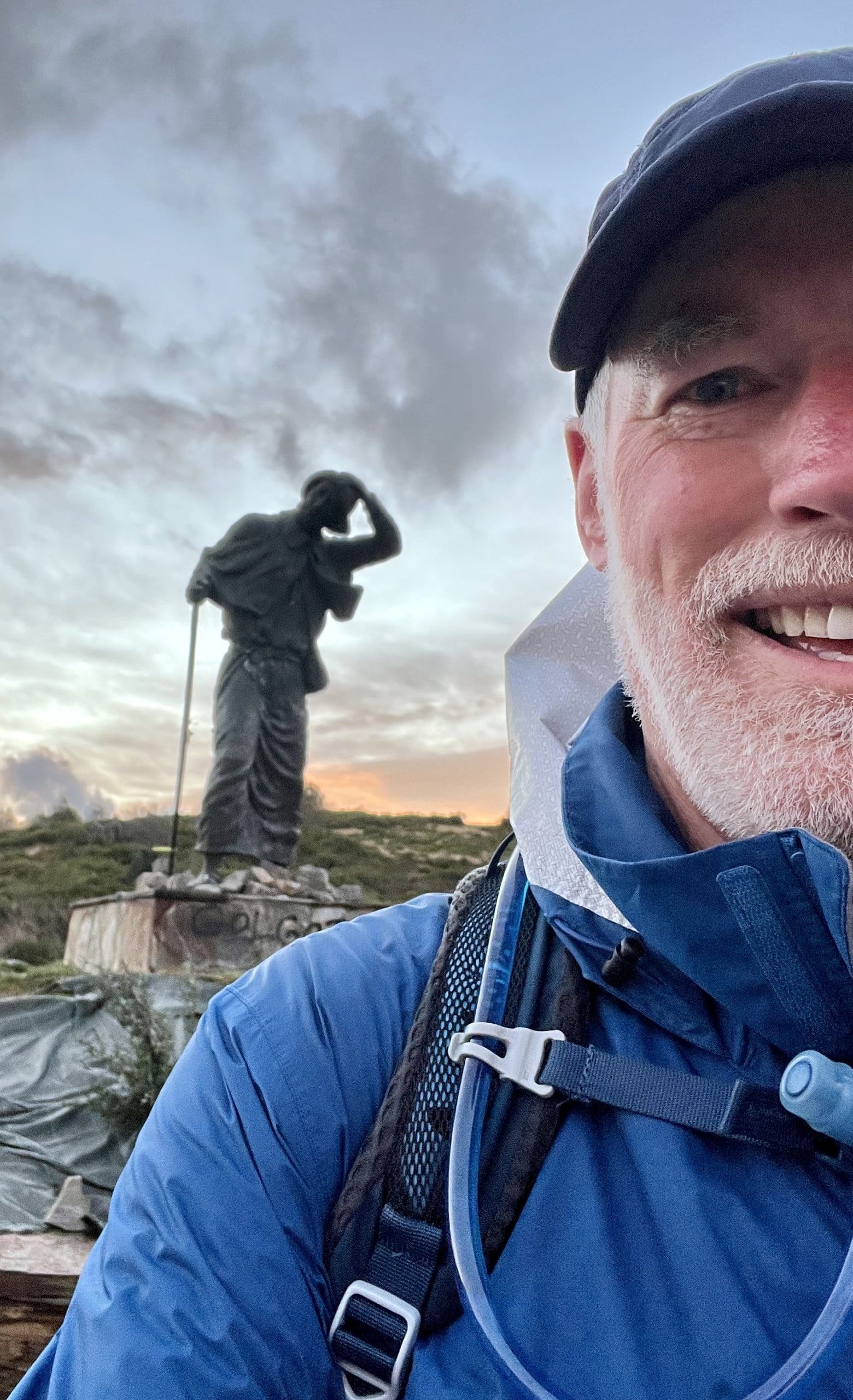 Mileage Check: 150 km to Santiago and a sense of the windy conditions.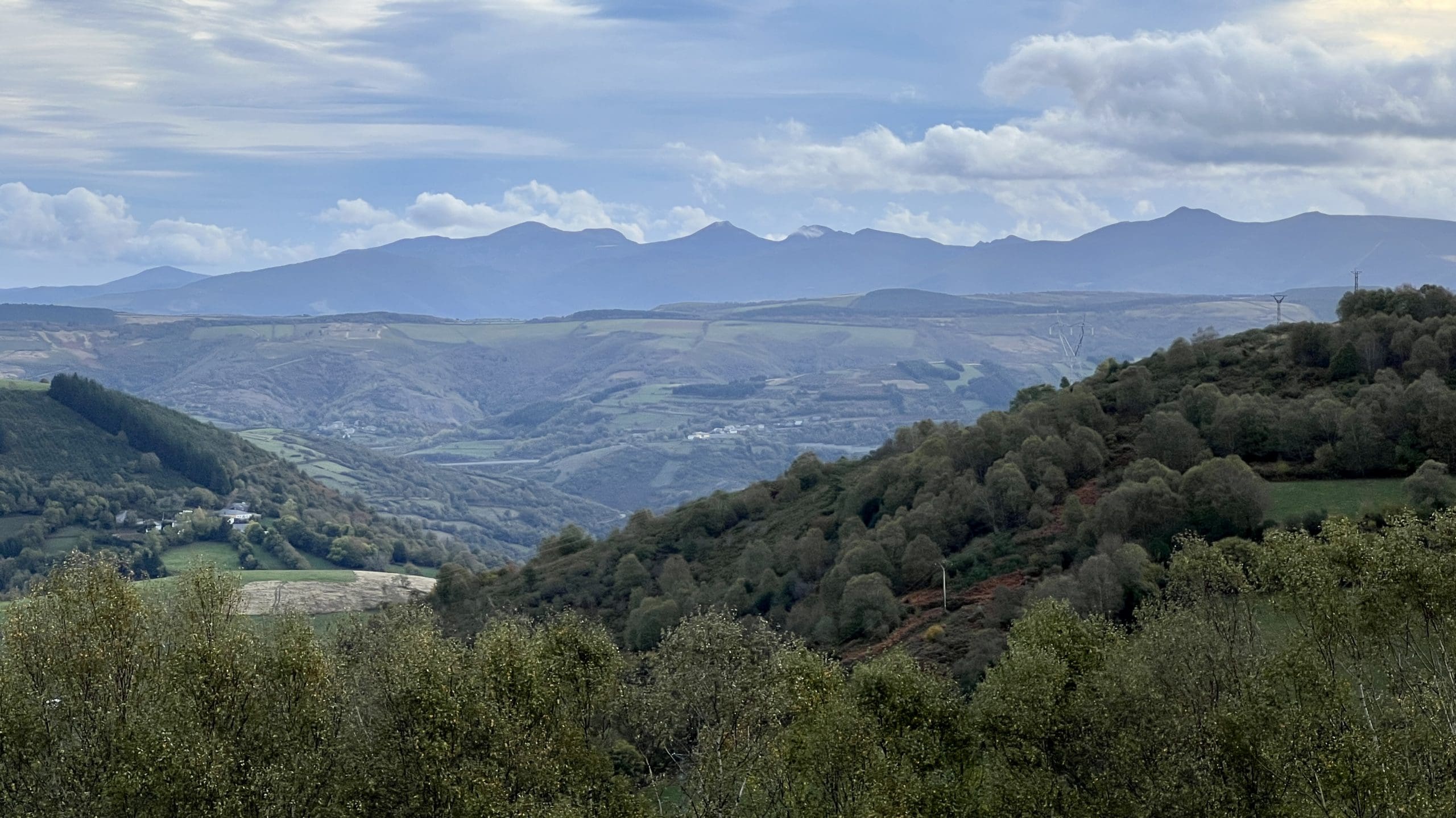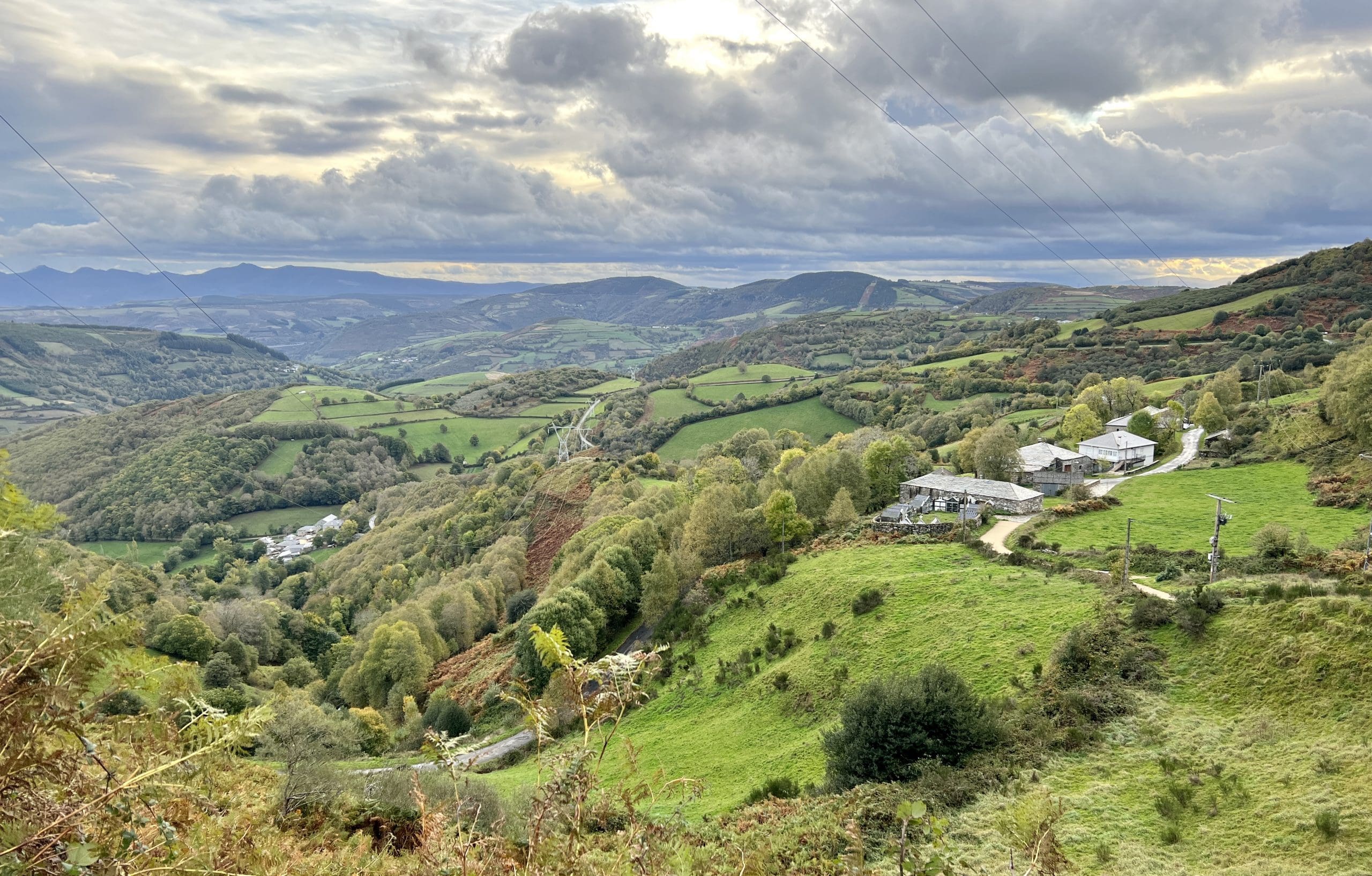 This is said to be the smallest church on the Camino. Unfortunately, like so many others this year (a residual effect from the Covid shutdown), it was locked up, so I couldn't look inside.
I always love the first glimpse of each day's destination!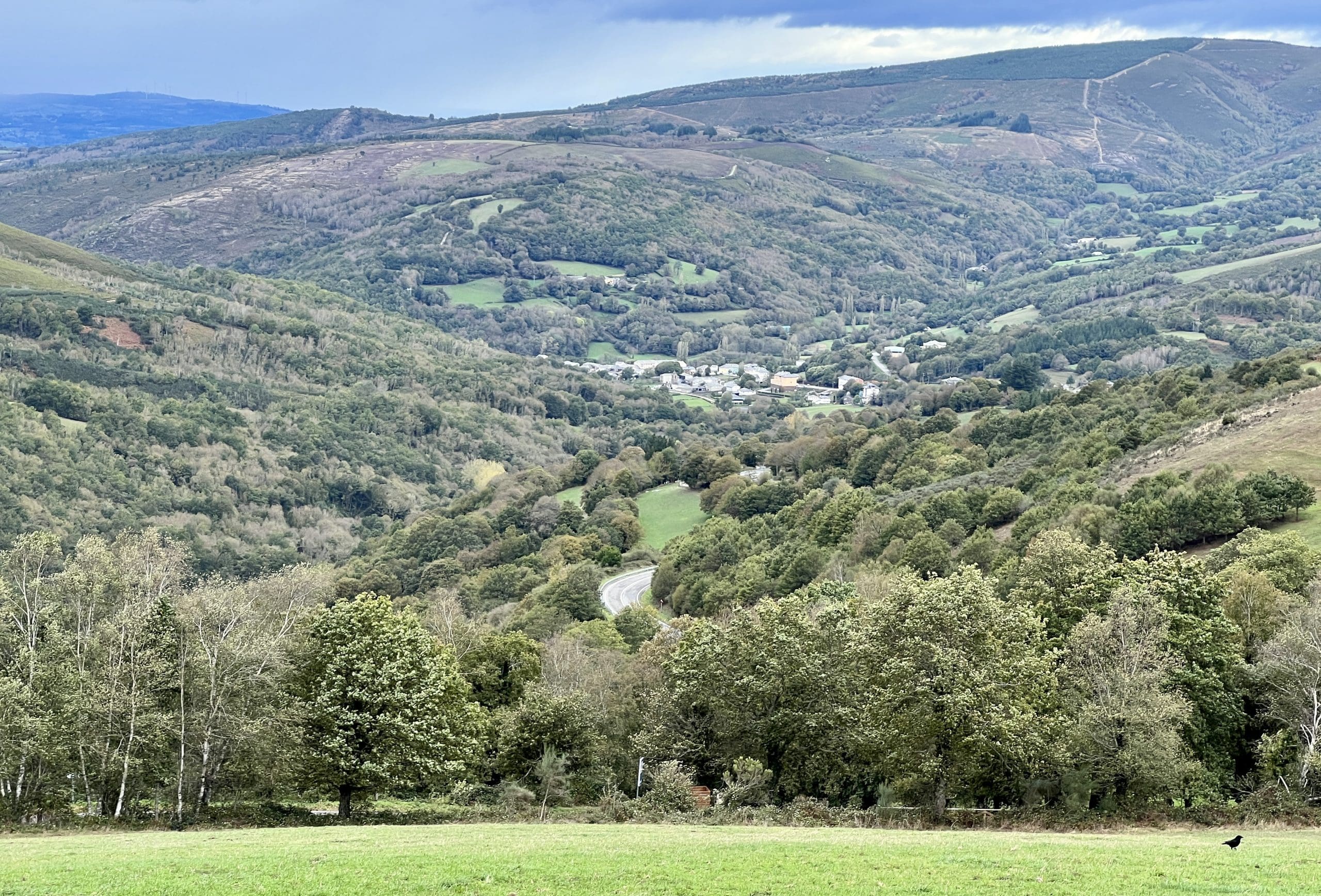 Entering Triacastela, I was embraced by this centuries-old chestnut tree. Imagine the millions of pilgrims that have also rested here…
Public Art
Daily Stats: 22.6km (14.0 miles) and 464m (1,522′) of elevation gain.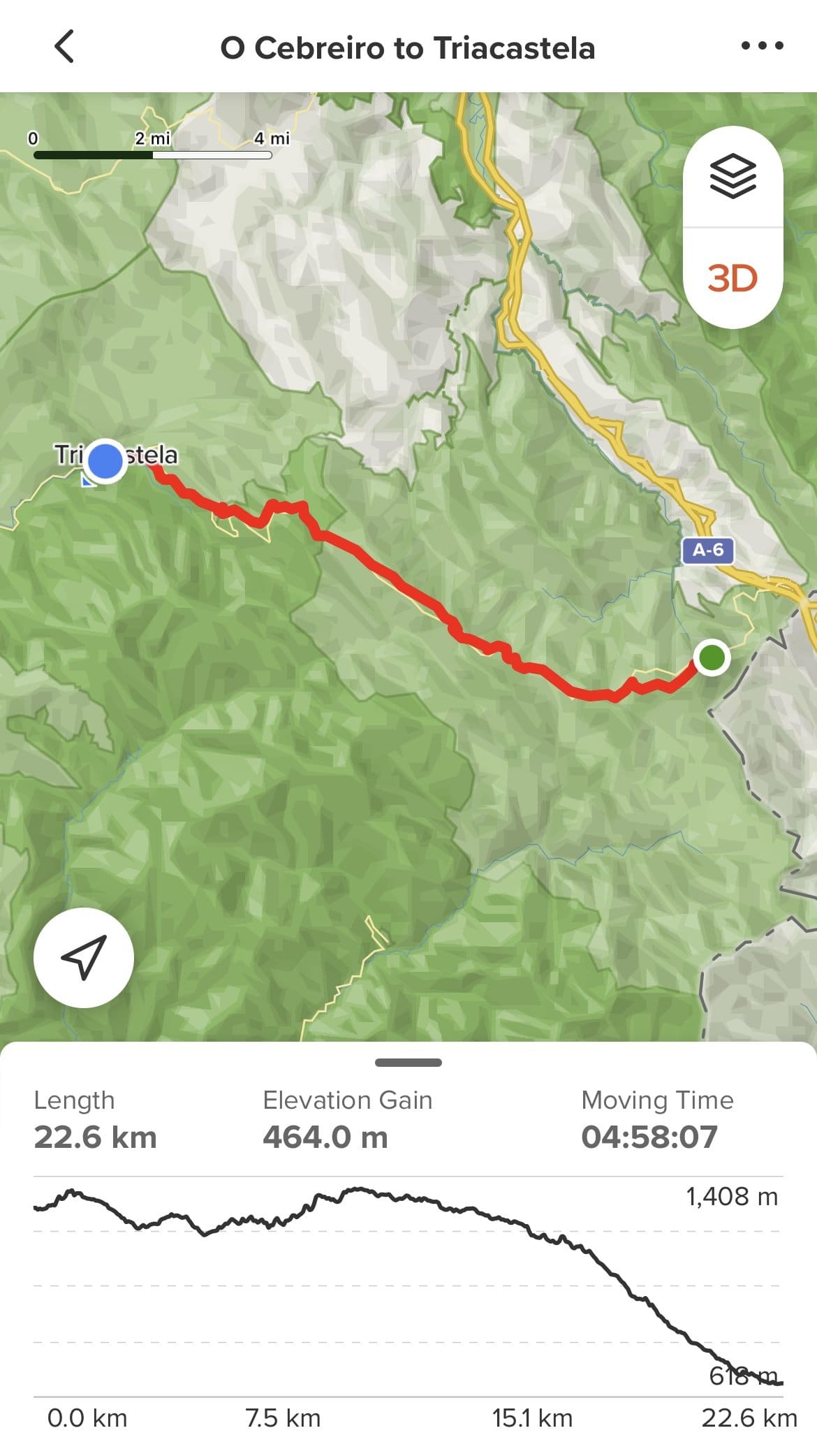 Check out O Cebreiro to Triacastela on Relive!
My accommodation:
Iverik Triacastela Hotel
Av. Camilo José Cela, 28
27630, Triacastela
+34 982 65 00 61
---
Day 34: Triacastela to Sarria
I can think of only one word to describe today…
Not "windy," although that wouldn't be wrong. And not "dark," because it also applies…
The word is "wet!"
It was a very wet day from the moment I stepped outside, through all the cafes I visited for a respite, to the moment I walked into tonight's hotel. In the few moments when it wasn't raining, I was walking under a canopy that still had plenty of water to drop on me.
It was wet!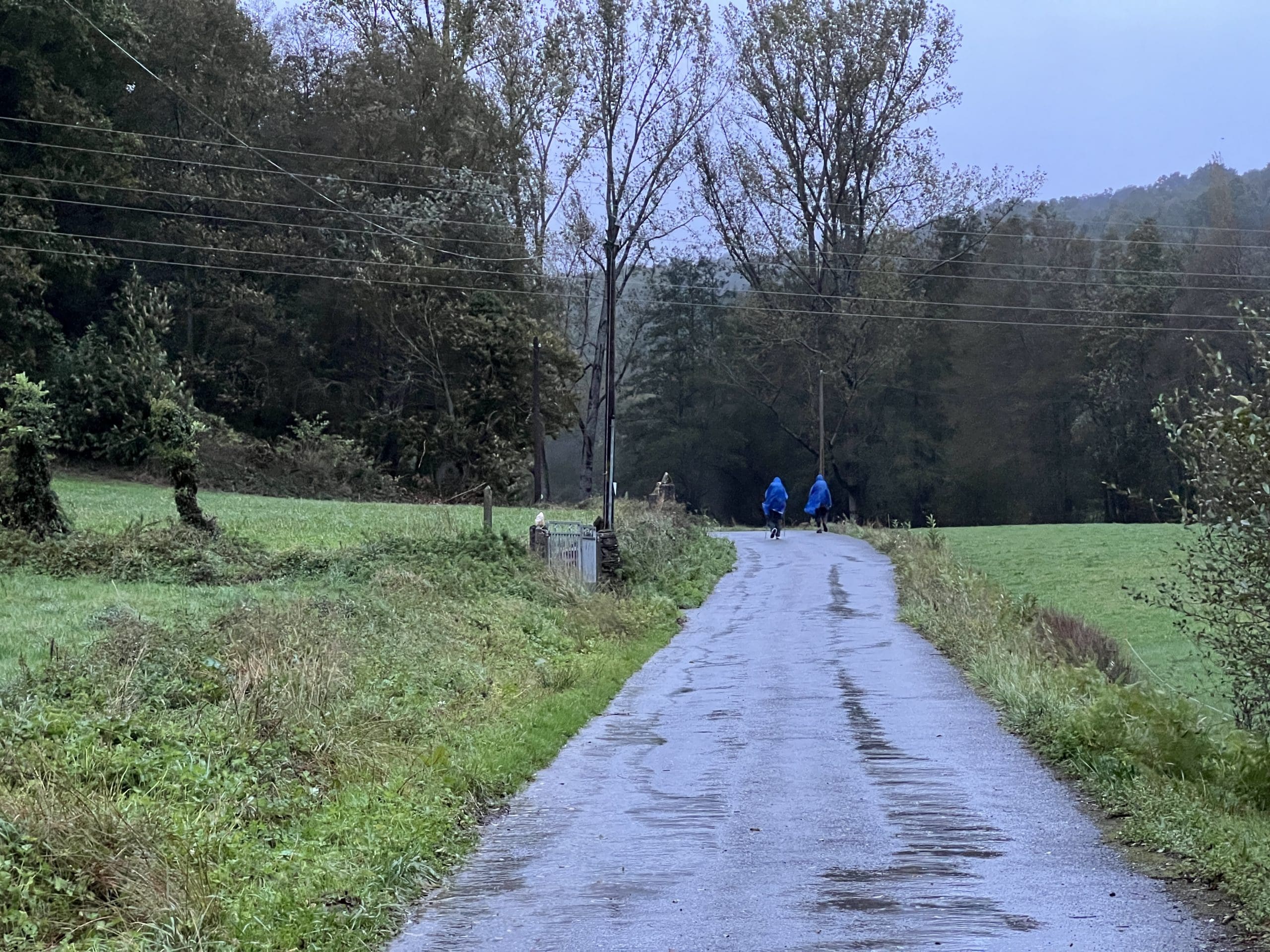 Our trail became a creek.
The Galician water fountains are particularly lush when it rains like this!
You can never really get lost on the Camino – even when walking a labyrinth.
Did I say it was wet?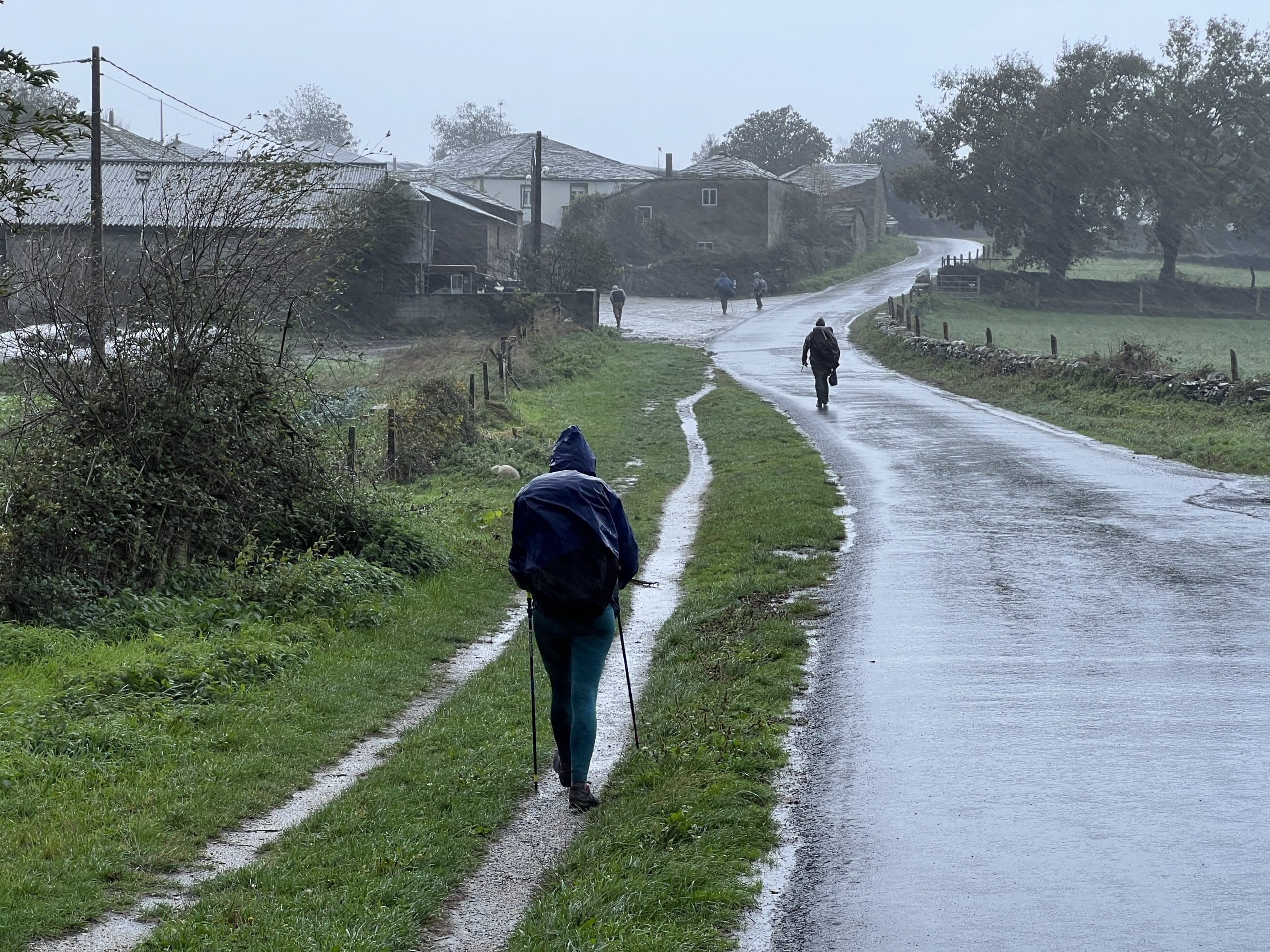 Happily, I did find a fun way to keep the rain from being completely miserable and bring the smiles out. In a deluge of huge rain drops which were drenching us, Matteo from Spain, Jessia from Colombia and Christelle from France and I shared memories and stories of our favorite musicians and concerts. I found it fascinating that everyones' favorites were artists from our home countries (and sometimes home towns, too!). It was fun to learn about new music to enjoy.
Mileage Check
Camigo friends are the true source of camino magic! As I type these words 3 months later, I still remember the relief they brought me that day and am happy to claim them as WhatsApp friends even now! ¡Gracias, mis camigos!
Daily Stats: 18.8km (11.7 miles) and 424m (1,391′) of elevation gain.
Check out Triacastela to Sarria on Relive!
My accommodation:
Hotel Novoa Sarria
Praza da Constitución, Nº4
27600, Sarria
+34 982 60 50 21
---
Day 35: Sarria to Portomarín
As tough as yesterday was in the rain, today was just as beautiful! Rolling green hills through numerous hamlets and villages (including a full rainbow!) to an iconic destination. My timing with the weather gods worked well again, too, as the first raindrops didn't fall until the last 5 minutes of my walk.
True to projections, the path today was filled with many new faces, clean shoes, and wide-opened eyes of many new pilgrims walking on their first day. Let me explain why…
Many pilgrims believe that it is very important for them to receive a compostela when they finally arrive to Santiago (that is, a certificate that "proves" you have completed the "Camino De Santiago"). But the rule, to get one, is that you must travel the final 100km of the way, on foot, bike, or horseback. This point, on the Camino Francés, is barely inside of the town of Sarria.
It seems that walking 700kms from France isn't enough for the authorities – if we don't walk the path from near-Sarria, we don't earn our certificate. I know, I know… that doesn't seem quite right to me, either. But those are the rules!
Because of this "100km Rule," many people (I mean a whole lot of people!) start their walk of the Camino in this town of Sarria. I rarely saw any of my normal camigos today, and met many new pilgrims that started their walk today or recently. And you know what? They were just as friendly and interesting as the pilgrims I've been walking with for many weeks! Quality is always more important than quantity!
The day started with a big sign and many new peregrinos…
It was interesting to see so many large groups, many wearing bright, clean, and brand new gear!
There was no rain to start the day, but the potential was always in the air!
The route yielded many spectacular views!
Mileage Check at a key milestone: 100km to Santiago de Compostela!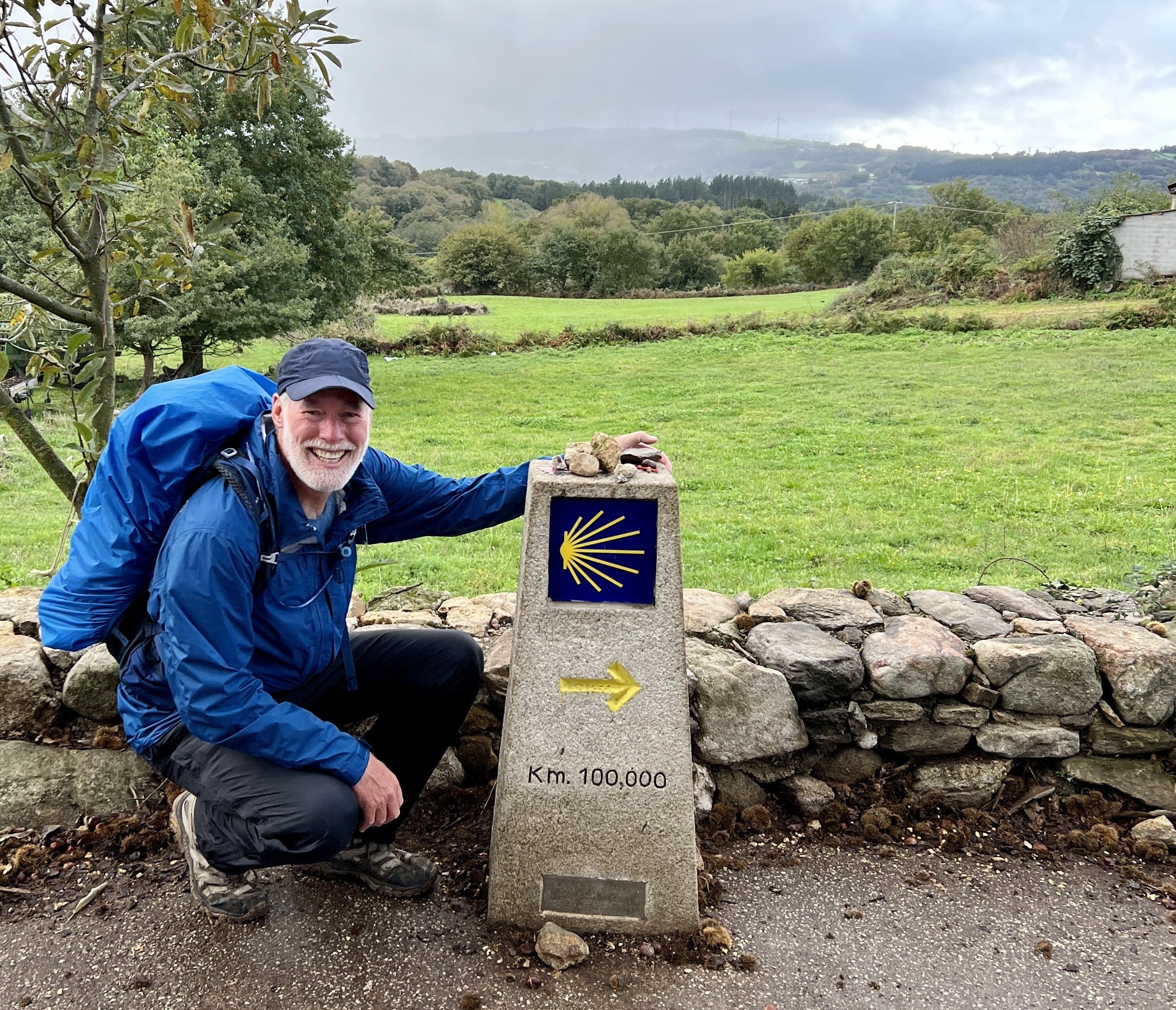 I've mentioned it before: the excitement at first seeing our day's destination!
Our arrival to Portomarín couldn't have been more dramatic! Two bridges and the remains of a third (Roman!).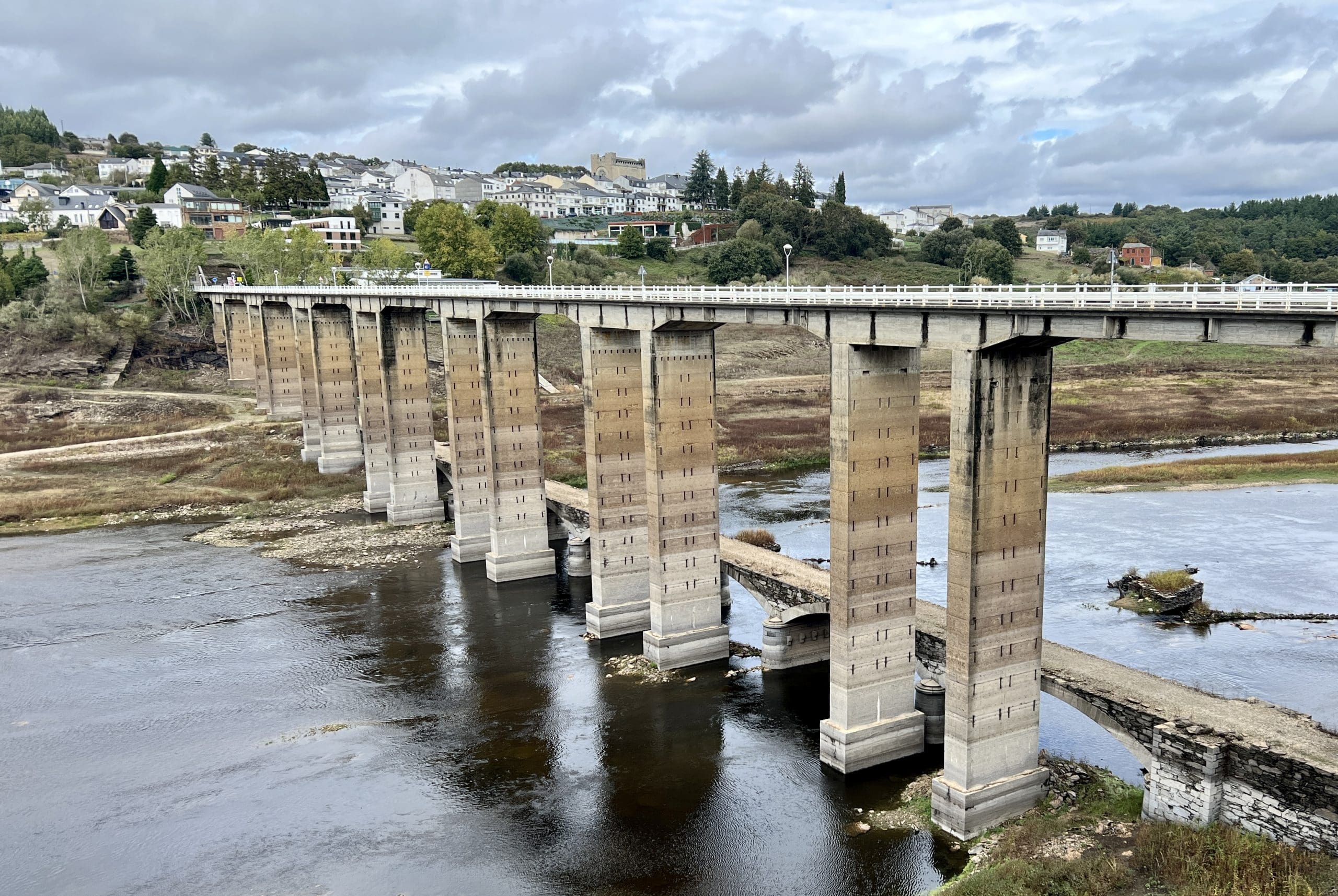 The day ended with another big sign, and a town filled with many new pilgrims talking about their sore feet!
Daily Stats: 23.8km (14.8 miles) and 594m (1,949′) of elevation gain.
Check out Sarria to Portomarín on Relive!
I met Arturo from Ecuador on the start of my walk this morning. After reading my first WhatsApp post about why people walk "only" from Sarria, he reminded me that another reason has to do with the limited time they can get away from work, family, life, etc. He is absolutely correct! I am so happy to see everyone out here doing all they can on their own Caminos. It is a thrill to see people thriving against their own challenges!
Also, a special shout-out to the first black African I've met out here: a young woman from Uganda who I told all about my Namibian friends and colleagues. We agreed that we want to promote the Camino throughout all of Africa, and make it a truly universal trek!
I explored the town as the dark clouds built overhead. I wonder what tomorrow's weather will be like. It's obvious that we're in Galicia's rainy season.
Public Art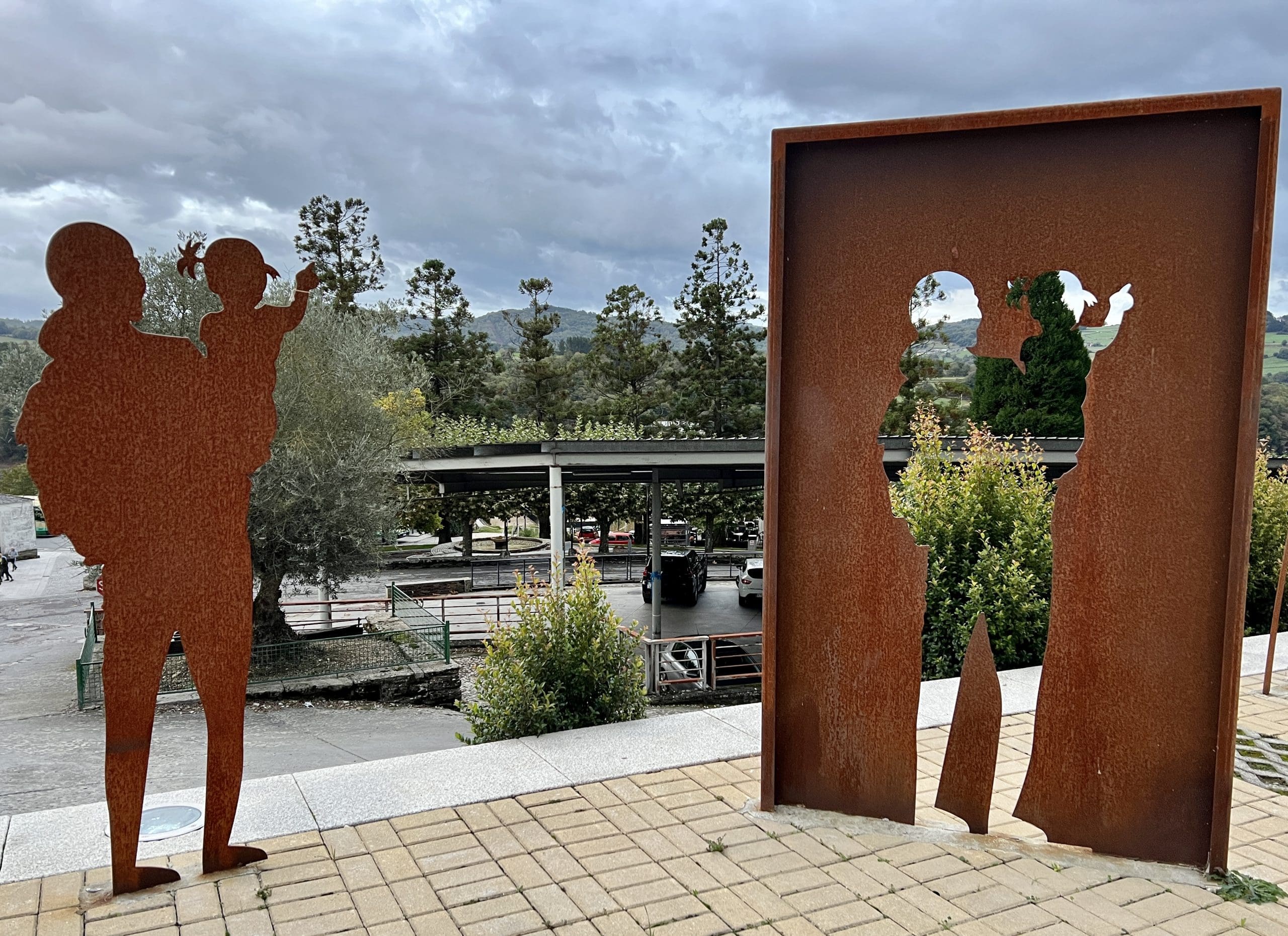 My nominee for the most appropriate statue!
I just checked. Yep, rain is in the forecast again for tomorrow…
My accommodation:
Vistalegre Hotel
Travesía de Compostela, No 29
27170, Portomarín
+34 982 545 076
---
Day 36: Portomarín to Palas de Rei
There is no way to sugarcoat it: today was a hard day for me. So I'm going to make this quick and look forward to tomorrow.
What happened? I don't mean to complain, but I do need to vent a bit…
My boots didn't fully dry overnight so I was uncomfortable from my very first steps. I took two 30-minute rest breaks to dry out my feet and change socks, a first for my Camino.
The weather couldn't figure out what it wanted to be today: puffy clouds in blue skies, misty rainfall, full downpours, black storm clouds… My rain jacket was donned and doffed multiple times.
My feet went into full rebellion, with hot spots, blisters and sore spots all deciding to gang up on me. I felt pain with every single step!
There is a completely different vibe out here now, what with the bus loads of new pilgrims clogging the path (Literally: they don't move out of the way to let the faster walkers pass them!). They're often unnecessarily loud and I saw several drop litter along the trail. What are they thinking? 🙁
They are friendly enough, of course, and the school groups are filled with Spanish and French students who enjoy practicing their English on me, which was humorous. Unfortunately, in my foul mood, they just made me miss the kids in Arandis even more.
More than anything, it became very apparent to me today that this adventure will soon end. Even though I plan to continue to the coast after I reach Santiago in a few days, I know that the hours, kilometers, and steps are coming to an end and most of my camigos will be gone. I don't feel ready for it and am unsure what to expect my feelings to be when I approach the last Cathedral.
I'm unsettled.
New pilgrims… with bright and shiny new rain covers.
Public Art
Some camino friends pointed out my growing resemblance to all the pilgrim images we see along the way. They may have a point!
Daily Stats: 25.5km (15.8 miles) and 727m (2,385′) of elevation gain.
Check out Portomarín to Palas de Rei on Relive!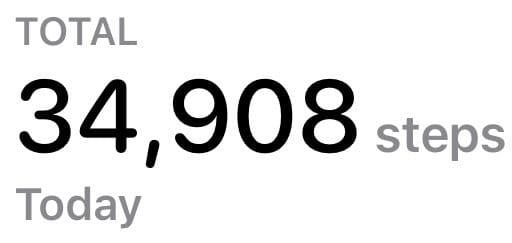 My accommodation:
Casa Benilde
Calle Mercado
27200, Palas de Rei
+34 982 380 717
---
Day 37: Palas del Rei to Ribadiso da Baixo
The day was long, with many more hours of walking than has been normal for me. But the forecast for scattered rather then steady rain gave me the confidence to move back into my Chacos sandals again and carry my boots. It worked – my feet survived the day!
The new pilgrims were still out in droves, but there were plenty of chances to have the path to myself, or alongside the camigos with whom I occasionalIy walked. A bright spot of the day (besides quick bursts of sunshine!) was meeting some new long-distance walkers who have always been 1-2 days separated from me for the past month. There are some fascinating fluid dynamics at work along this route.
Sometimes I'm by myself…
Sometimes I walk with new friends… She's French, got sick part way through her journey, went home for 2 weeks to recover, then returned to continue her Camino. He has ridden and pushed his bike (in order to talk with walkers) from Athens to Norway and now on the Camino. Next, he's looking to ride his bike to Cape Town. Wow!
Sometimes it feels very crowded…
Public Art
Nature's Art
Daily Stats: 28.2km (17.5 miles) and 639m (2,096′) of elevation gain.
Check out Palas de Rei to Ribadiso da Baixo on Relive!
My accommodation:
Pension Ribadiso
Lugar Ribadiso 22
Ribadiso da Baixo
+34 981 500 703
---
Day 38: Ribadiso da Baixo to Arca
Today was not an average day on the Camino, but I guess it was an average day in Galicia during the rainy season: such a different land than all the rest of this trek. I started walking in the dark, with a light drizzle, and a lot of extremely muddy dirt paths from the overnight rainfall. It turned out to be the biggest test yet of my "socks-in-Chacos-sandals" footwear, which I'm very happy to report… worked!
Despite the muddy trails, difficult for high boots, low boots, trekkers, and sneakers as well as my sandals, the mood was definitely festive. Everyone I walked with knew that they were on their penultimate day. After a good night's sleep tonight, no matter where we each started our Camino, we will all see the Cathedral of Santiago de Compostela first come into view as millions before us have done at the same vista. People were feeling celebratory today, but…
On this night before most peregrinos' destination – which has been days, weeks, or months in the execution and often years in the planning – everyone has mixed feelings. We are excited, sure! But we are also tired. We are sore. Our feet hurt. Our legs hurt. Our backs hurt. Most are very happy that the walking will end tomorrow. Many are wondering what they'll do next.
I think many pilgrims walked the Camino looking for answers – but few were found. Personally, I think that the effort served them better by helping them form new questions.
Another parallel with Burning Man: On the next-to-last night, when the Man burns, all Burners enjoy the energy of the loud, rowdy, and joyous celebratory party. On the last night, when those tens of thousands of same people watch the Temple burn, there is complete silence.
I expect today's celebrations to be replaced tomorrow with a more quiet reverence.
This group of happy peregrinas are longtime friends from Central & South America.
They were having such fun together, and insisted on having me join in their selfies. When I joked with a camigo that I might be in a lot of Christmas cards this year because of my resemblance to a traditional pilgrim, he said "I think you'll be in a lot of Christmas cards because of your resemblance to Santa Claus…" Rim-shot!
Mileage Check – so close!
Daily Stats: 23.5km (14.6 miles) and 664m (2,178′) of elevation gain.
Check out Ribadiso da Baixo to Arca (partial) on Relive! I'm sorry, but the app stopped working after just 3km today.
I couldn't not share this before signing off tonight: here's a unique peregrino and his companions arriving from the Camino del Norte, which merges with the Camino Francés in the town where I'm staying tonight.
Six weeks ago today, Iain and Janie dropped me off in Saint Jean Pied de Port, France. I had an itinerary with details about my accommodation for each night of my long journey. I had a pack loaded with everything I hoped to need but not one gram more. And I had a few lessons I have been fortunate to receive in my life that proved particularly useful:
Albert Camus taught me that happiness is a choice.
Peace Corps taught me not to hold expectations.
Burning Man taught me to be prepared for anything.
Tyler taught me to witness the divinity in everyone.
Joanie taught me to be patient with others, and with myself.
I was going to post some stats tonight, but I decided to wait until tomorrow is done.
I will share that my total distance walked has now topped 800km and 500 miles!
My accommodation:
Hotel Pino
A Rua, 9
15821, O Pino
+34 981 511 035
---
Day 39: Arca to Santiago de Compostela
I'm ready for the final stretch!
I find myself automatically slowing down these last 5 kms.
I will be reporting live over my approach and entry into Santiago!
I was greeted by Nicole, a very capable photographer from Germany who has walked the Camino many times and knows very well how to capture all the emotions we feel upon our arrival. Danke, Nicole!
Public Art – massaging our sore feet: an image to which we all can relate!
Daily Stats: 24.7km (15.3 miles) and 660m (2,165′) of elevation gain.
Check out Arca to Santiago de Compostela on Relive!
I attended tonight's Pilgrim's Mass in the Cathedral, which gave me some more practice listening to Spanish.
The spectacle at the end of the mass is the famous Botafumeiro – it was spectacular indeed!
Following the mass, I joined these wonderful camigos for a celebratory dinner. From the left: Nicole from Germany, Bill from Florida, Katie from Idaho, Ali from Australia (and NYC), Ned and Lucy from Tennessee, and Diane from Florida. A couple of these folk I got to know better tonight. The others, however, I've known for many weeks over hundreds of kilometers and believe I'll stay in touch with for many years to come.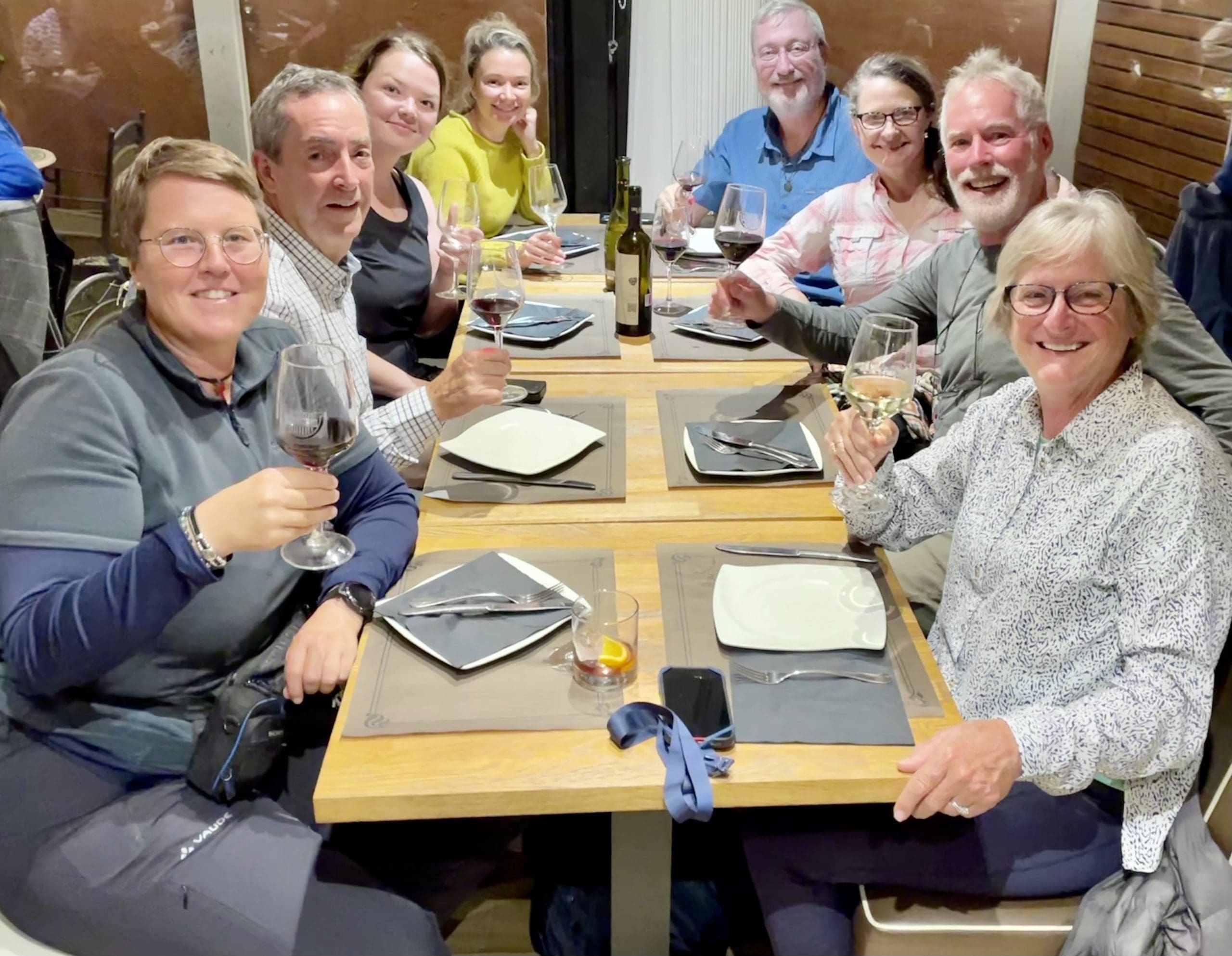 My accommodation:
Costa Vella
Porta de Pena, 17
15704, Santiago de Compostela
+34 981 569 530
---
Some statistics from my Camino Francés:
39 days, 830km (516 miles)
Daily Averages: 28,996 steps, 21.3km (13.3 miles)
I am so grateful to ALL of you for indulging my daily musings and accompanying me on this journey: old friends and new friends; fellow peregrinos; daily conversationalists or infrequent and casual observers – I thought of you all.
While we each take our own steps, we never really walk this route by ourselves. #YNWA. We walk amongst dozens each day (sometimes hundreds) and I chatted with and learned from so many wonderful and fascinating people from (almost) everywhere in the world.
Internally, however, we all walk alone. Writing to you each night kept my aloneness from drifting into loneliness.
Gracias, y buen Camino!
But wait, I'm not done walking! Or blogging…
The blue dot has moved steadily West, and will continue after my rest day tomorrow: all the way to the sea, my ultimate destination.
---
Rest Day: Santiago de Compostela
A bit of resting. A bit of sightseeing. My heart and mind aren't really in the "tourist" mode today, but here are a few random photos.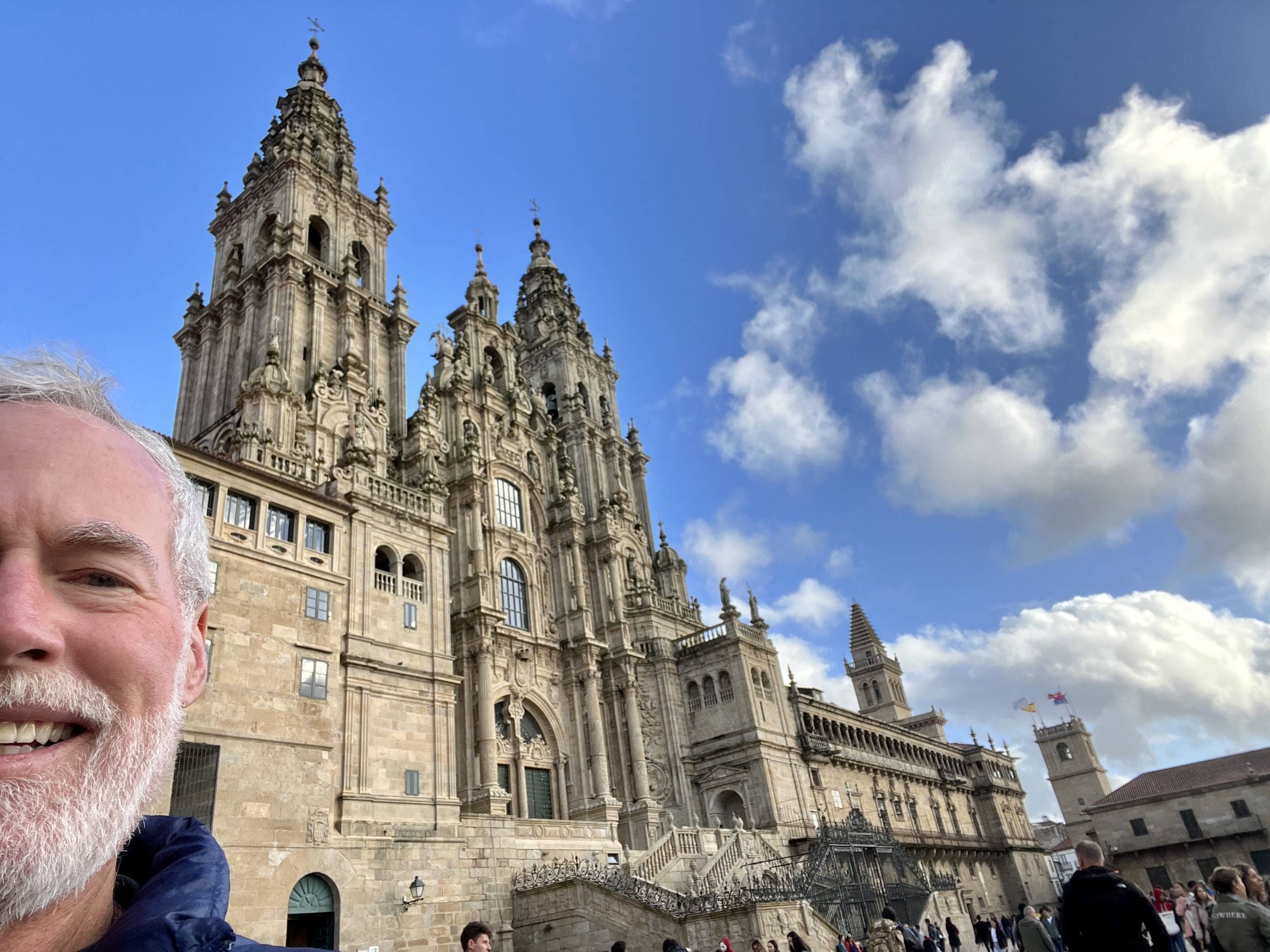 I kept returning to the Cathedral, more than once. Many times, in fact. Hanging out in front of the Cathedral Plaza.
I watched the tourists watching the Pilgrims who were wondering what they (the tourists) were missing. They sure didn't seem to be feeling anything that would inspire them to run up and hug everyone around them.
I watched the pilgrims – los peregrinos – and noticed such a difference between these two groups of visitors to this old, old city.
The tourists were focused on the past: the ancient buildings and the quickly-forgotten dynasties and regimes of old.
The pilgrims were focused on the present: particularly, one another – their fellow walkers – with whom they have just shared a very unique experience. Sure, we also think of the past, and feel connected to the millions of other people who have walked these same paths before us. But for now, we are only interested in the people with whom we walked and talked: camigos for the day, friends for a lifetime, intimate strangers whom we may never see again.
I celebrated the end of their journey with many folks I knew. A few others, I simply recognized from the trail. Most of the faces were new to me. I wonder how far they've come. I wonder what they're feeling. I wonder about this Camino's amazing power to unite people, and to bring smiles to complete strangers who engage like long-lost best friends. My face hurts from smiling so much.
The biggest advantage of spending time in the big cities along the Camino is the chance to enjoy a greater variety of foods. For lunch, I enjoyed these nachos and wraps!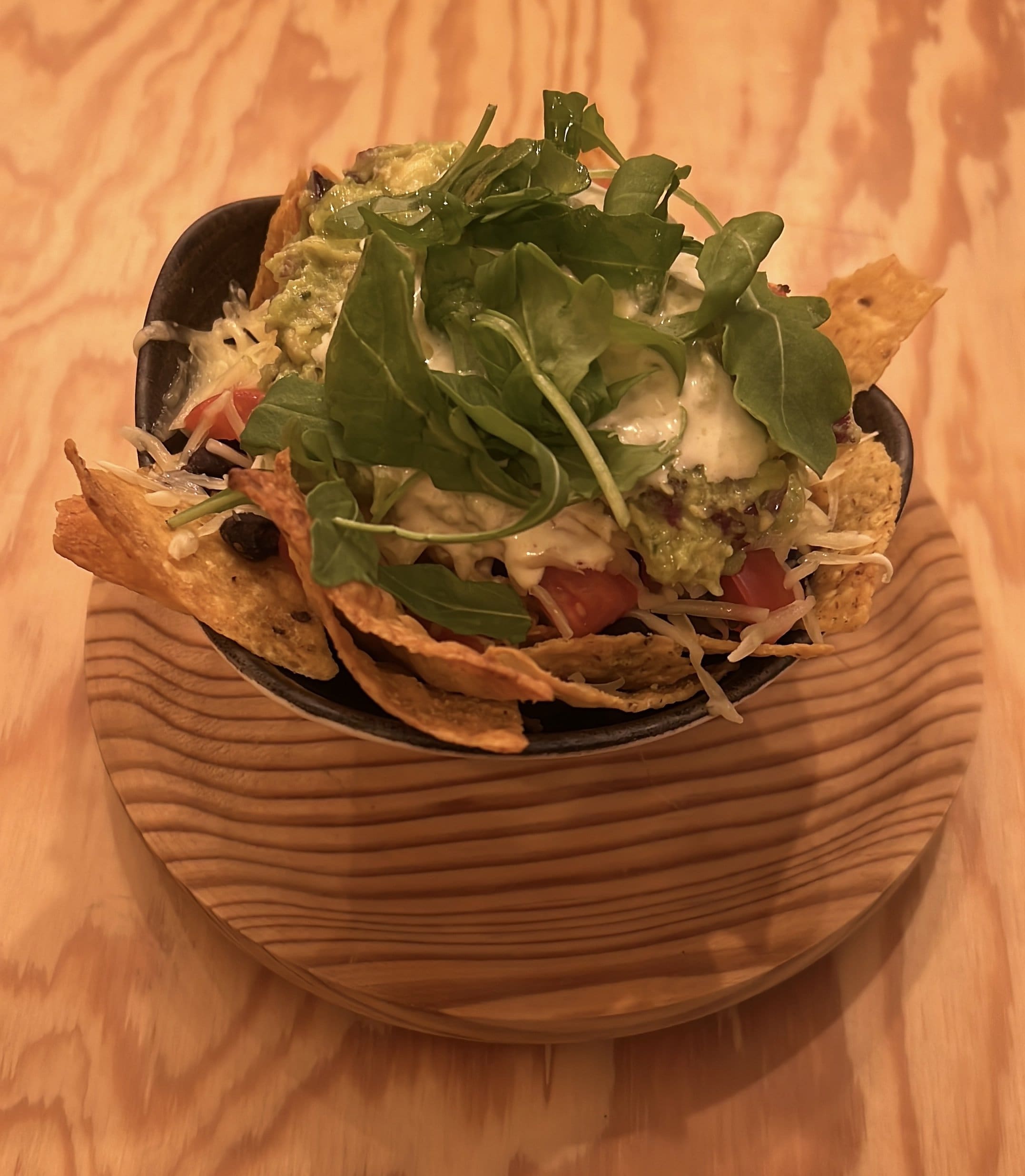 A quick Q&As…
Q: What are you going to do next, Chris, now that you're done walking?
A: Yes, it is true that I have finished walking the Camino Francés (the "French Way" of the Camino de Santiago), but I'm not done with this trip yet. I will walk for a week on another Camino de Santiago, the Camino Finisterre, to "the end of the world" on the Spanish coast, reaching the towns of Fisterra and Muxia in the next few days.
Thus… there will be more pics and commentary for all of you who want to stick around.
¡Buen camino!