What a difference the side of a city can make! Arriving from the East showed off the bustling, industrial sector of Santiago de Compostela. Departing towards the West gave me miles and miles of beautiful rural landscapes and dense woodland trails. An even bigger difference could be felt on the Camino itself. Two days ago, entering the final destination for most peregrinos, meant hoards of people (tourists and pilgrims alike): it was very hectic. But because the Camino is a "one-way route" for 99.99% of the walkers, you very rarely see anyone walking away from Santiago. The serenity that I missed last week, in the last 100 kms after Sarria, returned ten-fold today and the clear weather made for a nearly perfect day of walking!
But first, before I share about the day, I feel compelled to share a story about "Camino magic…"
Do you remember these photos I took from my first and second days out of Saint Jean Pied de Port (many, many weeks ago)? It was in my first blog post about this journey.
Both of these pics show two of the first pilgrims I met on my walk, Sophia and Patricia from Brazil, just before I actually met them. Patricia is a police officer and very fit. Sophia, wearing the orange cap, is the polar opposite. In our few hours of walking and talking, the two of them were pretty sure that they were going to struggle to make it very far together. Either Sophia was going to give up the trek or their friendship was going to suffer. I shared their concerns and wondered if they would join the growing list of camino casualties.
After my rest day in Pamplona (my Day #4), I never saw them again. And that was a major reason I started to be bolder in asking for new friends' contact details. It became apparent that we could easily lose our new camigos, even if we were just a day or two out of phase.
Well now, how's this for magic?
Part way through today's walk (Day #40), walking out of Santiago with no other pilgrims in sight, I reached the start of a long climb and noticed someone walking down the trail towards me. As we got closer, confused recognition arose – we kept staring at each other until we both figured it out. Yes, indeed, it was Sophia, heading back to Santiago to complete her second entry into that famous city!
Sophia brought me up to speed: she and Patricia had indeed succeeded in completing the Camino Francés, many days before me. Patricia returned home for work while Sophia surprised them both in deciding to walk out and back on the Camino Finisterre by herself. Today was her last day as she would finish in Santiago this evening and begin her trip home to São Paulo.
We had such a fun reunion and I was amazed with how different she looked. In the 6+ weeks that she had been walking, I could tell that her strength and confidence had blossomed. She agreed that she felt very different and couldn't wait to return to Brazil to start her new post-Camino life. I felt so lucky to see her transformation in a "before and after" manner, and look forward to staying in touch with her to follow her progress.
She kindly sent me a selfie after her arrival to the Cathedral this afternoon. I barely know her, yet I feel so proud of her!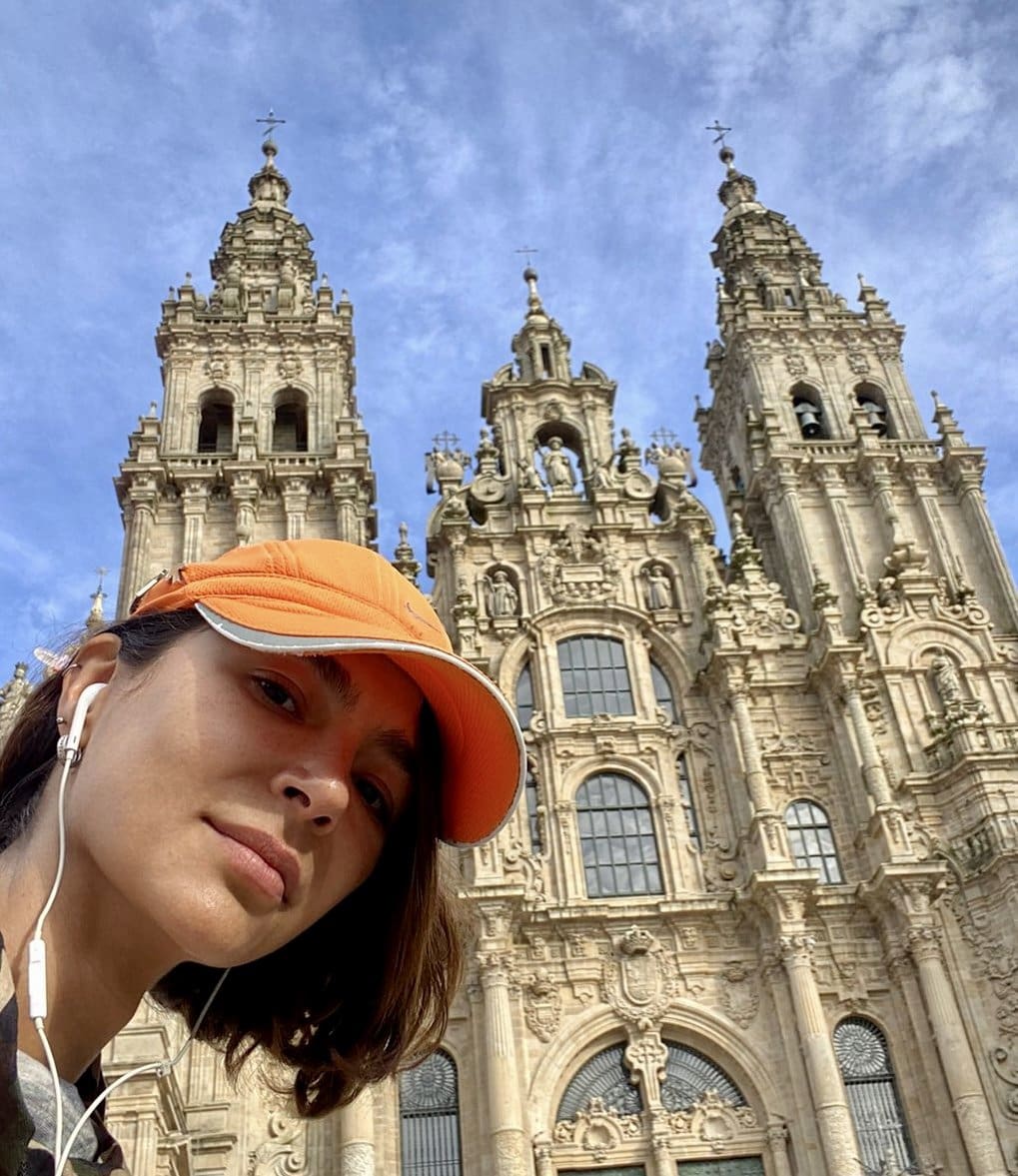 OK, thanks for letting me share another of the marvelous stories I gained on the trip. Now, let's get back on the trail…
---
Day 40: Santiago de Compostela to Negreira
I left Santiago in the early morning, while the city was setting up for a marathon.
Public Art
Mileage Check – one route towards two destinations, until I find the fork.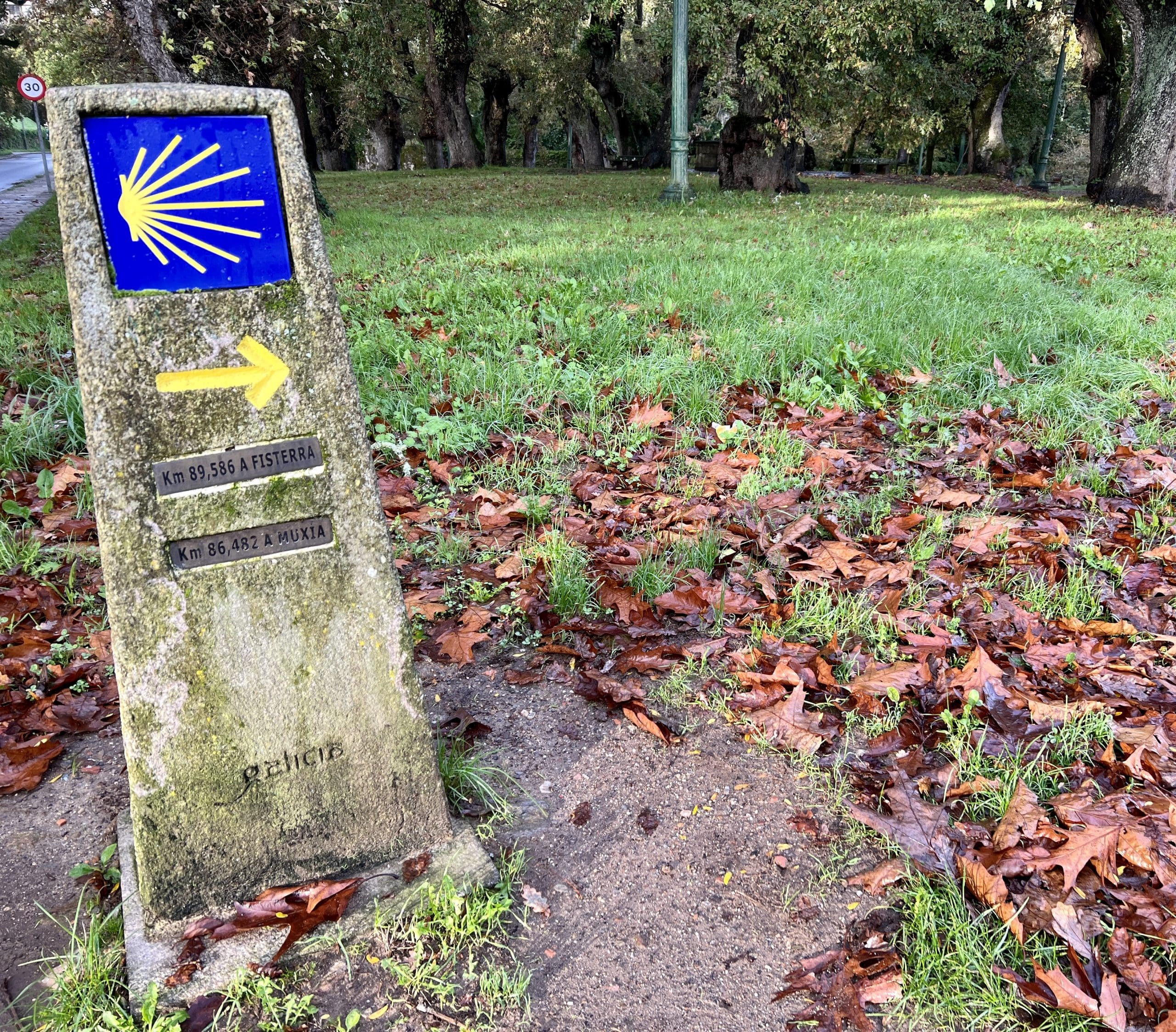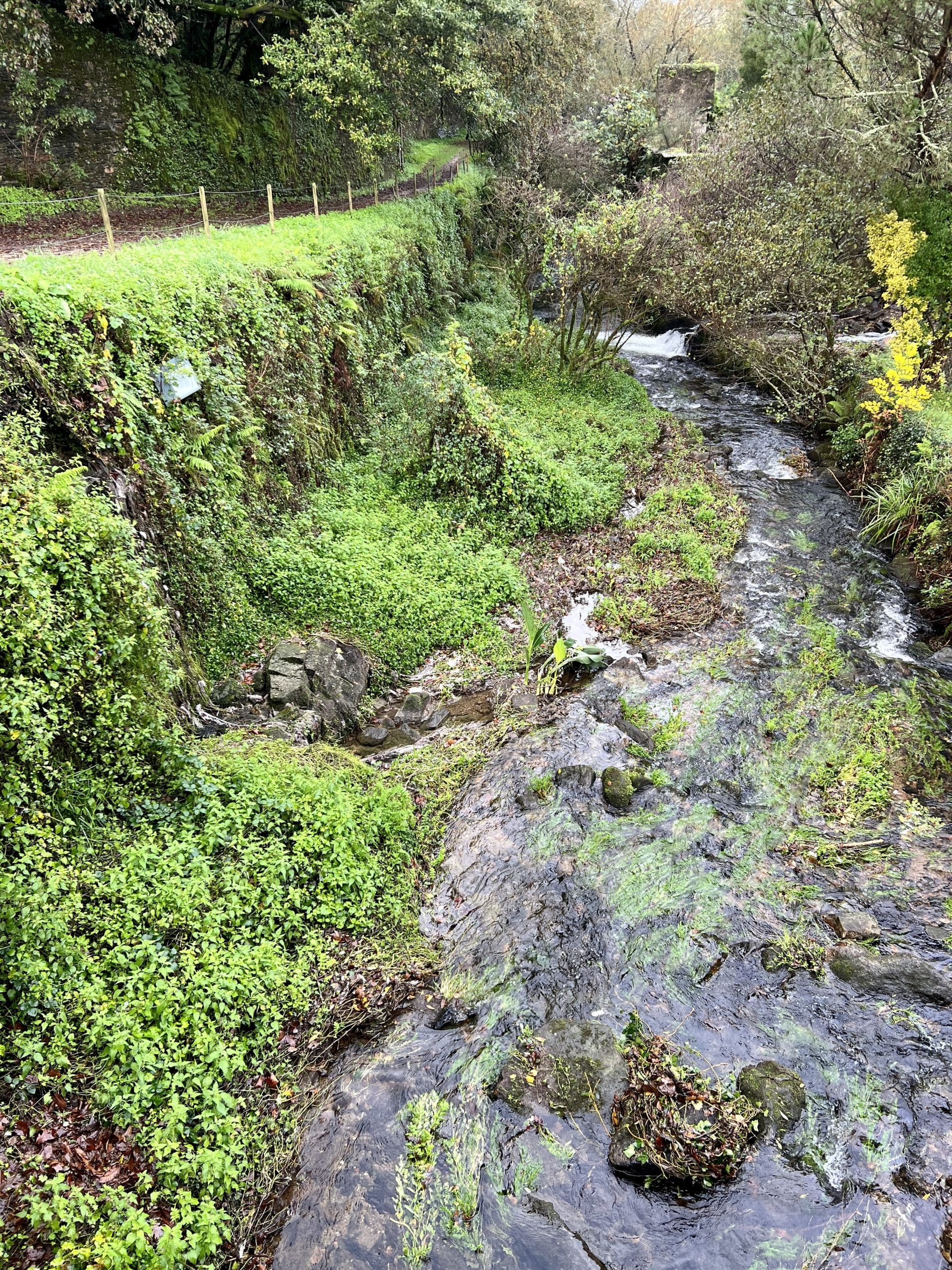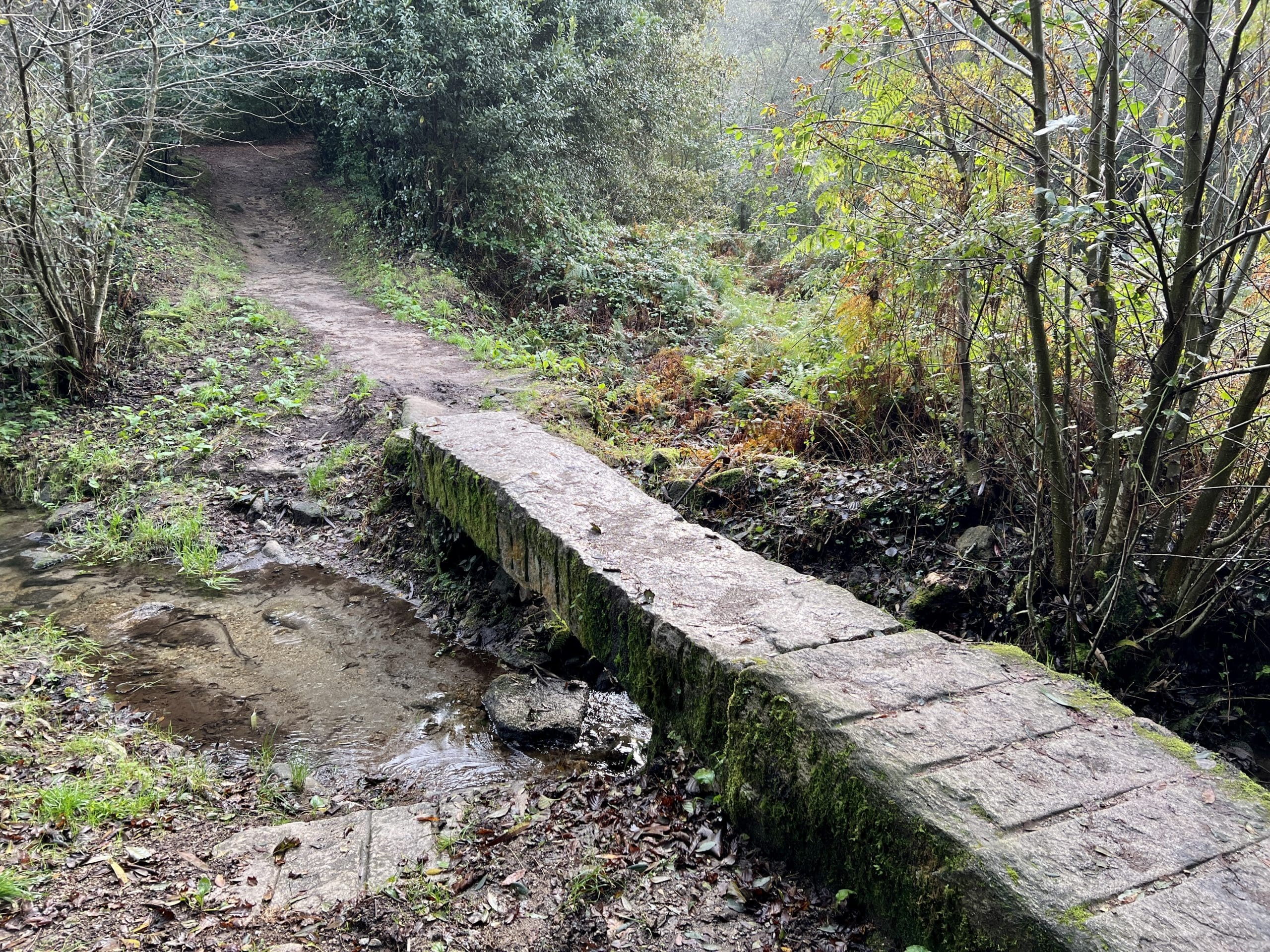 After awhile, I could look back to see the progress I was making. It felt a bit weird talking away from someplace I had spent so long walking towards. But then, I remembered the ocean has always been my ultimate goal.
Daily Stats: 22.8km (14.2 miles) and 696m (2,283′) of elevation gain.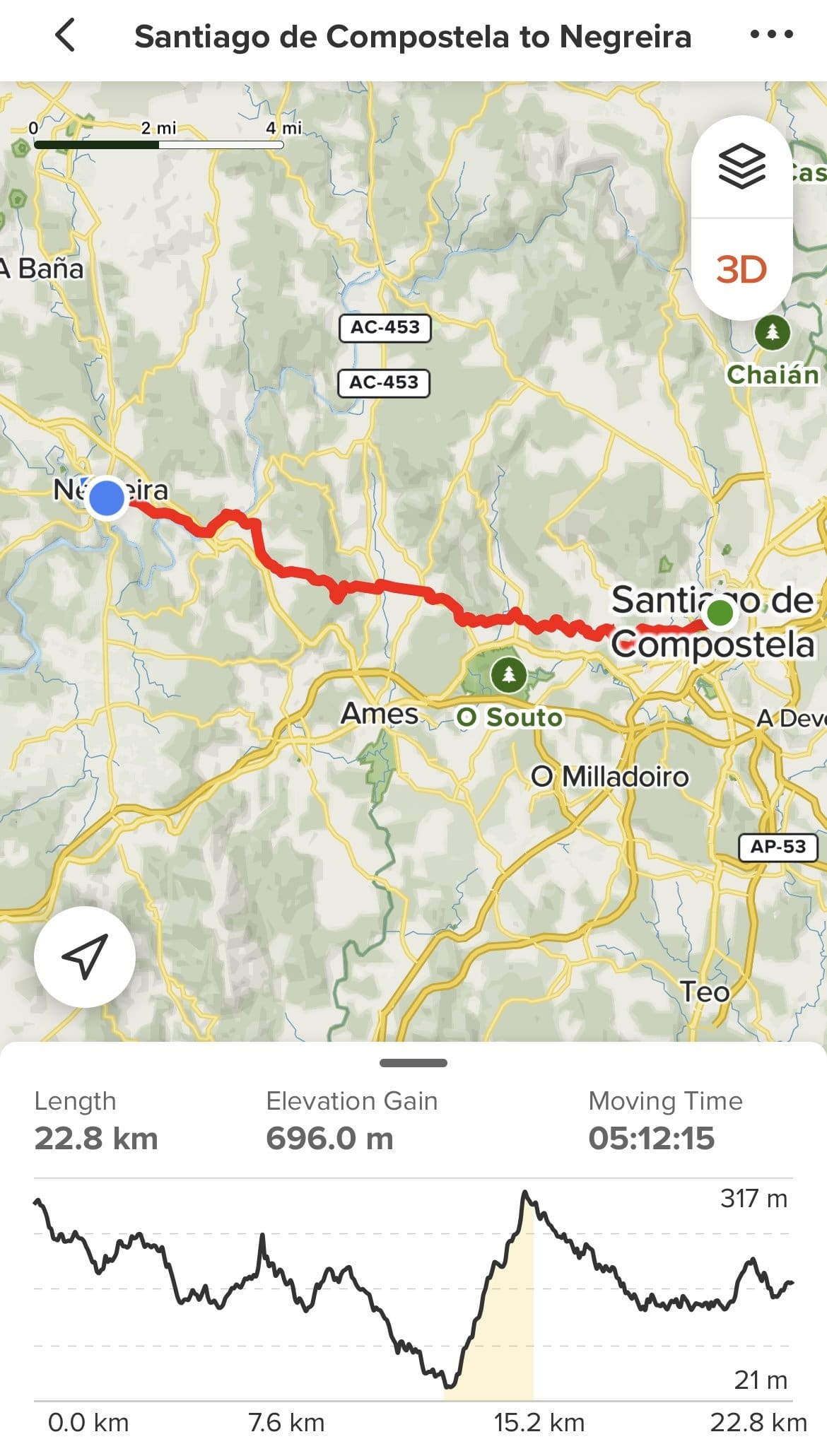 Check out Santiago de Compostela to Negreira on Relive!
My accommodation:
Hostal la Mezquita
Calle del Carmen, no.2
15380, Negreira
+34 981 881 652
---
Day 41: Negreira to Mazaricos
For some reason, I thought this little add-on "walk-to-the-sea" would be a gentle reward for the long Camino I just finished. I was unprepared for a walk that equaled my longest distance (32.8km / 20.4 miles), but with significantly more climbing and wet & windy conditions to boot. Add to that a paucity of other pilgrims to distract me with interesting chats and today turned into the most strenuous of my whole trek. I was very happy to finally reach my destination town and will have a much shorter route to walk tomorrow. In fact, I've already decided: I'm going to sleep in!
Public Art
All this rainfall makes the trails pretty muddy. Being on the far side of Santiago makes them empty.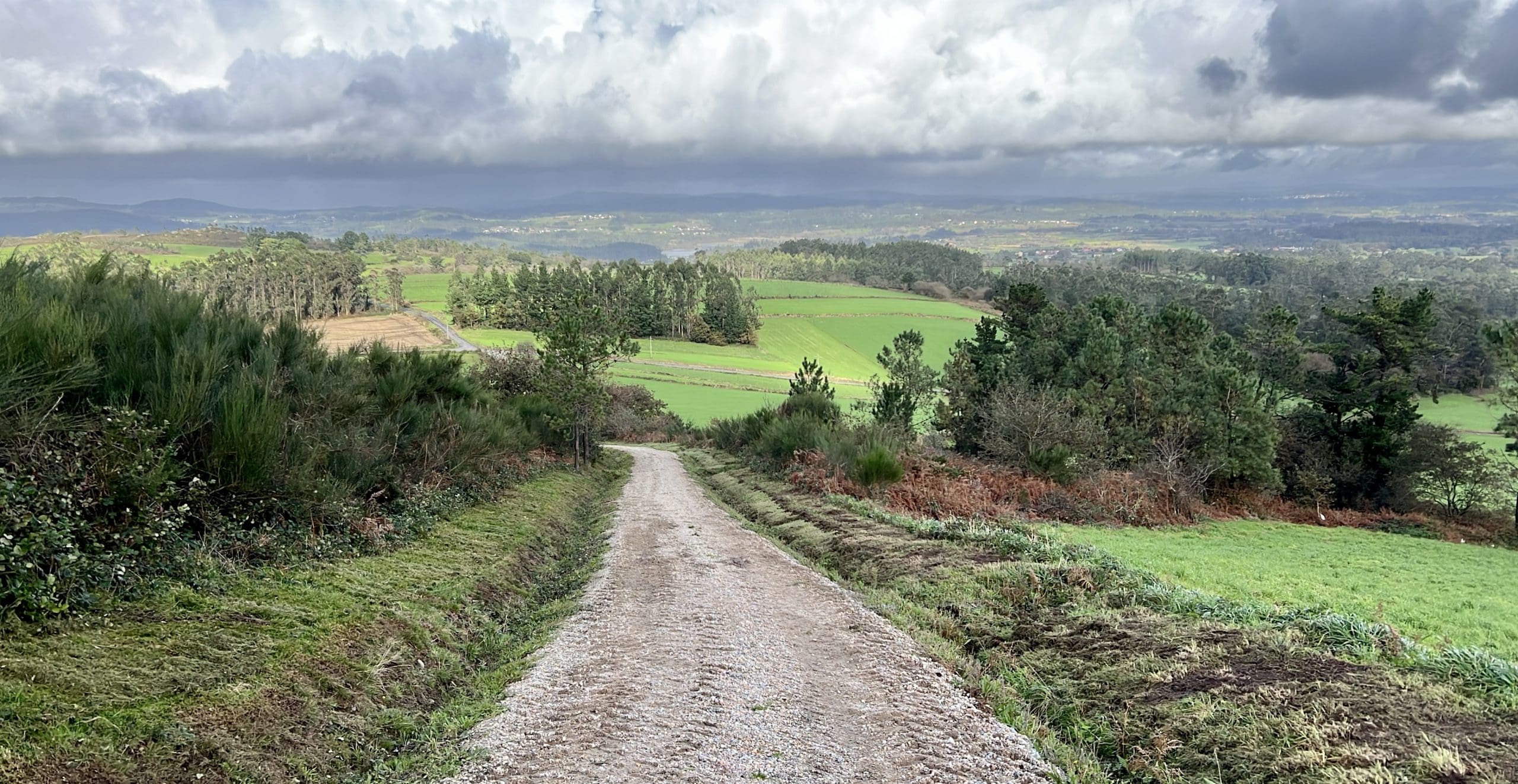 I really shouldn't complain about the rain… it also makes the land so green!
And, of course, you need rain for rainbows!
The views often brought a mix of old and new. (This is a traditional grain storehouse found around old houses throughout the farmland of Galicia – I don't know how to spell it, but the name sounds like "Oreos!")
Mileage Check (to Fisterra)
Just because there are very few other pilgrims out here, doesn't mean I have the road to myself…
Daily Stats: 32.8km (20.4 miles) and 940m (3,084′) of elevation gain.
Check out Negreira to Mazaricos on Relive!
My accommodation:
Casa Jurjo
Avd. 13 de Abril, 91, A Picota
15256, Mazaricos
+34 981 852 015
---
Day 42: Mazaricos to Olveiroa
As foretold, today was the very short day to match yesterday's very long day. I don't mind at all.
To be on a quiet section of the Camino, and on an even quieter alternativo at that, means solitary paths and roads to walk, wide open fields to pass, and the flexibility to move when the weather permits. I haven't seen the ocean yet, but I can smell it in the air. For the first time in many weeks, my hotel wasn't yet ready for me to check in, and the locals who watched as I waited eyed me as someone rather unique in their midst. No one wished me a "buen camino," which was perfectly ok.
Perhaps the biggest benefit is that I didn't work up a sweat or even get my clothes dirty so I don't have my normal afternoon ritual to follow. Instead, I'm sitting here enjoying the warmth of the wood burning stove as I watch the autumn storms come and go outside.
Slowing down and staying awhile just feels right. It's not something we normally do out here.
Mileage Check
"Oreos?"
No… "Horreos!"
Daily Stats: 6.2km (3.9 miles) and 80m (262′) of elevation gain.
Check out Mazaricos to Olveiroa on Relive!
Musings in front of the fire…
In the spirit of not rushing things, I accept that processing this trip will take me a long time. It's been nine years since my first visit to Burning Man, and I'm still working to understand that experience. So I don't know if or when I'll be able to fully answer the question some of you have posed ("What does it mean to you to have done this?")
But pieces of an answer have started to settle in my mind, and they feel pretty comfortable there.
A part of my answer lies in doing something intensively physical, alongside many others with whom I have shared the challenges, and with very few of us having the training or experience of being particularly athletic. We are all stronger and more capable than we realize!
Another part lies in joining something historical – a journey that has been taken by countless others for countless years.
A third relates to the beauty we have around us: in the landscape, in the architecture, in the people from (much of) the world that I have met. There were a few for whom I felt sorry, caught up in their discomforts and wallowing in self-pity, but most peregrinos expressed appreciation for their good fortune in being able to do this, and their sincere desire that more people of the world could become as lucky as we are.
I think I'll take this opportunity to enjoy a nap, but first a few visuals:
The statistics for the day (and the year-to-date) that I arrived in Santiago de Compostela, along with 1,242 other folk.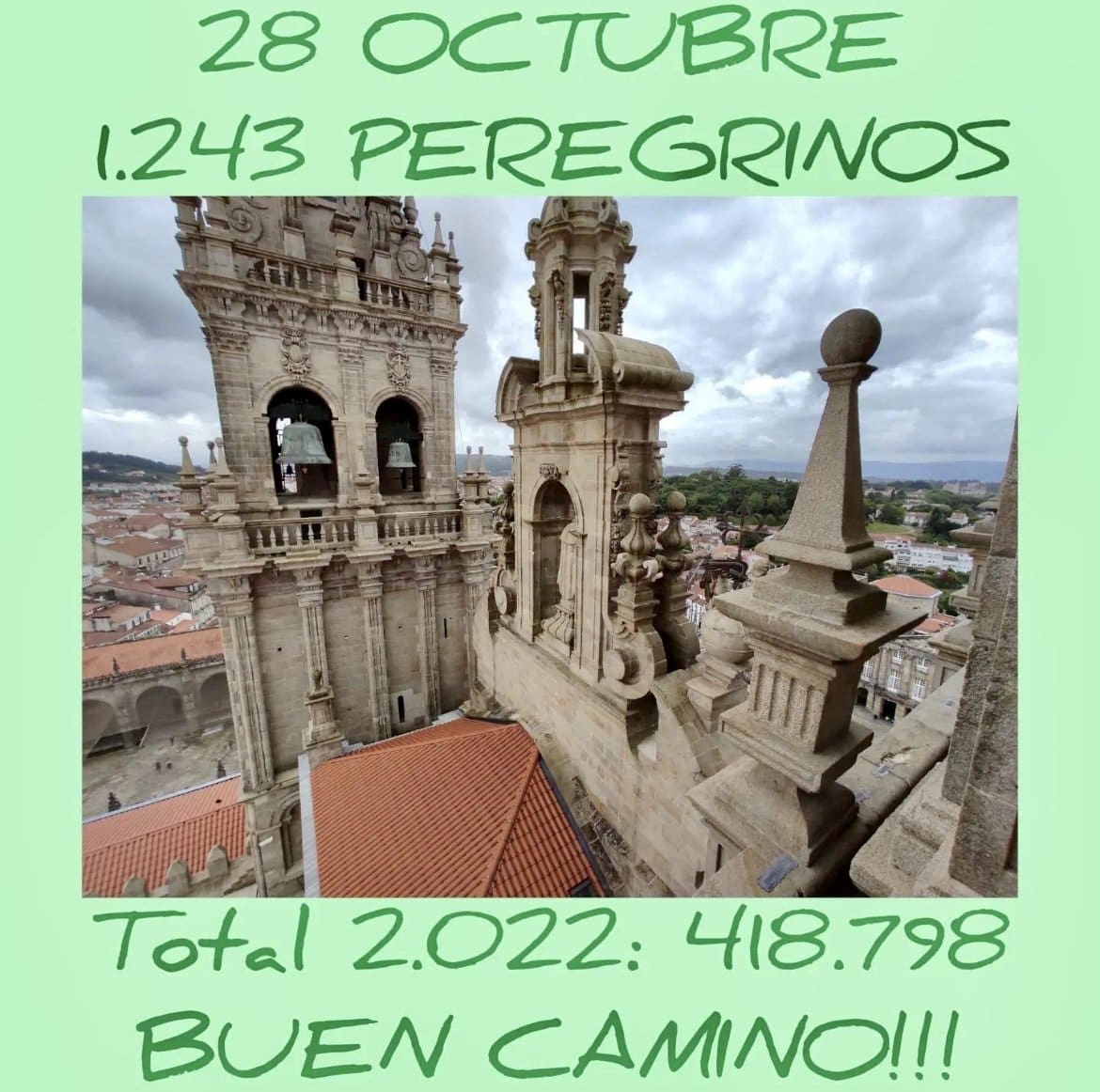 My friend from Germany, Jürgen Heinrich, is an accomplished artist who walked the Camino several years ago.
He sketched the Cathedral upon his arrival, then later colored it with remains of the espresso he enjoyed that afternoon.
For his Camino companion, he painted this beautiful thank you card with so many iconic images. Danke for sharing, Jürgen!
My accommodation:
Pension As Pias
Olveiroa
15127, Dumbria
+34 981 741 520
---
Day 43: Olveiroa to Cee
Awww… what a wonderful day on the Camino! Off the alternativo and back on the main route, I found several other peregrinos with whom to walk and talk on paths that were very rarely on or alongside a road – such a treat! A light rain fell off and on, but it was nothing to cause us any problems. I made it to my destination of Cee, a small fishing town, so I guess my walk to the ocean has technically been completed. My next goal is to walk tomorrow to the point that the ancient Romans called Finisterre, "the end of the world!"
I could never figure out the connection between the boots and staff at the photo spot and the Vákner posters we occasionally saw.
I read this signboard but I have yet to follow the QR code to learn more…
A few kms down the path, the monster greeted us! Do you think they might be trying to scare us away?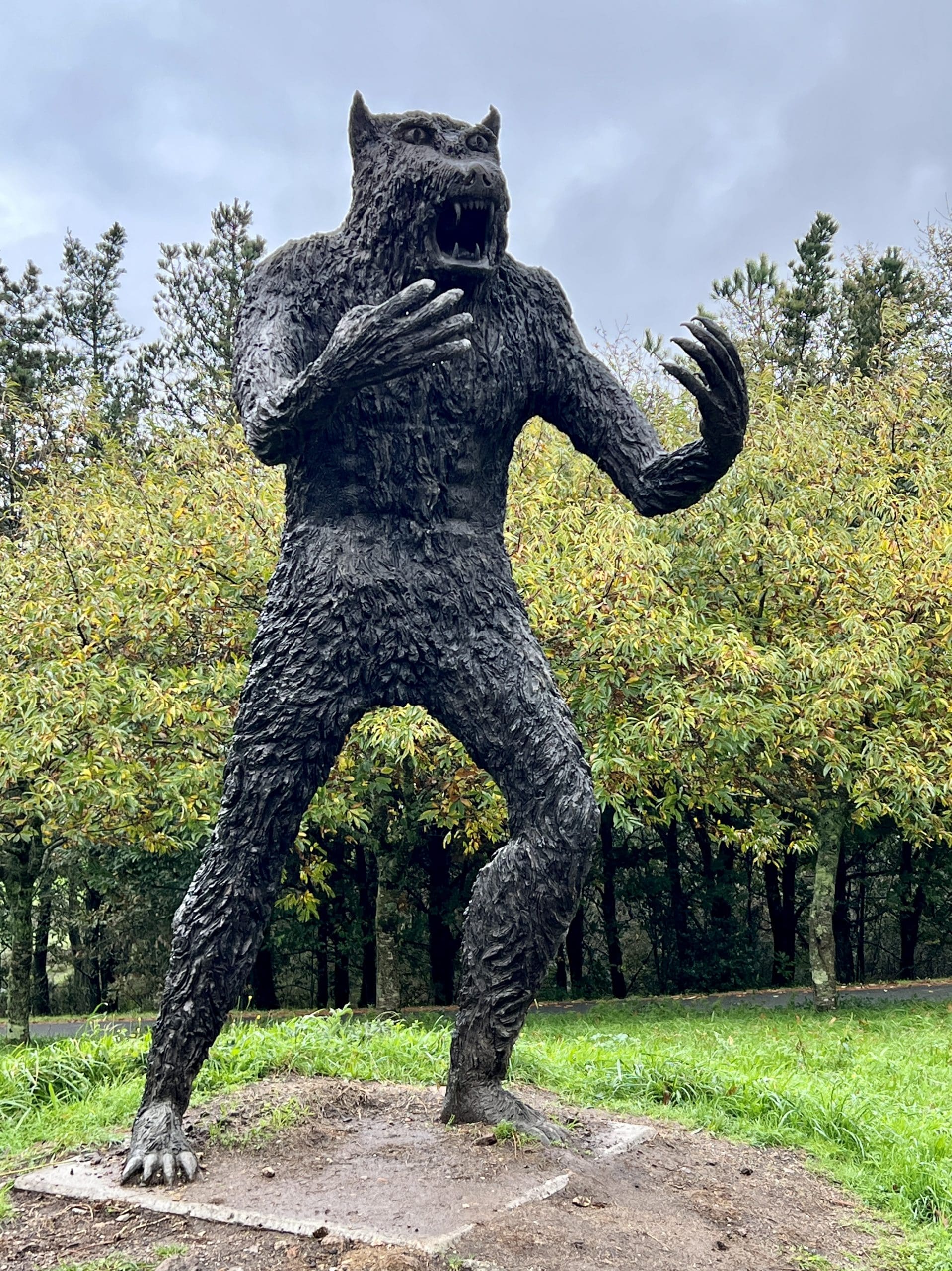 Mileage Check at the fork in the road. I am going to Fisterra first, then on to Muxia.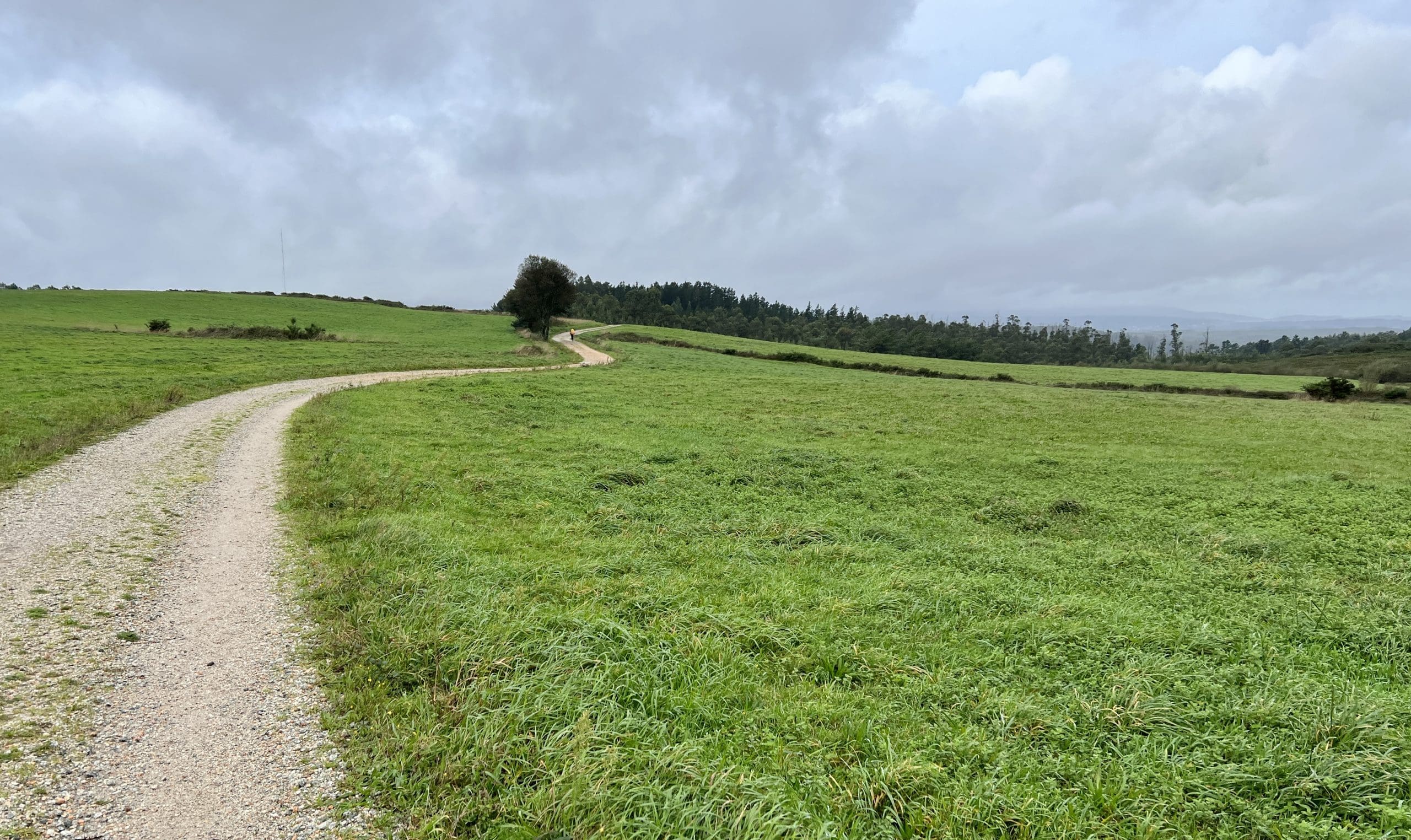 From this vista, we could finally see the ocean for the first time (or, at least a small bit of the bay by Cee). I still thought it was good enough for a pic!
We soon walked over a rise in the road to see this spectacular view down the Galician coastline!
Cee, Galicia, Spain
Daily Stats: 20.7km (12.9 miles) and 376m (1,234′) of elevation gain.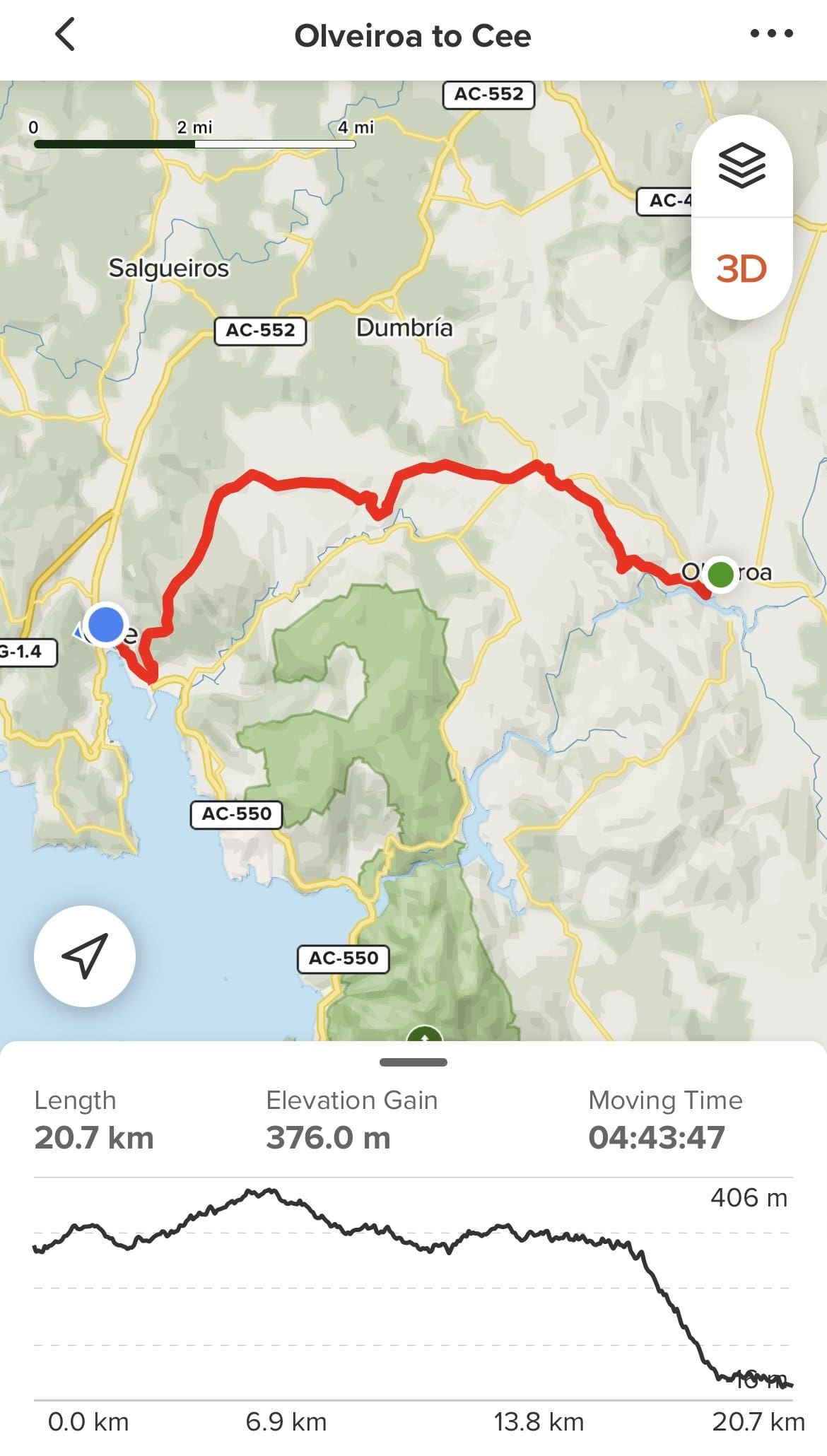 Check out Olveiroa to Cee on Relive!
My accommodation:
Hotel La Marina Costa da Morte
Avenida Fernando Blanco
Cee 15270
+34 981 747 575
---
Day 44A: Cee to Fisterra
This morning, while packing up my backpack as I've done every morning since I last packed it at home, the calendar reminded me that I've been living on the road for exactly two months. Two months of a daily routine that I now perform by rote, the only novelty being the search for where to hang my clothesline to dry my wash each afternoon.
I've noticed my body slowing down since the excitement of arriving to Santiago last week.
It's partly a physical fatigue. My feet, legs and back are sore. They no longer rebel – they're troopers ready to play their role each day – but they still hurt.
It's partly a mental fatigue. My brain is tired of remembering the Spanish I learned – and the local Gallego language I overhear around me lacks any familiarity.
It's mostly an emotional fatigue. I miss my loved ones, family and friends in the US. I miss my friends and colleagues in Namibia. I miss my Pyrenees teammates who welcomed me to this marvelous part of the world. And I miss mis camigos nuevos, most of whom I know I'll see again only in my photos and memories.
Yet, despite my wallowing in melancholy about what is absent, I resist all efforts to fill the void.
I'm stalling. I'm slowing down because I'm trying to stop time. If I never finish packing and if I never start today's walk to Finisterre, "the end of the world," then time will freeze.
Aww… that's it! I want to push the Pause button on this experience. But not here… not in this little cafe in this little fishing port, spilling tears into my café con leche. I'll wait until this evening, at roughly 18:30, when I'll sit by the lighthouse at the westernmost point of Europe and watch the sunset. I know I'll see other pilgrims there, some of whom I might recognize from my Camino. Maybe I'll see someone I haven't seen for weeks and wish to hold onto like a long lost brother or sister.
Then I think I'll be ready to finalize this journey. Then I will be one day closer to turning around and heading home. Then I will dry these tears, and start thinking about what to do next.
I am SO lucky!
---
When I finally got myself checked out and on the way today, I was greeted with the finest weather I've had in weeks! No rain, no wind, and bright sunshine. Sad that it was such a short stretch, but it allowed me to continue taking my time – a coffee break at my first beach, followed by a beer break near another beach. Plus, ample time to get to my hotel to prepare this post before heading out for the sunset at Finisterre.
Public Art
Mileage Check, counting down to 0.000 this evening!
The views oscillated between woods and beach like this all day!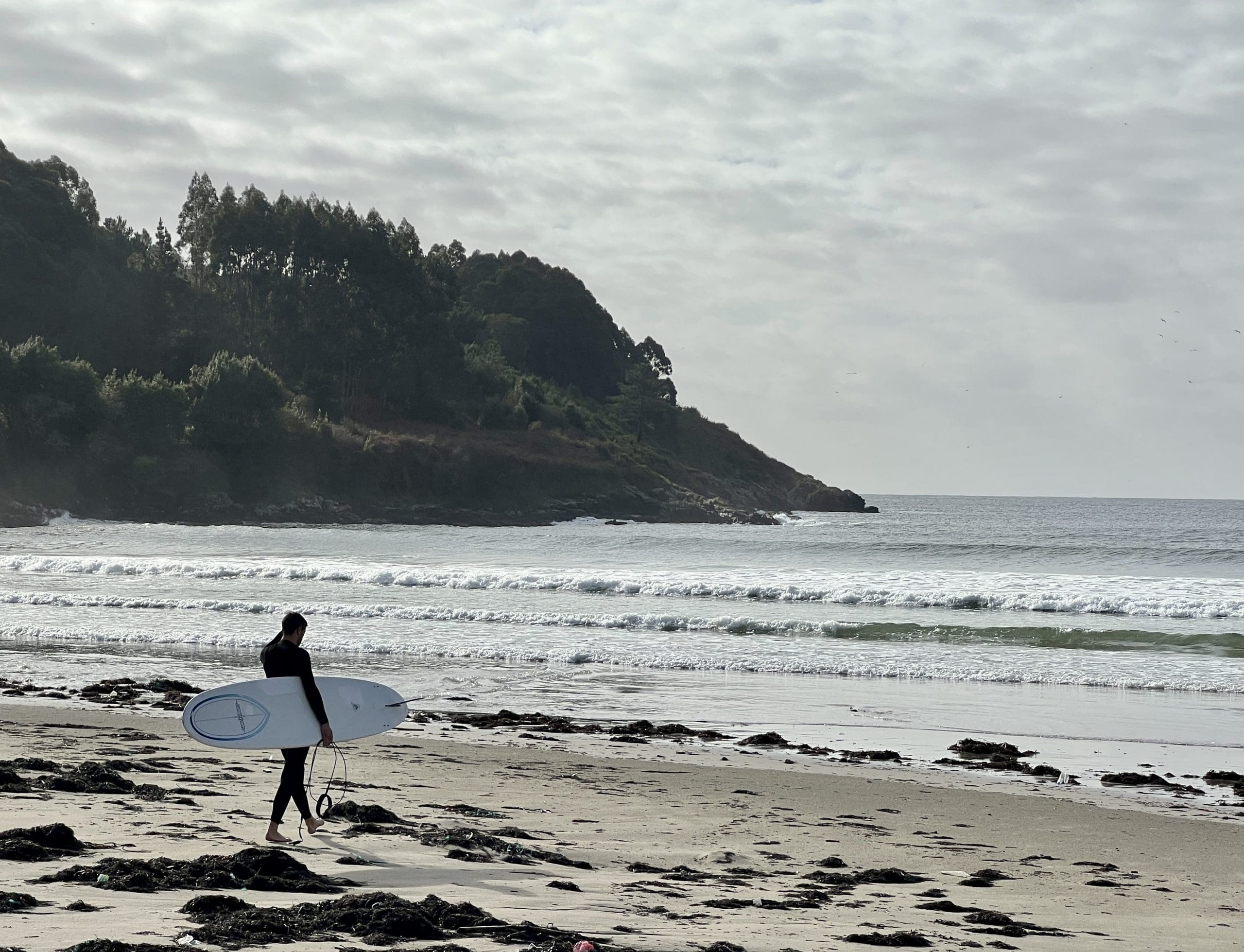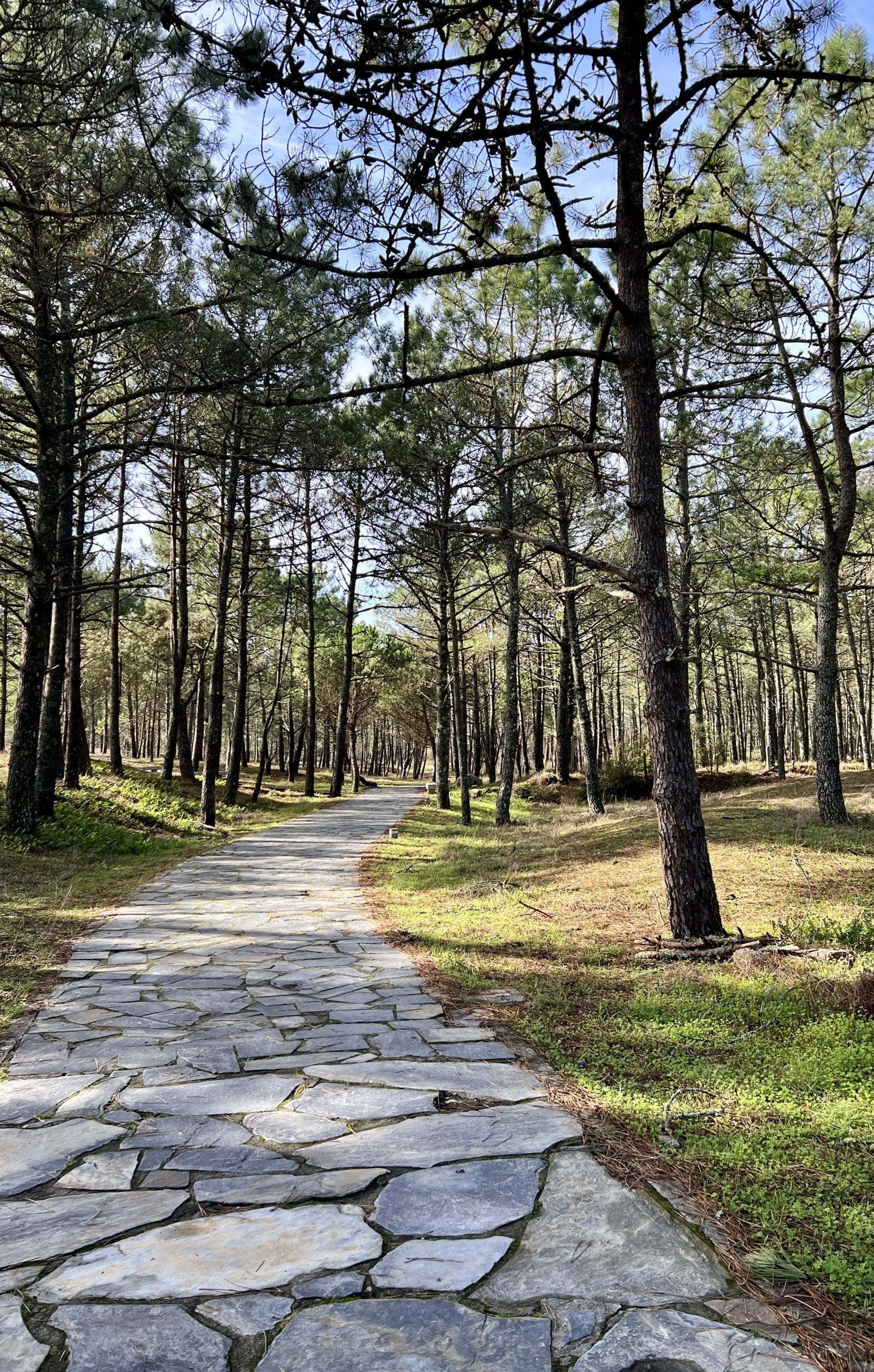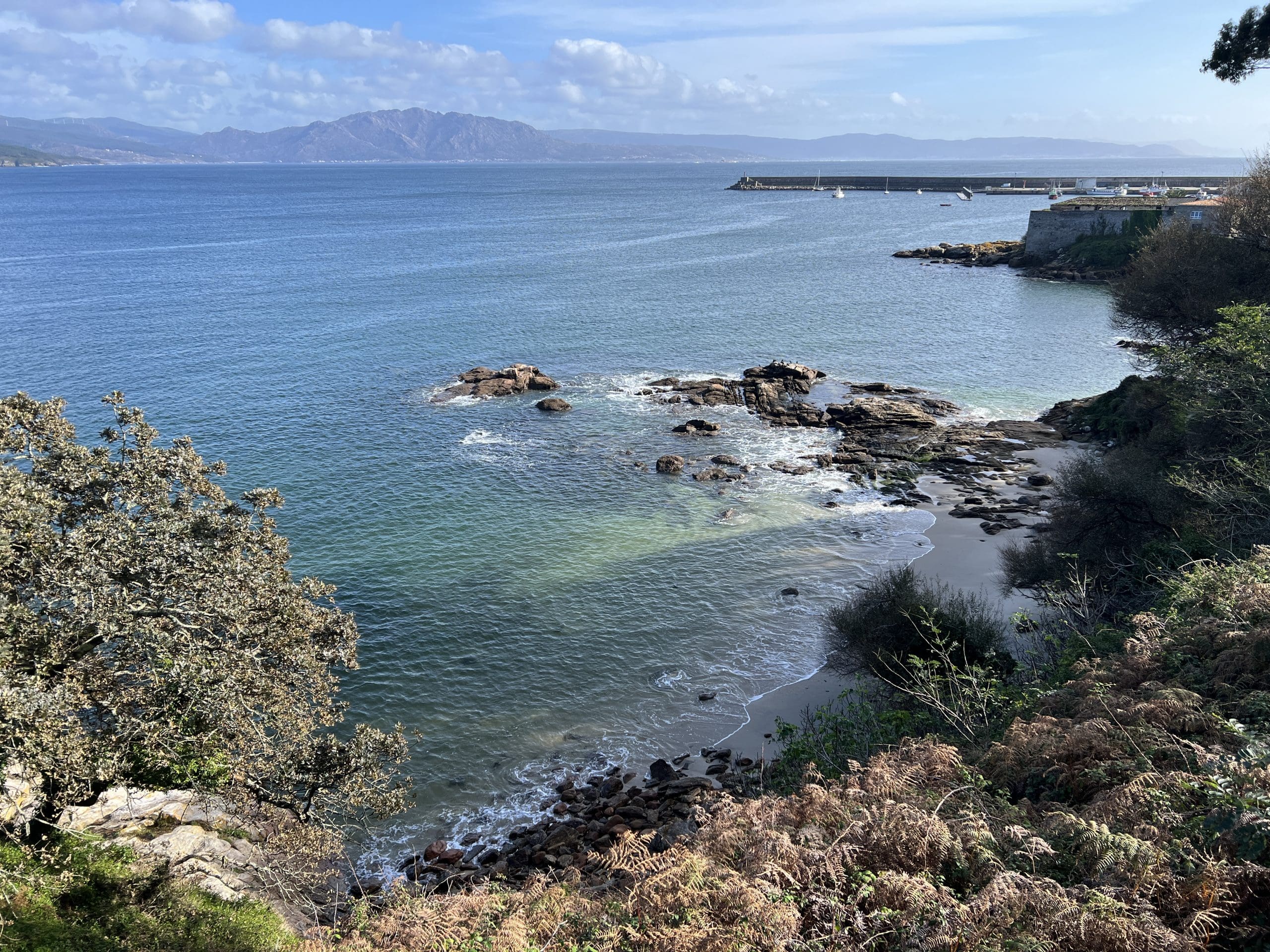 Stats: 14.2km (8.8 miles) and 329m (1,079′) of elevation gain.
Check out Cee to Fisterra on Relive!
---
Day 44B: Fisterra to Finisterre and back
Because my primary walk today was so short, I had the energy to climb up the hill above the lighthouse at Finisterre and get some wonderful shots down onto the sea.
The sunset itself started out unremarkably, but later presented a sign I've been following for weeks, and that millions of pilgrims have followed throughout the modern era of the Camino. Celebrating "the end of the world" with new camigos from Australia, England, Italy, and Portugal who had walked five different Camino routes was especially nice.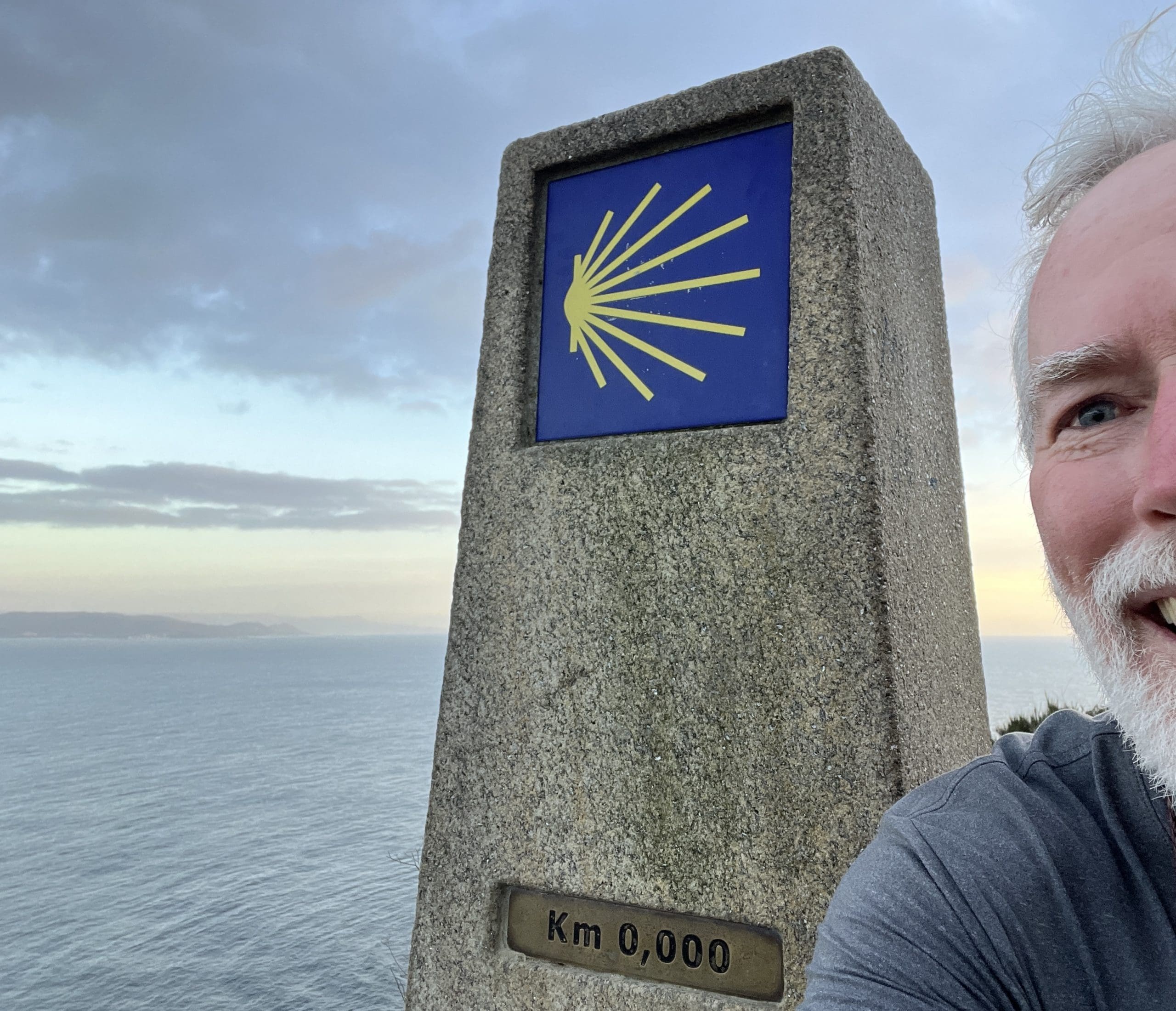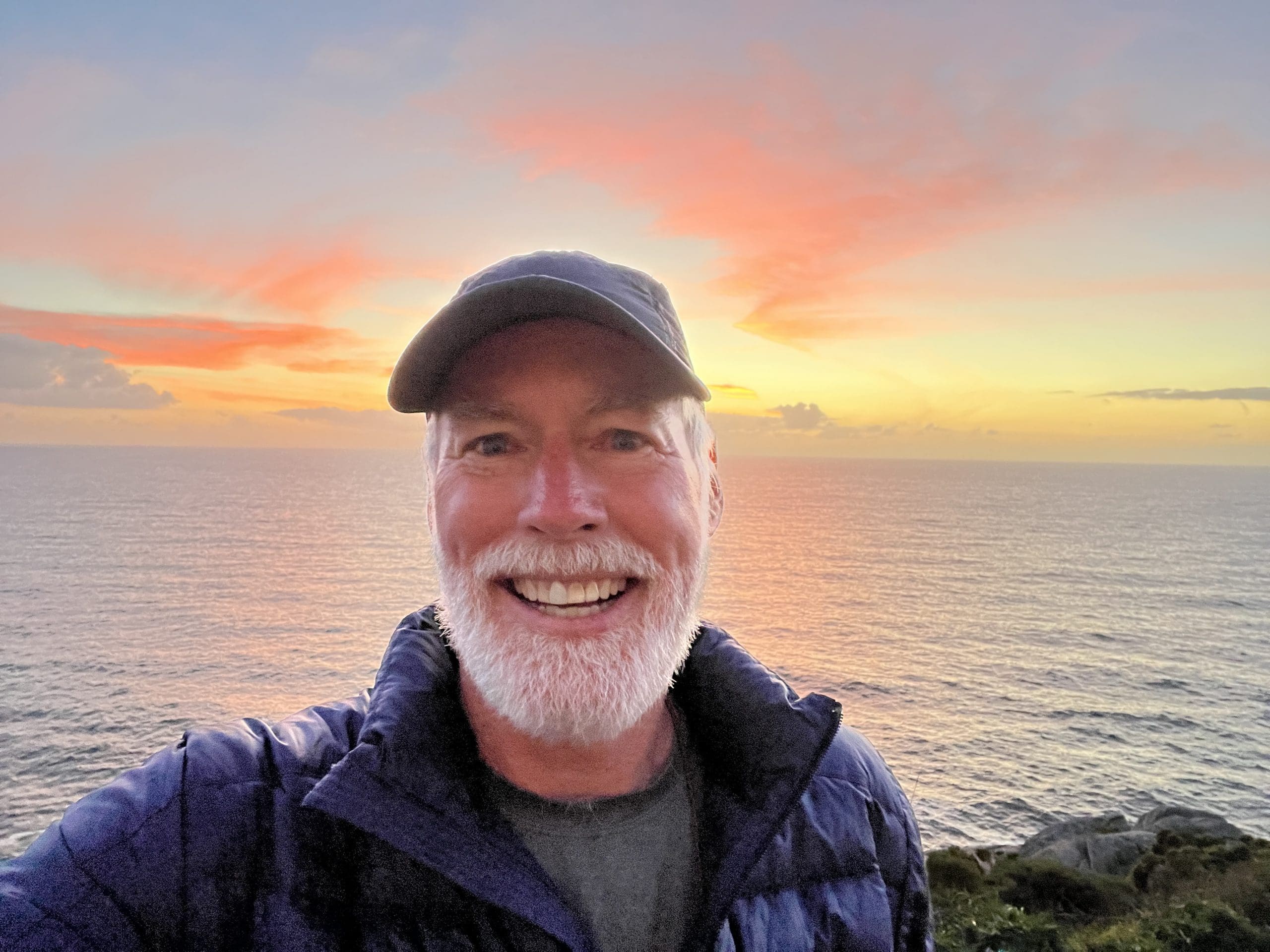 Check out the arrow!
Public Art
I just realized: on my climb to catch the sunset tonight, I "officially" tracked 1,000 kms of walking/hiking during this trip between Le Chemin de la Liberté and the Caminos Francés & Finisterre. That was a goal I had – whew!
Stats: 8.0km (5.5 miles) and 308m (1,010′) of elevation gain.
Check out Fisterra to Finisterre and back on Relive!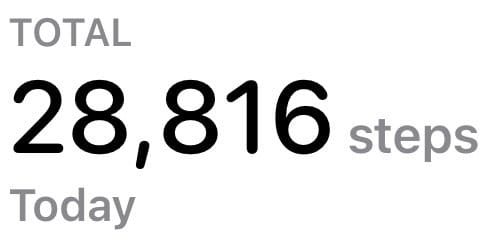 My accommodation:
Hotel Banco Azul
C/Pescadores 1
15155, Fisterra
+34 981 712 391
---
Day 45: Fisterra to Lires
My penultimate day of walking was a mix of the best with the far-from-best. The "primary route" to this interim stop on the way to the port town of Muxia followed long, straight, paved, country roads (both flat and hilly) with very little vehicle traffic. Thank goodness for the wonderful weather, which at least let me appreciate the nearby farmlands, hamlets, and woods. Still, it was far from the best terrain on the Camino.
Thank goodness also for my AllTrails app which showed me some interesting alternativos and other nearby trails and farm tracks. As often as possible, for the first time in weeks, I was hiking rather than walking. Jeep trails, overgrown single tracks, sand dunes, and narrow cliffside scrambles made for a terrific adventure without a soul in sight for many kilometers. Sections like these always counted amongst my favorites on this trip!
I took a lot of pics and some videos, so I'll spare you much commentary, other than to say: despite the resemblance to the Pacific coastline, I am still in Spain. It looked and felt so much like home!
By the way, all these images are presented in chronological order, to show the wonderful variety I had throughout my day.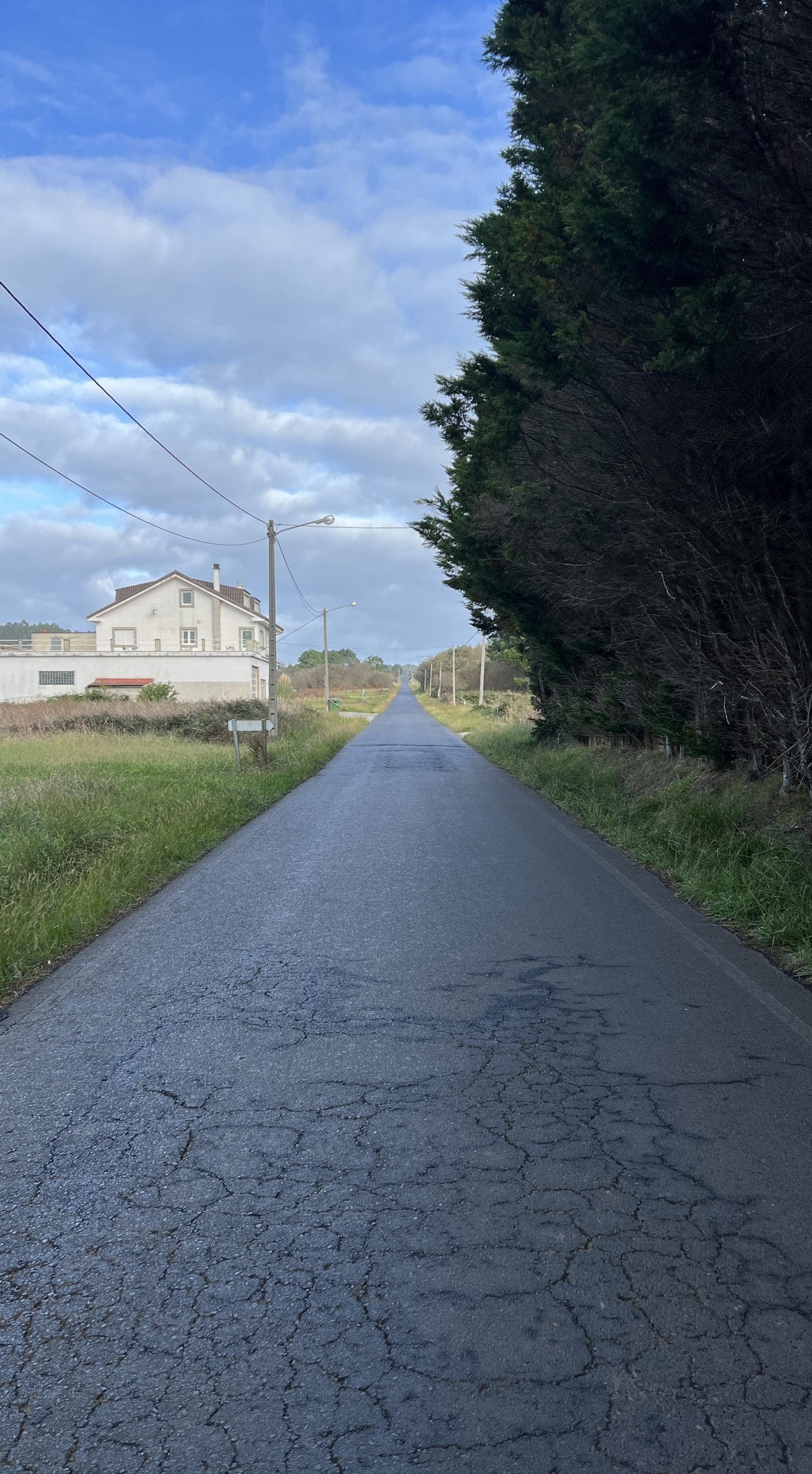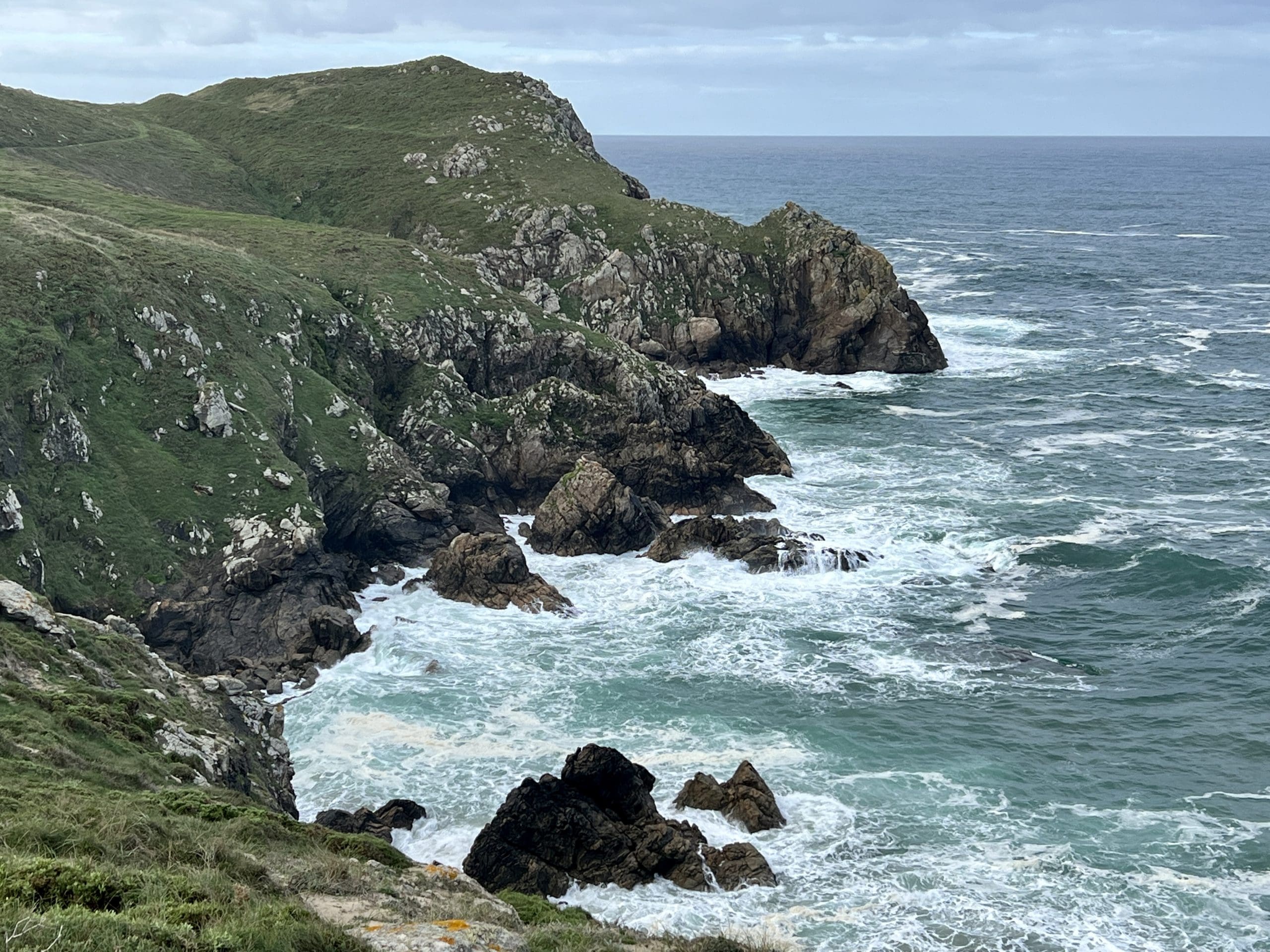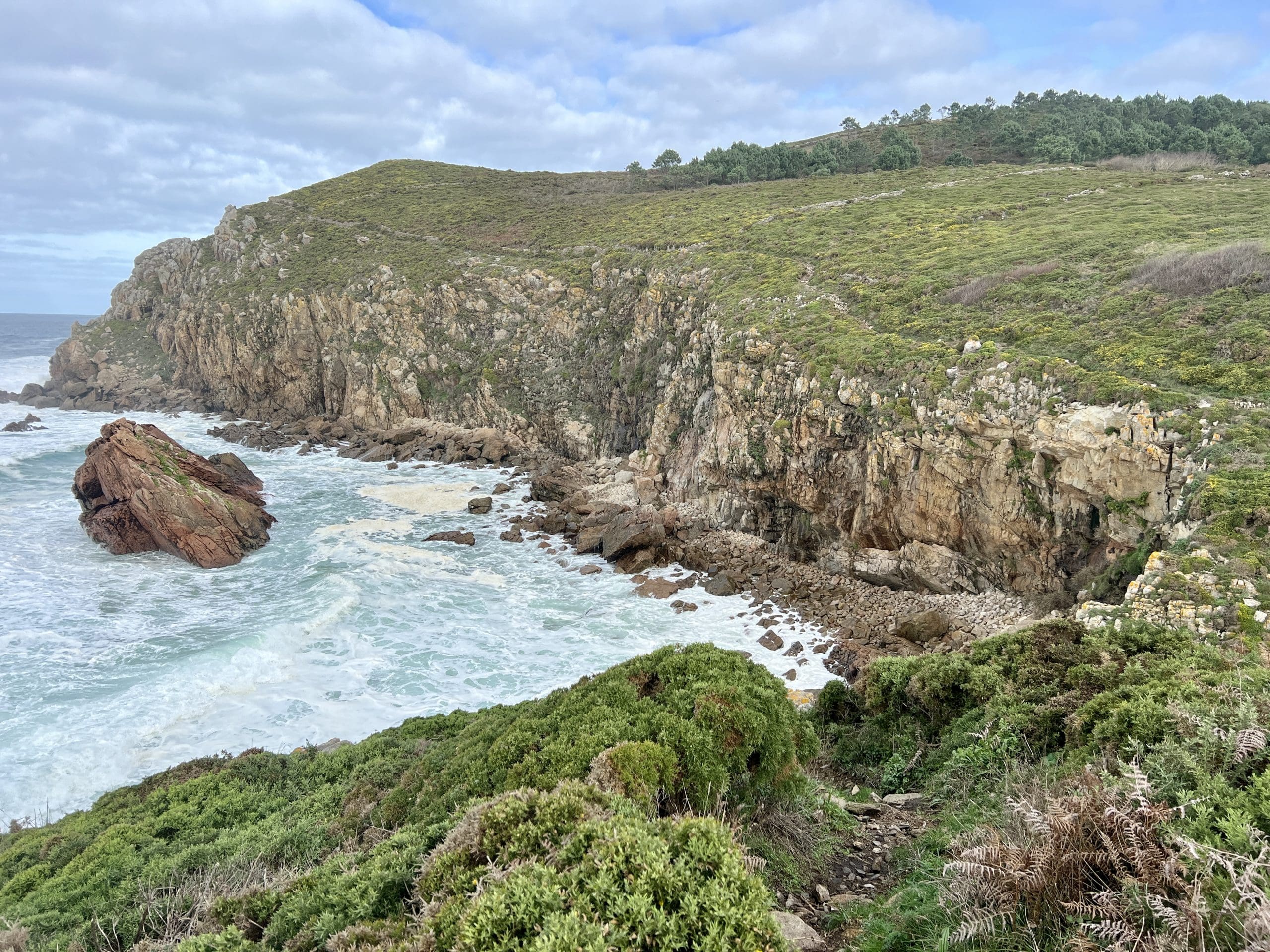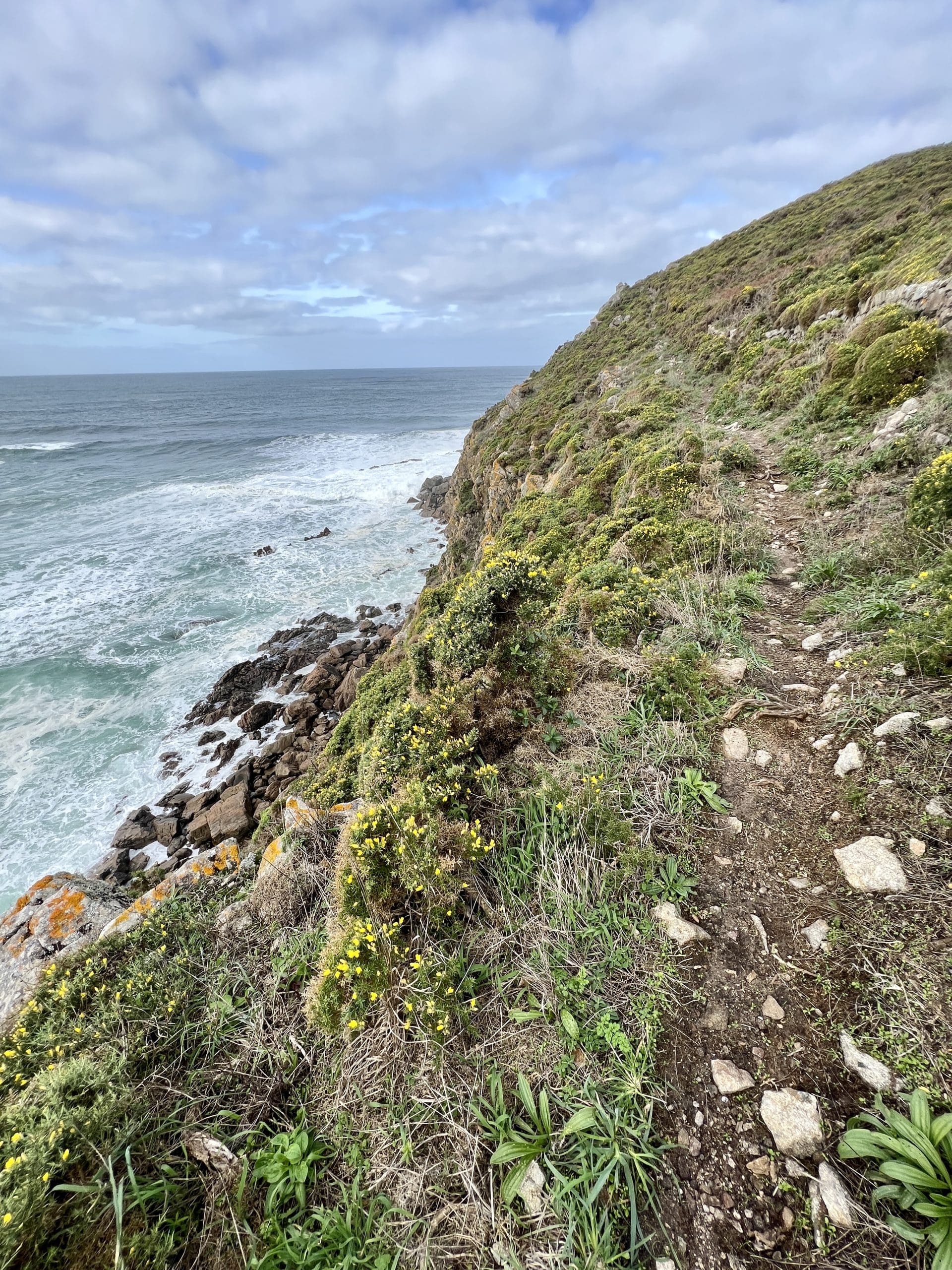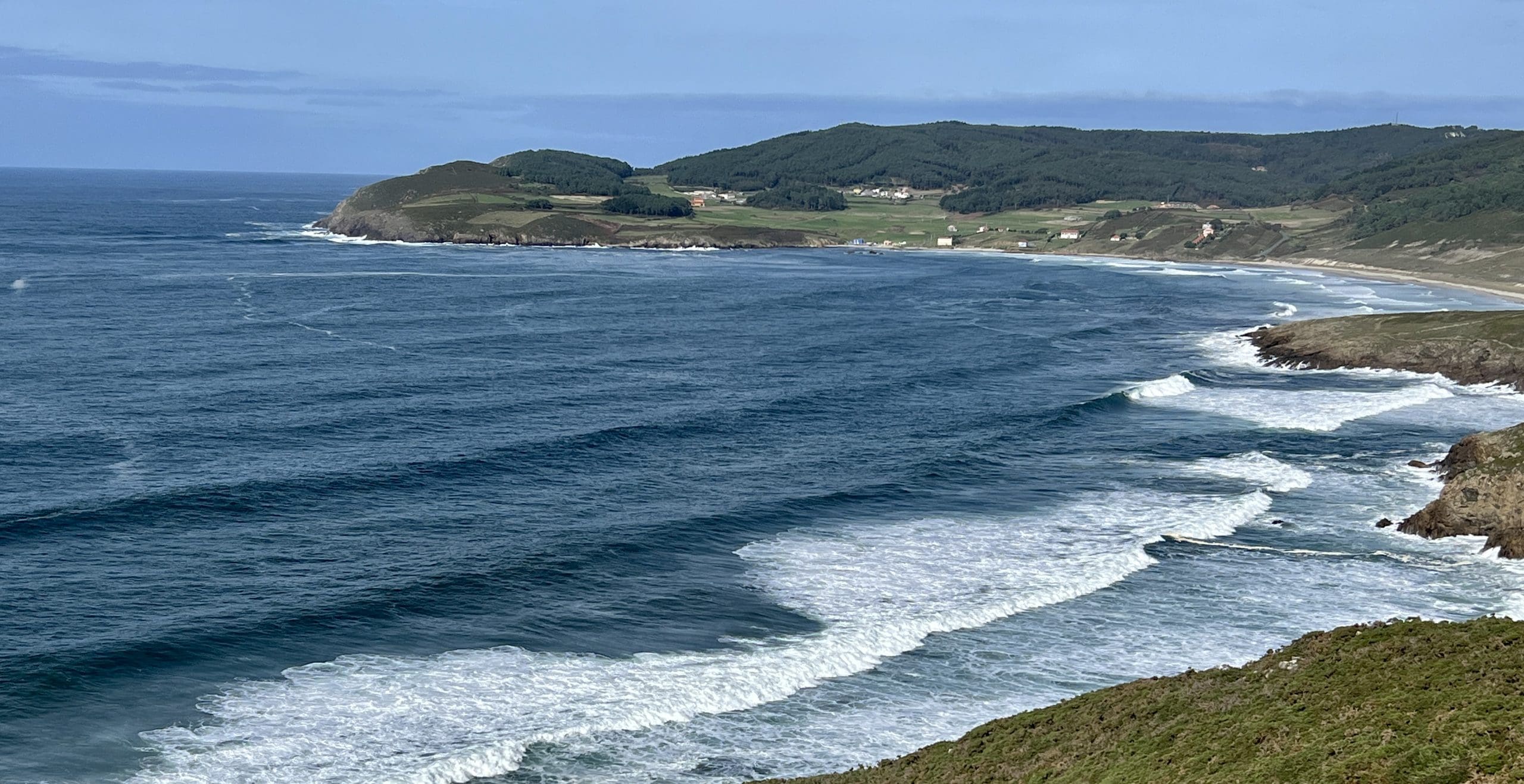 Daily Stats: 16.9km (10.5 miles) and 532m (1,745′) of elevation gain.
Check out Fisterra to Lires on Relive!
My accommodation:
Hotel As Eiras Lires
Lugar de Lires, 82
15138, Santo Estevo de Lires
+34 981 748 180
---
Day 46: Lires to Muxia
It was a day of intense and often conflicting feelings about walking, about my Camino, and about my fellow peregrinos…
I set out early, excited to walk, then got frustrated with how slow I seemed to be moving.
I was grateful for dry weather, then got tired of the brightness and the heat of the sun.
I absorbed the warm colors of the age-old farmhouses, then got mesmerized by the giant modern windmills "whooshing" around me.
I loved trekking through the so-familiar hills and woods, then relished taking off my trusty sandals to walk in the water along the beach.
I walked and chatted with a few other weary Camino-enders, then decided the day really called for solitude.
I needed to be alone, but I was lonely.
I entered my last destination, a port town whose eerie quiet was broken only by the loud squawking of the gulls.
I greeted a few local residents, now seeming so foreign, then found myself anxiously looking around for "my people," in worn boots and dirty backpacks.
I searched for familiar camigos, not wanting to celebrate this finality alone, but knew full well that most had long departed for other adventures, or were now posting their pictures from back home.
Then there, down the road, I saw a smile I'd seen before and heard a laugh I'd heard long ago – and my heart burst with joy to know that we never – and I mean never – walk alone.
Mileage Check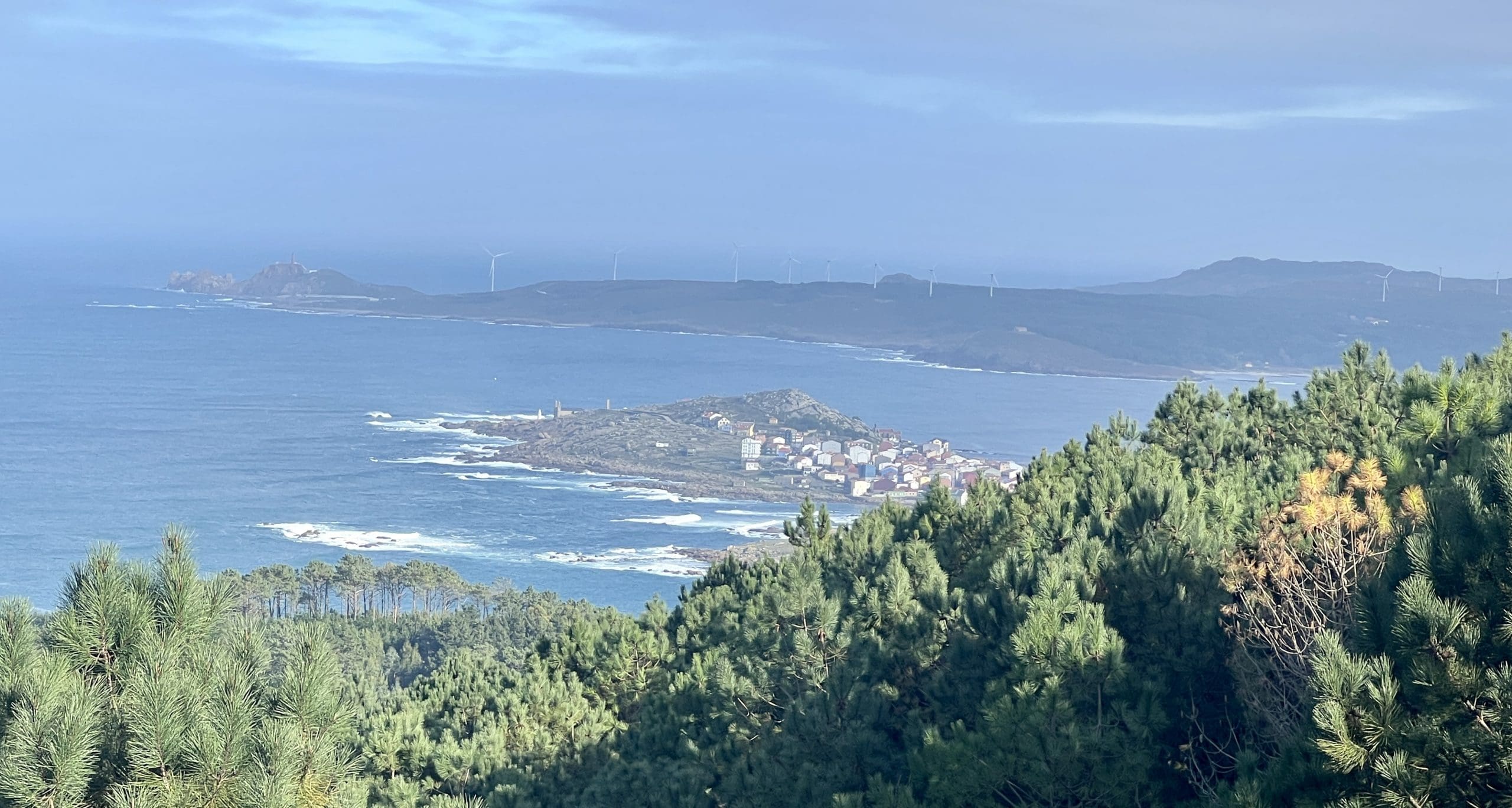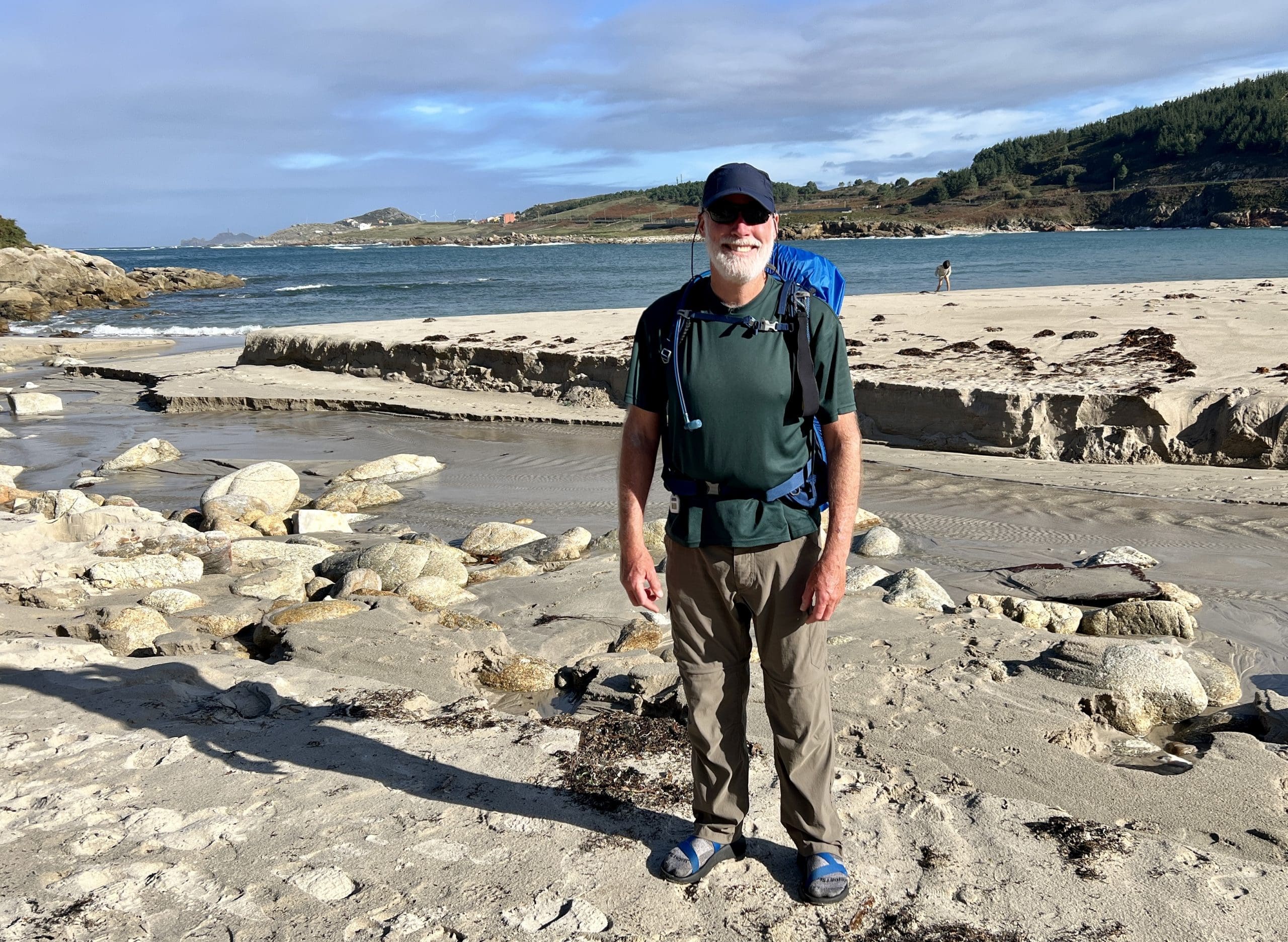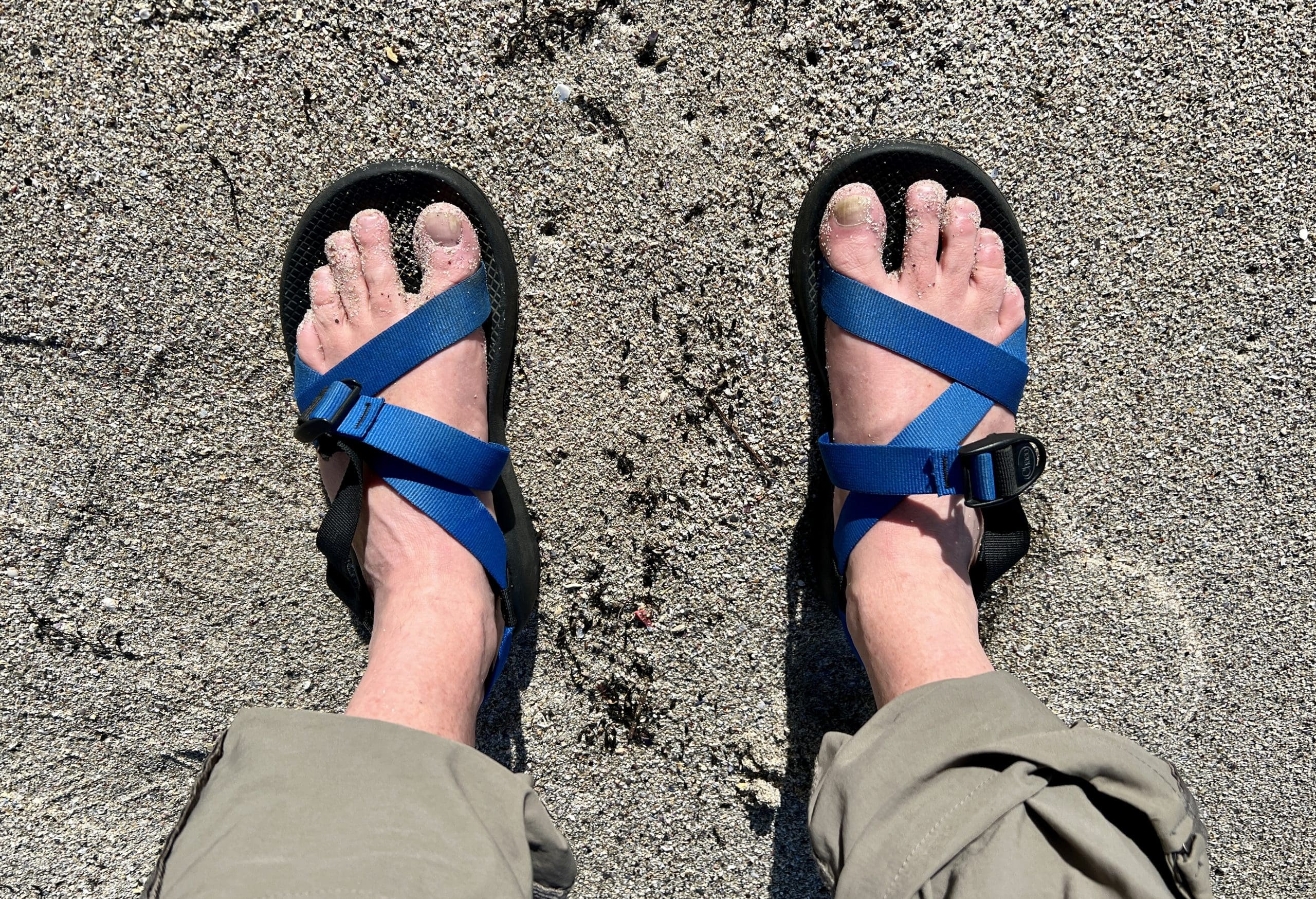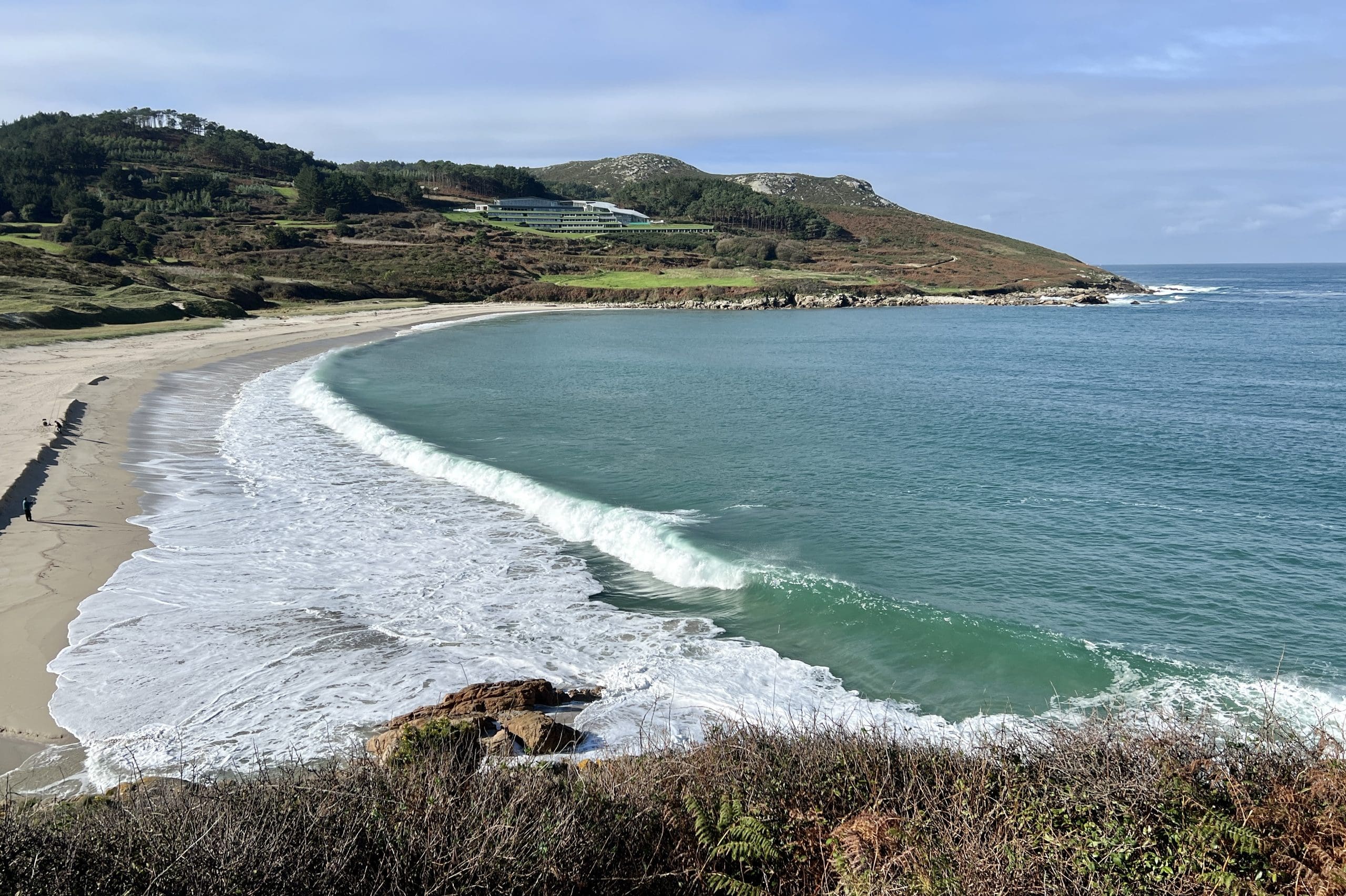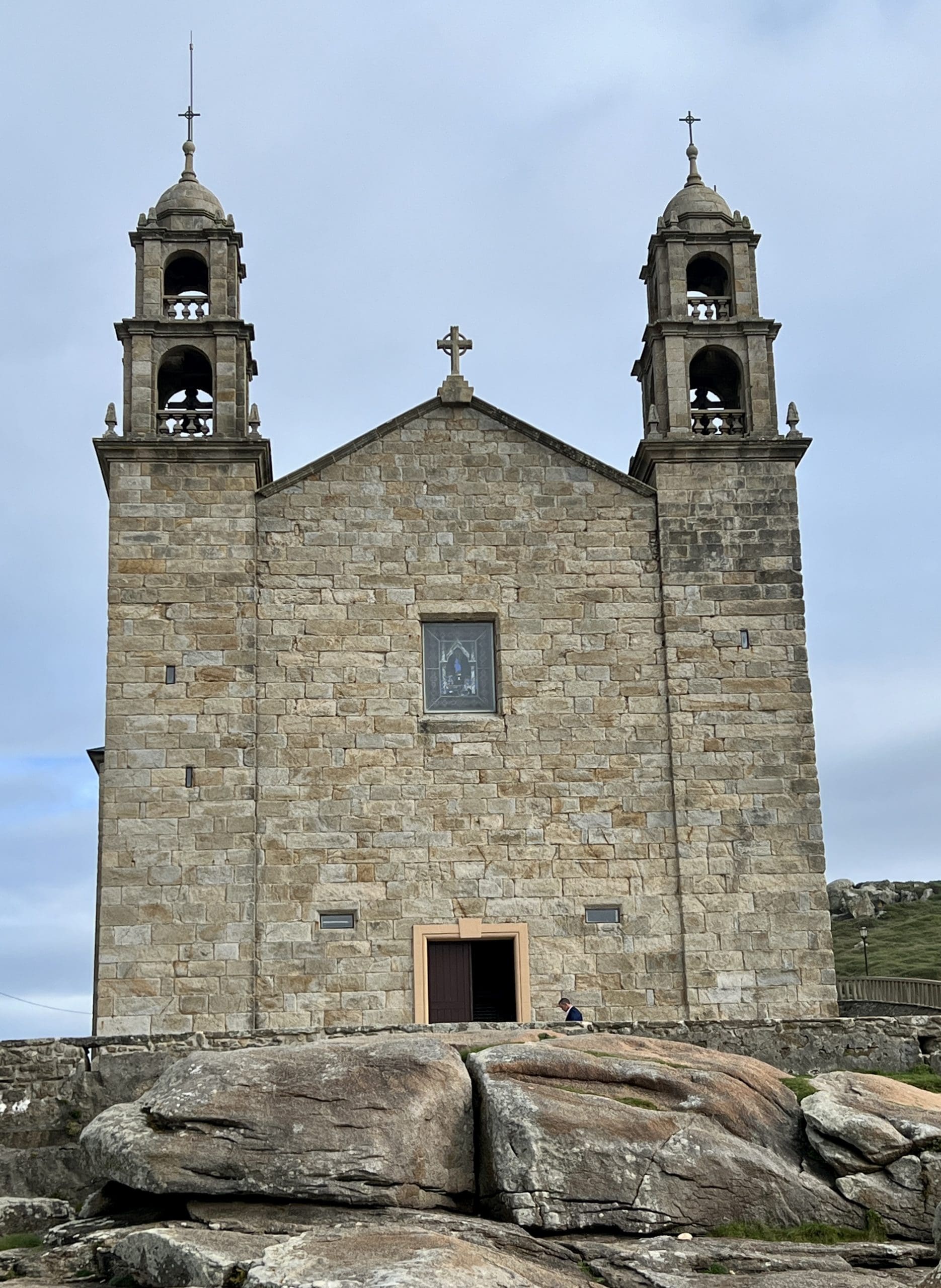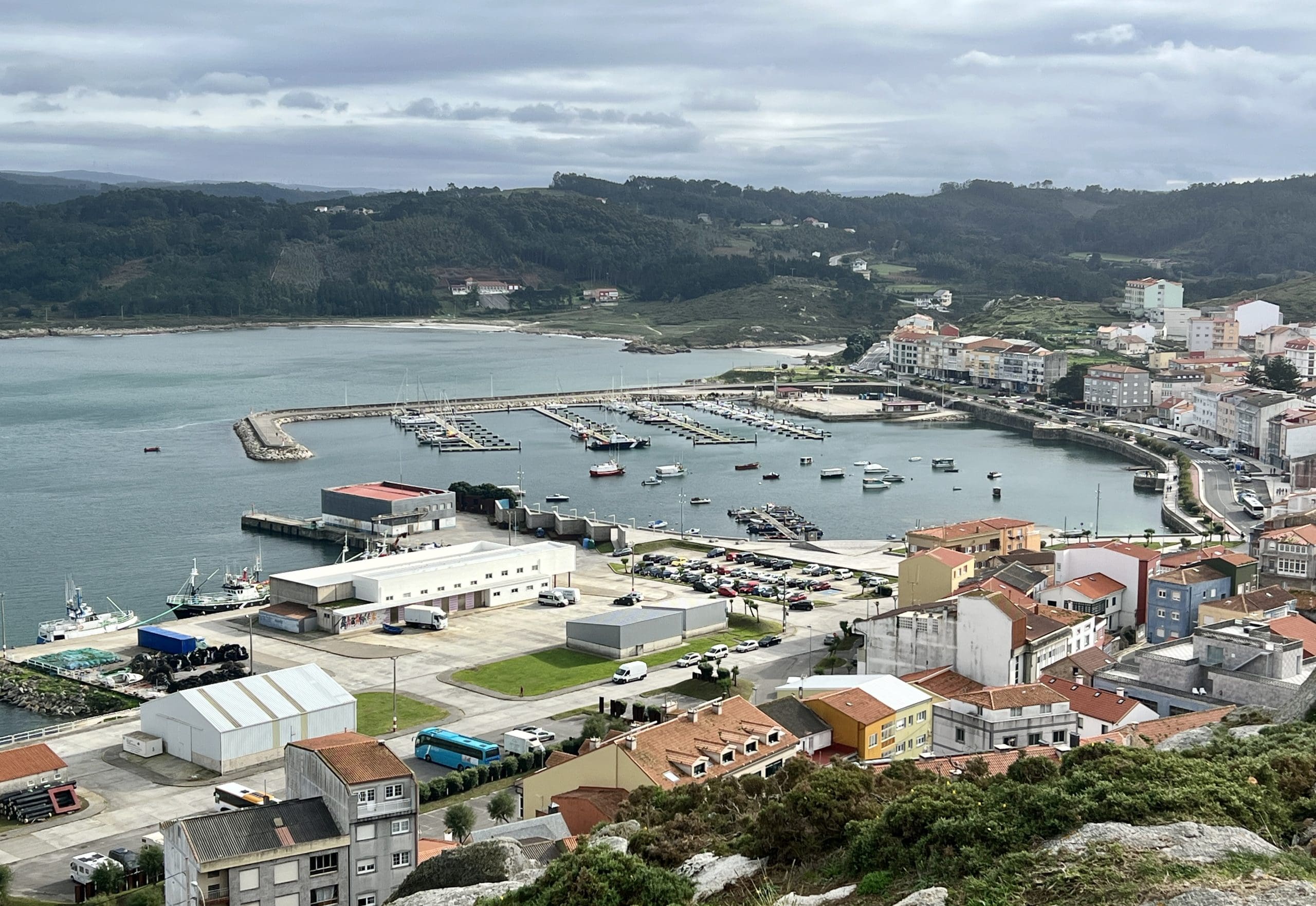 Daily Stats: 15.8km (9.8 miles) and 481m (1,578′) of elevation gain.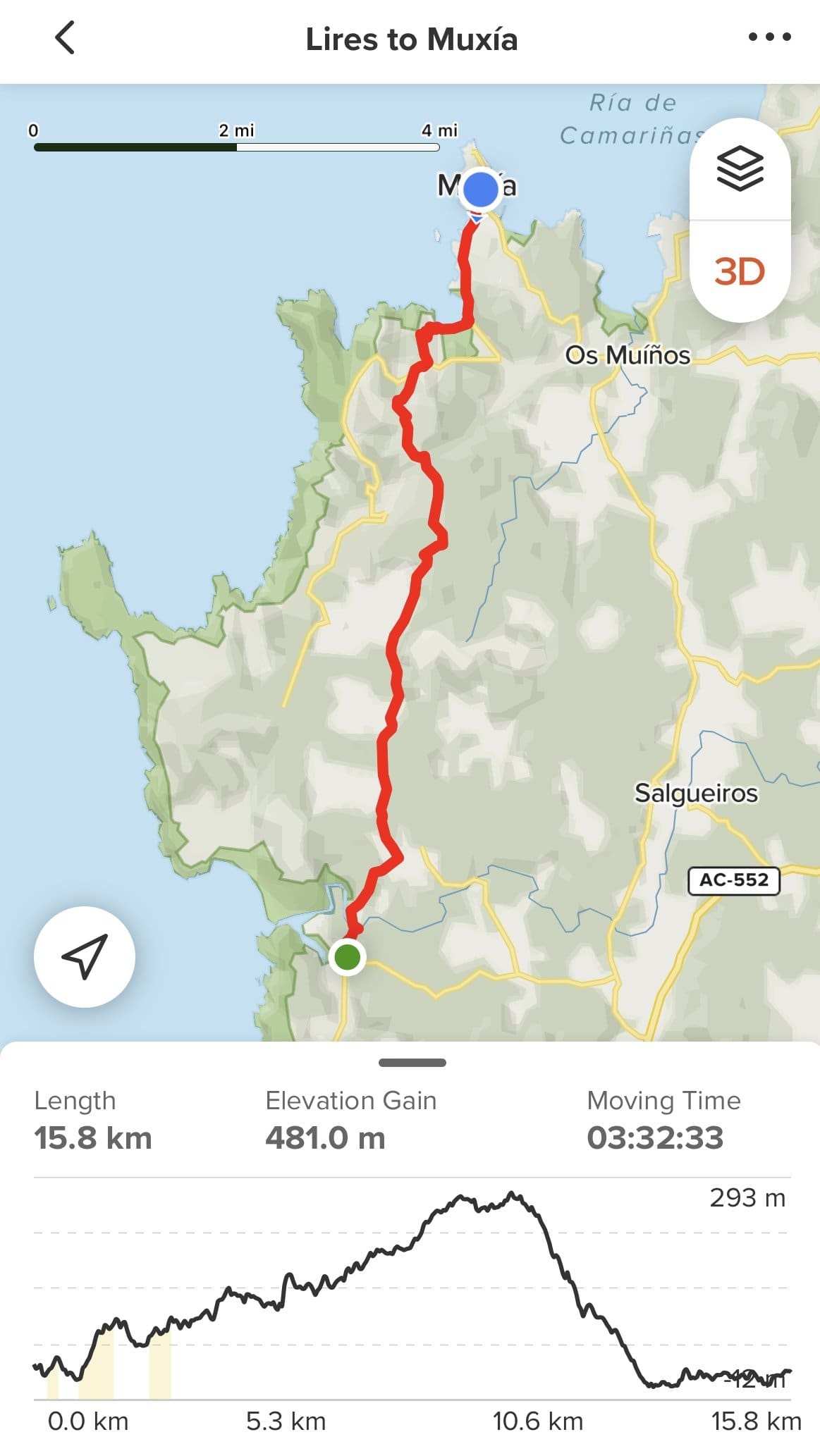 Check out Lires to Muxia on Relive!
My accommodation:
Hotel Lolo
Rúa Virxe da Barca, 37
15124, Muxía
+34 981 742 422
My little blue dot is as far West as it will go…
Today was the last walking day on my Camino. I'm going to take a break to enjoy this special day, which means you all get a break, too.
Until tomorrow…
---
Rest Day, or Non-Camino Day, or hmm, I'm not really sure what to call today: Muxia
No alarm to wake me; no daily routine to follow; no pics and videos to edit; no commentary to compose.
Messages of congratulations arrive – questions of "what next?"
I should reply. I need to respond. I struggle to. I can't – not yet. I will.
Now just sleep to recharge my body and muddled memories to clog my mind with unanswered and unanswerable questions:
Did I meet him in Boadilla del Camino or was that Hornillos del Camino? Was his name Andrew or Tony? Did Sylvia come from Colombia or Venezuela? Did Joan from Puerto Rico succeed in catching up with Julian from Rotterdam? Did Maggie finally get her final 'Compostela' to match her 'half-way certificate' as the proof of accomplishment she so desperately desired (as if simply stating "I just walked the Camino" wouldn't suffice). Whatever happened to retired businessman Tomas from Stockholm, and retired vet Brian from New Zealand, about whom I now know more than my own siblings… Michelle stated "Wow, that must've been a life-changing experience!" I don't know how to answer her. What does that even mean? I wonder when I'll know. I wonder if I'll know.
My hiking pants don't fit anymore – my cinched belt bunches up the excess material and looks odd under my shirt. "Oh… that shirt again?" I have only three and desperately want a new look, yet do I even need this many?
I walk a narrow street by a darkened window and startle myself: early on, I thought that I resembled Ernest Hemingway with my Camino beard yet now think it's more like Pete Seeger. Should I keep it, or shave it off? While I decide, it grows more straggly.
My appetite has dropped significantly – I'm not burning the calories as before – I'm just not hungry. For dinner, I ordered way too much food to finish and felt bad that it might go to waste. Will the feral cats outside eat it, or will the rats find it first? They'll sort it out. After all, as we say to each other: "it's their Camino…"
After 8 days at Burning Man, some people take weeks, even months, to "decompress" back into "the default world" when they return home. How long does it take pilgrims to return home after they return home, when they have known nothing but "step-after-step, day-after-day" for weeks, even months? What is home?
Post-Camino depression is common amongst many peregrinos and the "anti-climax" of Santiago is a popular topic of discussion. I actively resist it. Mind over matter.
I have long said: "I choose not to be bored. I choose to be happy." What the hell do I know?
A bus from Muxia back to Santiago, then a train to Madrid: getting accustomed to motor transportation again after so long moving only by foot. I even rode an elevator!
I see a young man on a busy corner reading a map. He looks lost. He's wearing a backpack. Aww, cool – another pilgrim – he's one of us! There are no yellow arrows to follow here, but I can help him. "Buen Camino!" I call out. He looks up from the map. "¿Que?" he asks. He has no idea what I'm talking about. I've startled him. I've scared him. Now he's even more lost.
The countless conversations with strangers have ended. Now I have countless conversations with myself. That means the quality has dropped and the wisdom has disappeared – or, are these indeed "insights?"
On my walk, I had listened to Bill Bryson's audible book, I'm a Stranger Here Myself, and I now think:
"I'm a stranger to myself…"
A camiga recently asked me to name my favorite Shakespeare. "King Lear," I replied, for its depiction of madness: "Nothing will come of nothing."
I want to think…
that I can believe…
that the opposite holds true:
"Something will come of something!"
I just walked across Spain. And that's certainly something!
Isn't it?
---
Transition Day: Madrid
How long does it take someone to recover after so many days on the path: walking, carrying, and sleeping under a different roof practically every night?
How hard is it for one to re-enter a strangely familiar-but-foreign environment that hasn't changed as much as one hoped it might have in the months apart?
I'm not sure for anyone else, but I can tell you this: surrounding myself with kindness, intelligence, and beauty has certainly helped me!
Just as walking and talking with good peregrinos on my Camino made the kilometers seem to "disappear…"
Just as sharing with all of you each day gave me a chance to reflect and a pictorial diary to document the journey…
So to, recovering and recharging with good people here in Madrid has been like a miracle cure!
I spent hours roaming the vast halls of the Museo Nacional del Prado yesterday, not with any specific intention or expectation, but absorbing the artwork through my heart more than my head. As fatigue overtook me, the wonderful notes of Chopin nocturnes emanating from a grand piano mastered by a young pianist lightened my burden as much as a camigo calling out for me to join them at a rest stop for a café con leche or a vino tinto.
It was the perfect coda to a day that was the perfect coda to the transition period of my trip.
I am energized this morning as I pack for my flights home. I am excited to return with this changed body, and changed perspective, and changed spirit. I approach my future now with new power. With new ideas to try managing old challenges. With new desires to learn and grow.
I came here to hike over the Pyrenees and to walk the Camino for the exercise.
I stayed for the people who shared their stories and taught me their lessons.
I leave with new confidence in the potential I hold – like we all hold – to become my better self.
---
I expect to have more to share in the days to come, but let me first express my thanks to you all for joining me here. Some of you were daily companions in my WhatsApp group with your emoji reactions, questions and comments. Some of you checked in with me periodically. Some of you I felt walking alongside of me in silence. All of you helped lighten my load, nurture my pains, and brighten my days. I cannot overstate how much you've helped me.
¡Muchas gracias, mis amigos! ¡Buen Camino!